Hi, my name is John and this is Averie, and we're here with Ktchndad to show you a very simple roast recipe that only has four ingredients, and it is delicious. 
All you need to do is throw these ingredients in a crock-pot and let it sit for five to six hours, and you are good to go.
So starting it at about lunchtime, which is what time it is right now, is a perfect way to have a delicious dinner. We'll quickly go over the ingredients here.
Mississippi Pot Roast Recipe Ingredients
about a three-pound chuck roast (give or take)
a packet of powdered ranch seasoning
a packet of Au jus gravy
a container of whole pepperoncini / Greek peppers / banana peppers whatever you want to call them. (optionally you can use pickle juice instead)
That concludes what you'll need for the main course of this recipe.
Directions For Cooking the Roast
Before we get started, we're going to turn on our crock-pot to its highest setting, and we are good to add our ingredients.
Alright, so the first thing we're going to do is, take the meat out of its package and toss it in the crockpot.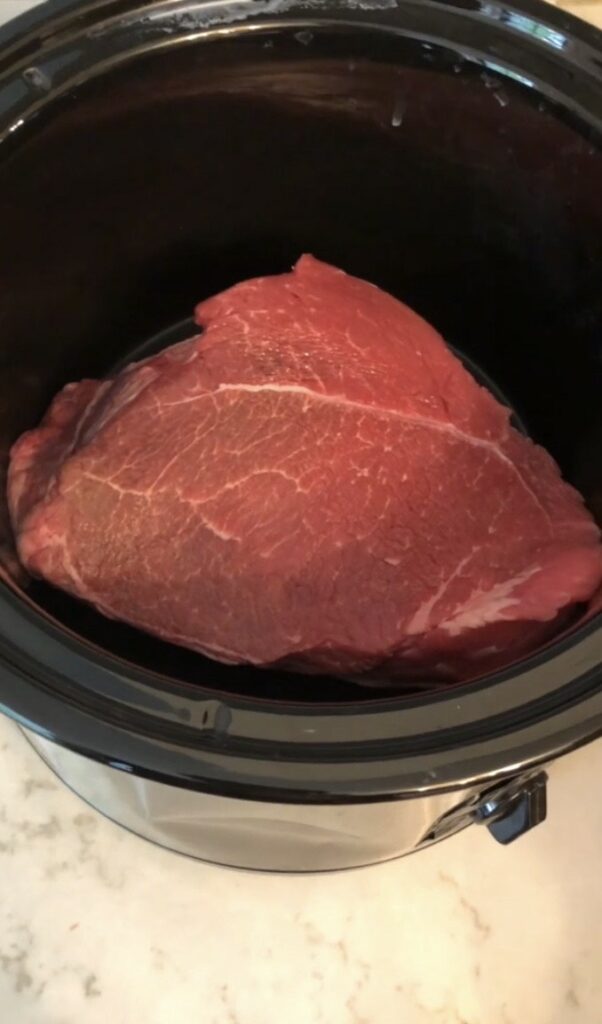 The next thing we'll do is open up your au jus packet. Just pouring it right in there on top of the meat is just fine. Alright, then let's open up our ranch packet, and you'll just add that right in there on top. 
Then finally, we will open up and pour in our banana pepper. Now you're going to want to pour in just a few ounces of the juices in here. If you would want to make it a little bit spicy and add a kick to it, I usually throw in a bunch of peppers, but my kids aren't a big fan of that, so we'll go with just the juices, like three to five ounces is fine, I honestly never measure and just pour it in.
Another fun twist you can do on this to give it a little bit of a different flavor is instead of a banana pepper juice you can also just pour in a pickle juice and then that will have absolutely no spice to it and it gives it a little bit of a different flavor but still delicious.
The only thing I would suggest here is just spread this out a little bit on top all right and we are good to go there and we will check on this in a couple hours.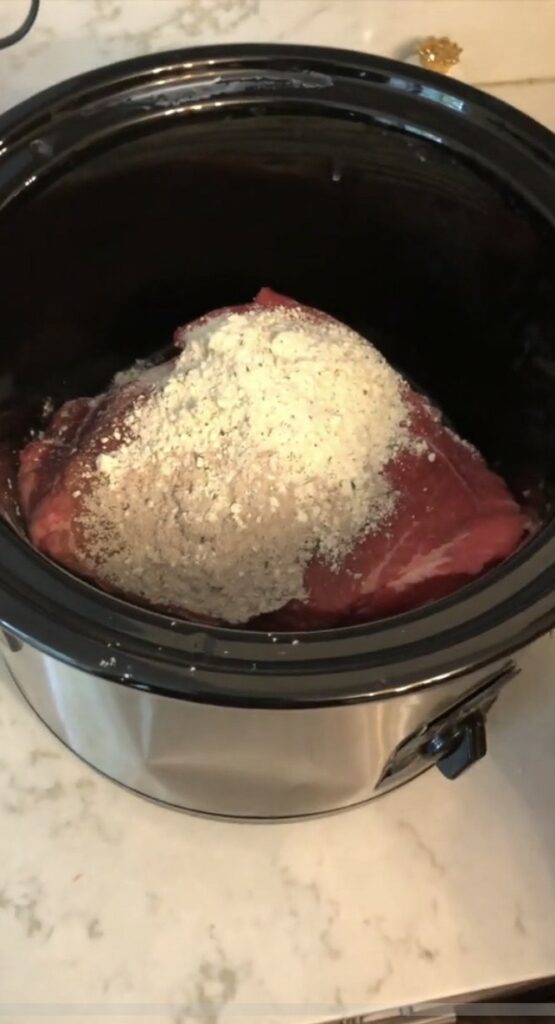 Here's a tip, I never like to take the lid off a crock-pot. It is a slow heating process, and taking the lid off will let all that heat out, but as you can see peeking in from the window most of that seasoning has soaked in and it's looking pretty and pretty juicy. So a couple more hours or so and we should be pretty good to go with this thing and it should separate real easily.
And again try not to ever take the lid off your crock-pot. You don't want to let that heat escape and it takes a while to build that heat back up.
So after this has been cooking for approximately six hours or so we'll give it a test and what we're going to do is stick both Forks in and give it a light pool and let's see what happens.
You can see it comes apart pretty nicely. So we're just going to go around and pull all the meat apart until we have a nice mountain of shredded meat in the crock-pot.
Once we pulled it all it kind of sits down and the juice as you can see here and that looks awesome. It is tender, juicy, and delicious. It's got a great flavor and then from here you can do anything you want with this. You can eat it pretty much by itself, you can make tacos with it, you could also put it on hamburger buns and make sandwiches with it. There's definitely many different ways to serve this, and it tastes fantastic.
FAQ
Why is it called Mississippi pot roast?
This recipe had initially come from a home cook from Mississippi. The recipe was so spectacular that it quickly spread over several other regions and hence now everyone knows it by the name of Mississippi Pot Roast.
Does Pot Roast get more tender the longer you cook it?
When cooking large piece of meat, you will have to allow it time to slowly cook and tenderize. So generally, the longer you cook it the more tender it will get in the crockpot.
How much water do you put in a crock pot when cooking a roast?
You will generally need between 2 to 2 1/2 cups of liquid for a slow cooking pot roast, but that may vary depending on the size and portion of the meat you want to cook.
Conclusion
So that's how we make a classic Mississippi pot roast. Like we said in the beginning it's usually nice if you throw a bunch of pepperoncinis in there but if you've got some small kids, they might think it's a little bit spicy.
Again you can do with pickle juice too, tastes great and yeah that's it hope you enjoy it as much as we do. It has become a staple in our household as it's so easy to make and there's not many ingredients to acquire either.