Are you looking to use and experiment with lump charcoal versus the standard briquette charcoal? If this describes you then this review article is exactly what you are looking for, we will review several brands and then even make suggestions to help you when making your selection. 
There are a ton of different brands of lump charcoal to choose from so we chose six of the more popular brands to help suggest the best lump charcoal.
Top 6 Best Lump Charcoals In 2020 Comparison Chart
Royal Oak 195228021 15.4# NAT Lump Charcoal, 15.4 lb
Rockwood All-Natural Hardwood Lump Charcoal - Missouri Oak,...
Our #1 choice
Jealous Devil All Natural Hardwood Lump Charcoal - 35LB
Char-Broil Center Cut Lump Charcoal, 11 lb
Fogo Super Premium Oak Restaurant All-Natural Smoked...





Royal Oak 195228021 15.4# NAT Lump Charcoal, 15.4 lb

Rockwood All-Natural Hardwood Lump Charcoal - Missouri Oak,...

Our #1 choice
Jealous Devil All Natural Hardwood Lump Charcoal - 35LB

Fogo Super Premium Oak Restaurant All-Natural Smoked...

Top 6 Best Lump Charcoals In 2020 Reviews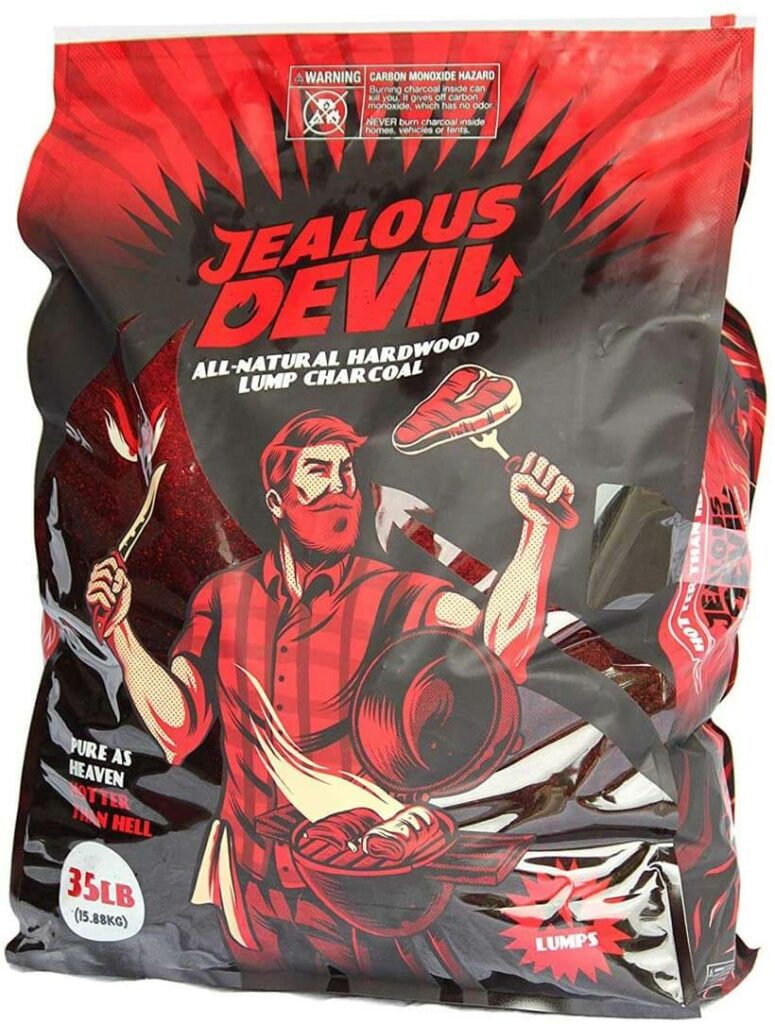 Jealous Devil
The first brand up for review is also coincidentally the best deal on lump charcoal AND has the neatest looking graphics on the packaging.
Overview
The Jealous Devil all natural charcoal comes in a 35lb bag and is a great option for lump charcoal. 
Features
The main downside of this option for lump charcoal is the plastic bag it comes in, the thick paper bags typically for charcoal are much nicer than you would believe until you use this charcoal.
The plastic doesn't handle the charcoal dust as well so it is best if you have a container to pour this in when it arrives.
This lump charcoal burns hot (up to 1170+ degrees fahrenheit) and imparts a very minor flavor that would work well with another wood in your grill if you wanted to add more flavor.
Fogo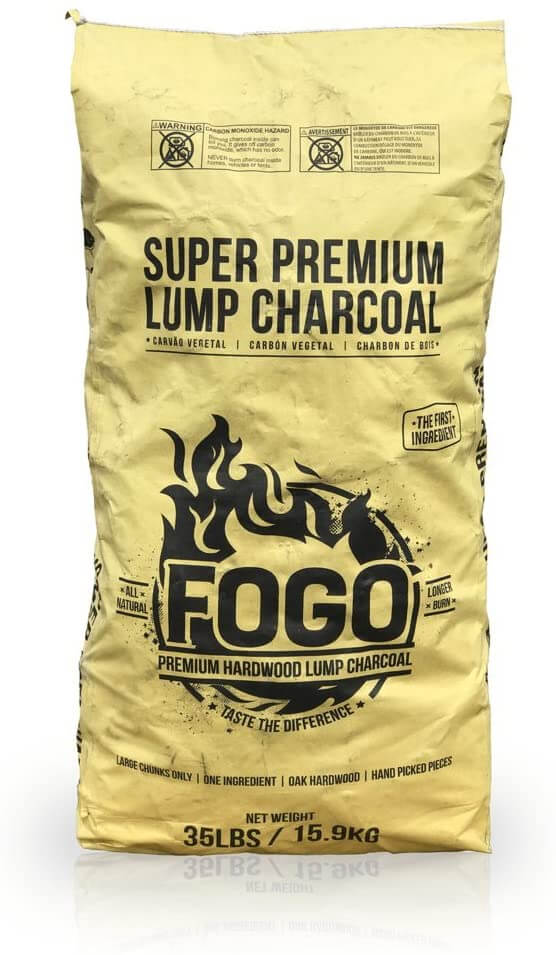 Up next is another candidate for best hardwood charcoal the Fogo all-natural premium hardwood lump charcoal.
Overview
In our experience, this premium charcoal consistently arrives with larger pieces of wood throughout the whole bag. 
Features
Larger wood pieces are typically what you are looking for with lump charcoal so that is a fantastic reason to choose this brand.
This charcoal is slightly more difficult than others we reviewed to light but once lit it burns long and consistent with a very mild flavor. 
You can not go wrong with this brand of restaurant quality charcoal.
Royal Oak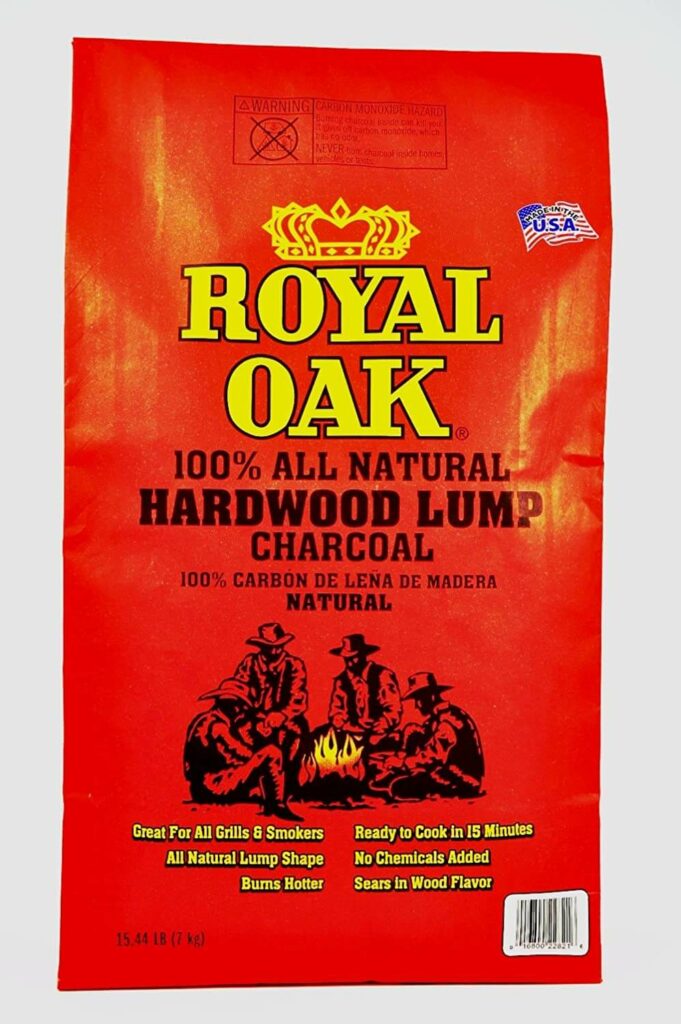 Next up for review is the Royal Oak lump charcoal. This lump charcoal is not one we would suggest for best lump charcoal. 
Features
This lump charcoal while easier to light than some of the others does not seem to have consistent quality control.
In addition to the lumps in the bag being smaller than our other tested brands there also seems to be miscellaneous items in the bag vs just charcoal arriving. 
If you struggle to light lump charcoal and do not mind smaller pieces this may be a brand to try however we would suggest looking elsewhere.
Rockwood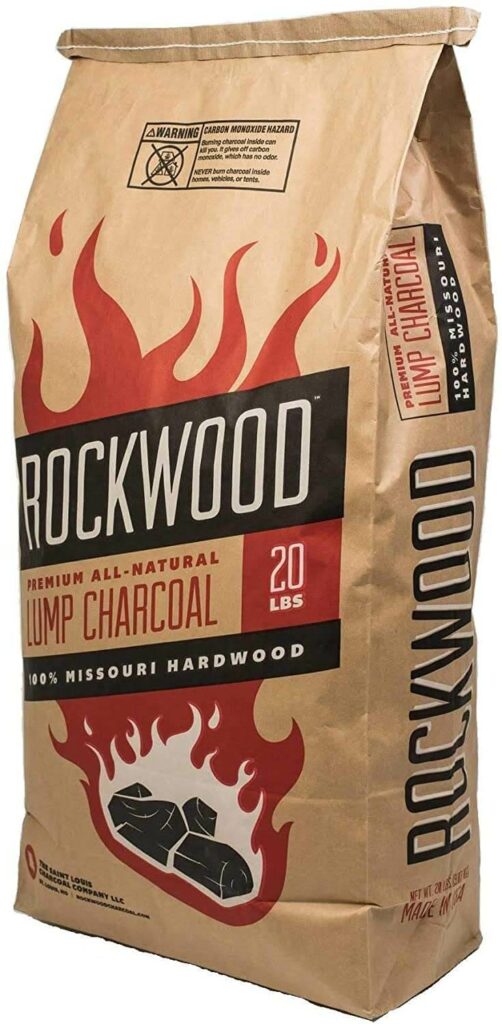 Next up in our lump charcoal reviews is the Rockwood lump hardwood charcoal.
Overview
What's really awesome about this charcoal is hardwood made exclusively from leftover timber milling, all of the wood even comes from Missouri grown Oak, Hickory, Maple and Pecan. 
Features
This blend of woods imparts a great flavor to whatever you are cooking.
This company has kept sustainability in mind from the charcoal itself to the packaging and shipping routes for materials, they are very interested in being as environmentally friendly from start to finish of this product.
If this is something important to you this is a great product. 
The only cons with this lump charcoal are the pieces aren't as large as some other brands and there was some sparking from our testing which is typically a sign of lower budget charcoal.
Original Natural Charcoal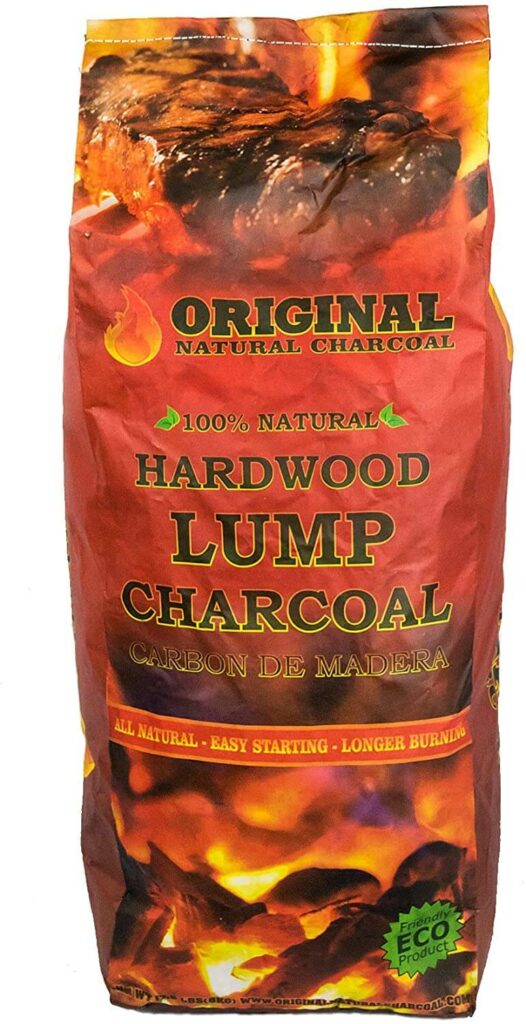 This next charcoal is a nice contender for lump charcoal.
Overview
This charcoal arrives with less consistent-sized lump charcoal bricks from our experience and research however it is suitable. This lump charcoal was also one of the easier ones to light and stay lit, so if that is something you struggle with this charcoal could be a great selection for you. 
Features
This charcoal includes a 100% satisfaction guarantee if you report back to the brand within 30 days so if you aren't happy you really aren't risking much to give it a shot. 
Overall this is medium-grade lump charcoal that does the job pretty good and with the ease of lighting, you will be cooking in no time.
Char-Broil
Finally, our last review is the Char-broil center-cut lump charcoal.
Overview
This charcoal comes from a brand that knows their way around grilling and smoking since they produce a lot of grills and accessories. 
Features
First off if you are looking for huge lumps this isn't the correct lump charcoal to choose, while very consistent on piece sizing these were more around the upper 2's to 3" size throughout the whole bag versus inconsistent lumps. 
This charcoal additionally is easy to light if you are looking for charcoal that will be easy to work with (more like briquettes) and this is your first attempt at using lump charcoal this could be a great option for you.
Best Lump Charcoal Buying Guide
If you are new to lump charcoal we have created this buyers guide below with some tips of what to look out for when choosing lump charcoal. 
The below pointers are just some suggestions that can help you pick a quality charcoal that will provide you with consistent grilling results. 
A lot of charcoal choice comes down to personal preference so there may be some points below that you consider more important than others.
Size Matters
When searching for lump charcoal you will notice most advertise having the largest chunk pieces. 
These large pieces are what help retain temperature and burn longer than smaller pieces. In addition to starting with bigger chunks, quality packaging will help ensure through transportation that the large chunks are maintained.
The Smoke Factor
Briquettes and cheap charcoal give off much more smoke than a quality hardwood lump charcoal. During cooking, less smoke will give you more control over the additive smoke flavors to your food. Another thing to keep in mind with less smoke is it is easier to use in small backyards and around your apartment.(if that is a concern)
The Taste
As mentioned with smoke, the smoke is typically what carries a lot of the flavor to your food. By using a quality lump charcoal that smokes less you can have more control over the smoke flavor applied to your food.
Starting with a mild base from just the lump charcoal you can add other woods to impart the exact amount of flavor you want to your food.
Conclusion
In conclusion, you want to pay attention to the lump charcoal you choose. Ideally, you can find one with larger pieces of wood and no junky additives. 
A few options we have reviewed in the article above through our testing were fantastic candidates for either a beginner or a seasoned professional. 
Hopefully, our reviews here can prevent you from wasting your money on cheaper quality lump charcoal and have you enjoy your food from the same quality charcoals we use and have suggested in this article. Happy Grilling!