Who doesn't love rice? I cook a lot of rice in my household because it goes so well with so many different types of cuisines. 
However, cooking rice on the stove requires a little more time and effort than I like to give. That is why I almost always use a rice cooker. 
Today, we're gonna talk about the best microwave rice cookers that you can find on the market. These are convenient tools that not only cook rice but you can also cook pasta, potatoes, or even veggies. So let's get started and dive right in. 
Comparison Table
Joseph Joseph 45002 M-Cuisine Microwave Rice Cooker
Prep Solutions by Progressive Microwaveable Rice and Pasta...
Our #1 choice
Sistema Microwave Collection Rice Cooker, 87.2 oz./2.6 L,...



Top 5 Reviews of Microwave Rice Cookers In 2020
Joseph Joseph Microwave Rice Cooker
This is a super popular option and is also economically priced. This microwave rice cooker has a more modern and sleek design and a simplistic looking feel about it. 
Overview
It simply comes with a cooking pot, a colander, a measuring cup, and a rice paddle. The rice paddle can actually lock the lid in, providing you with a handle to carry it with as it sticks from the side a little bit. 
Features
Everything in this set is also dishwasher safe. 
Besides rice, you can also cook all types of grains, veggies, or even poach eggs in this microwave. 
This is also built to withstand all the different power ranges of traditional microwaves. You simply need to adjust the cooking time for how powerful your microwave is. 
This microwave rice cooker comes highly rated with over thousands of reviews and 4.5-star average. However, there are a few complaints about the microwave melting the product, but they seem to be very few and far between, possibly a defective batch. 
Pros
Easy to operate and perfect for daily use
Quick and easy to clean up after use
BPA and toxin free
Cons
Opening up the lid is a bit difficult job to do especially when hot.
Pampered Chef Microwave Rice Cooker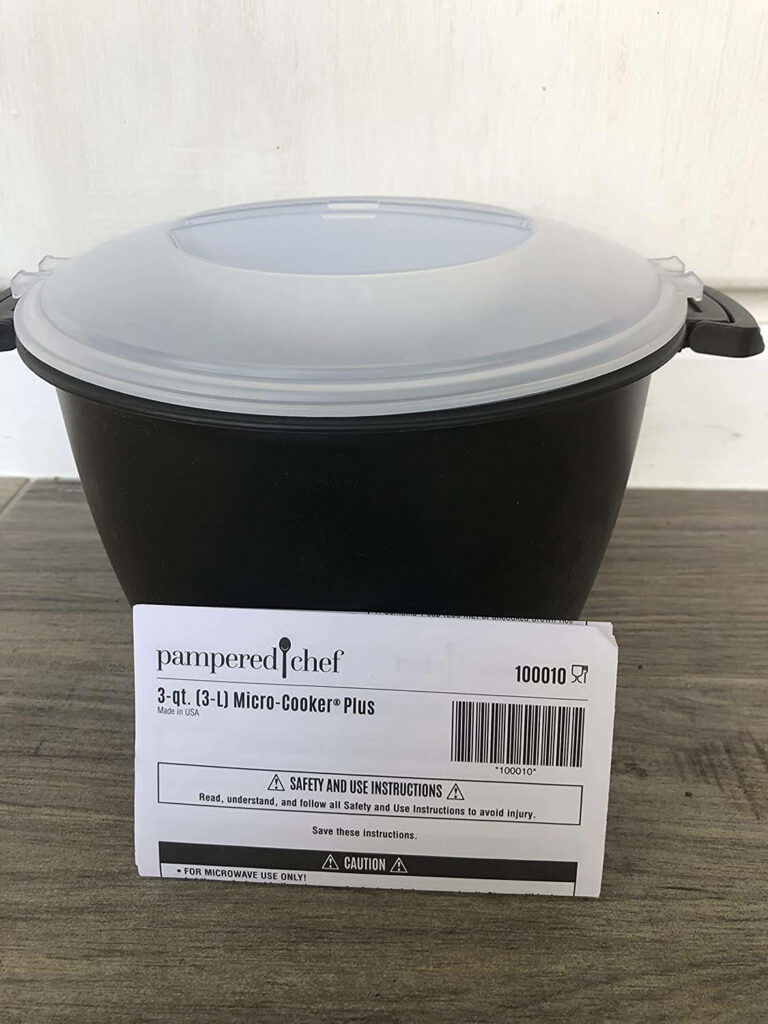 The pampered chef micro cooker comes in three sizes: a 2-quart option, a 3-quart option, as well as a 1-quart option. 
Overview
They are all black with a translucent lid. There's nothing fancy about this microwave rice cooker but it will certainly get the job done. 
Features
You can use this device to cook or reheat veggies and even a microwave cake. 
You will also feel good knowing that they are BPA free. 
It does not come with a recipe guide, except for instructions on how to cook rice but with the wonderful world of the internet at your fingertips, I'm sure you will find more recipes to try out with this rice cooker. 
It doesn't have a ton of reviews but with a 4.6-star rating it is sure to deliver what it promises. 
Pros
Portable and easily fits in the kitchen counter saving a ton of space.
Easy to use and heats food pretty quickly
Cons
Price is a bit higher in comparison to other similar products but it is worth it.
Sistema Rice Cooker
Overview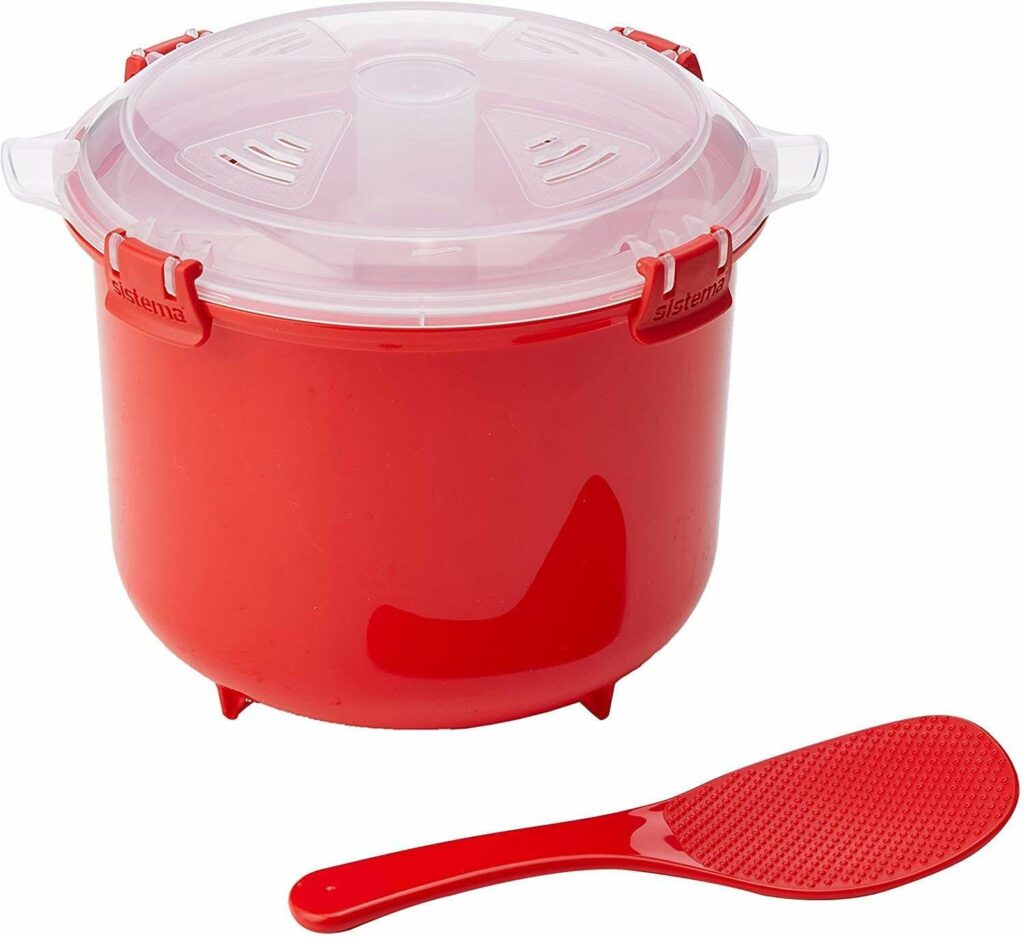 If you are on a budget this Sistema microwave collection rice cooker is another great option. It's a little bit smaller with only two and a half quart capacity but it will still get the job done. 
Features
It simply comes with a pot, a rice paddle, and a lid. Just like the others, it's BPA free and dishwasher safe. 
The pot doesn't get hot as the rice cooks so you're able to easily transfer the cooked rice to where you need it. 
Sistema has several products designed for microwave cooking and its rice cooker is one of their best. 
Their products are also safe to store in the refrigerator or the freezer. 
While the rice cooker itself doesn't come with recipes, you can go on their website and find several recipes to try out in your rice cooker. 
This has over 5,000 reviews and a 4.5-star rating probably because of the price. It's less expensive than most of the others, but it still has close to the same capacity. It's really a great buy. 
Pros
Cleaning it up is a breeze after every use
Saves a lot of time
Quick and easy to use
Cons
The outer layer sometime tends to blister.
Prep Solutions Microwave Rice Cooker By Progressive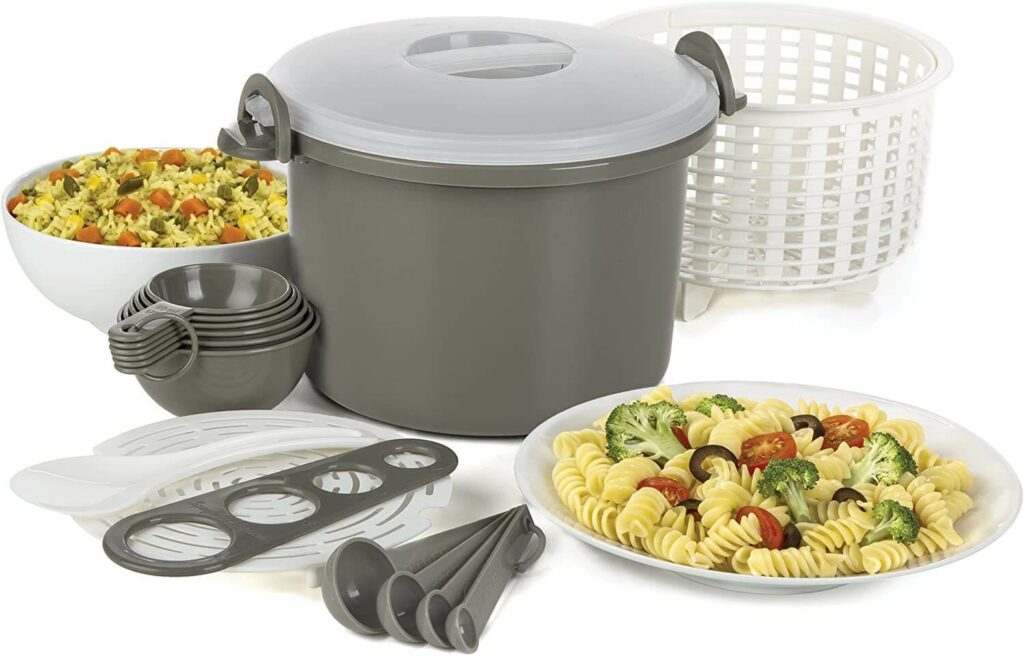 This economical microwave rice cooker is another great option to consider.
Overview
It has a 3-quart capacity, which is great for larger families. It also comes with a pasta measure, a rice paddle, and a locking lid. This 17 piece set comes with measuring spoons and measuring cups, a vegetable steam basket or pasta steamer basket. 
Features
The best part about this rice cooker is probably the value for the price and everything that comes with it. It is a great buy. 
One thing to take note, it's not super wide, so if you are going to be cooking spaghetti in it, you will probably have to break the pasta to make it fit. Not a huge deal, though. 
Also, another thing to note even though it has a twelve cup capacity, you will not be able to cook twelve cups of rice as you would have to add rice and water which would cause it to overflow.  
Pros
This pot cooks 2 cups of rice in about 20 minutes and the microwave, leaving you free time to prepare the rest of your meal.
Easy to store after use.
Cons
Tends to leak while cooking food.
Tupperware Rice Cooker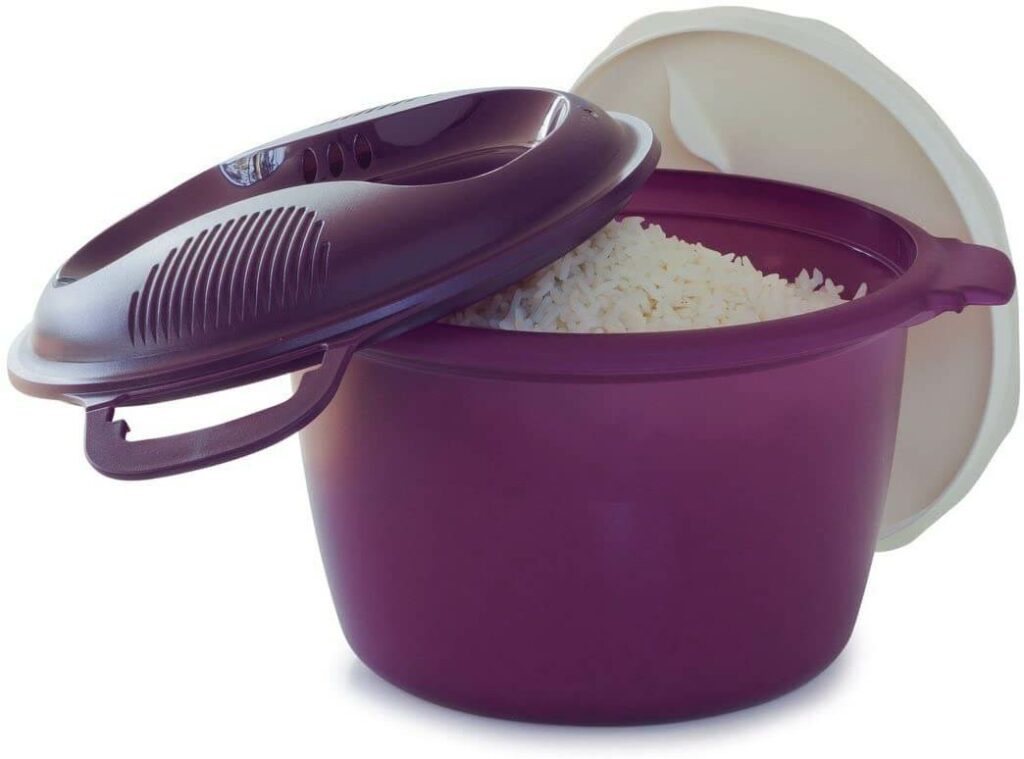 If you're looking for a little character in your kitchen, this best microwave rice cooker by Tupperware could be just what you need. 
Overview
Even though the lid is not liquid-tight, it has a 3-quart capacity and you can even store your leftover rice in the pot in the refrigerator if you don't eat that all. 
Features
The lid actually has a pretty neat design that catches any foam that comes up to the top of the pot and let's it drain back into the rice. Just make sure you don't fill the pot over the maximum fill line. 
All Tupperware products are BPA free which is also nice to know.  
In this size pot you can cook enough rice to serve up to 10 or 12 people. 
Again, this product is not highly rated but it still has a 4.5-star average. 
Pros
This product may cook the rice a little bit faster as some people mention that they can cook two cups of rice in about five minutes.
Very easy to clean up after use.
Cons
Tends to leak while cooking rice if water measurement is not done accurately.
Microwave Rice Cooker Buying Guide
Rice as well as grains are a staple resource of useful carbohydrates that provide nutritional energy for our daily tasks whilst in different parts of the world, rice planting and harvesting is a jubilant event for people who live in the exact same area.
Keeping that said, the general public passion in growing rice likewise led to some fascinating techniques of food preparation which is as colorful as its cultural significance yet finding out just how to steam up some fluffy white rice is definitely one the most standard and also worthwhile abilities in the house.
One can definitely be spoilt for option when it boils down to on-line purchasing in this contemporary era but if you get one of the recommendations on this list then you can't go wrong. These alternatives are certainly quite resilient with the last offering more benefits if you favor to have better precision in the kitchen area, after that the added measuring tools will certainly come in handy.
On the other hand, the Pampered Chef Rice Cooker Plus seems to be the most resilient of the bunch due to its durable plastic part that also features a steeper rate.
Rice is a budget friendly and also versatile grain, used as well as liked in several foods all over the world. With a lot of different ranges, rice can be taken pleasure in by itself, as a side dish, or function as the base for numerous recipes like grain bowls, jambalayas, mix french fries, therefore much more.
Although the process of cooking rice on the stovetop is fairly very easy– besides, it's just water as well as rice, typically in a 2-to-1 proportion– it's also very easy to under or over cook your rice. If you have actually ever scorched a pan of rice or wondered why your rice is soft as well as mushy, you've realized preparing a pot of rice requires just-so timing and also constant guidance. The job can be made easier with a rice stove.
Rice stoves permit you to make a pot of flawlessly distinctive, cosy rice with no uncertainty or continuous viewing. Prior to buying, you'll want to consider a rice stove's capacity as well as food preparation features for just how much rice you consume and which sorts of rice you consume usually. Here are our leading rice stove chooses for whatever your rice demands may be.
As the saying goes your mileage may vary, what works for you may not work for everyone else. So in our microwave rice cooker buying guide, we're gonna give you some things that you should consider.
Capacity
Capacity is probably the biggest factor that you should consider when buying a microwave rice cooker. Are you just cooking for yourself or your roommate or do you have a family of five or six? Obviously, this will determine how big of a rice cooker you need.
Functionality
All of these microwave rice cookers. Work pretty much the same way. Add rice, add water, turn the microwave on. They should be all fairly easy to use.
Versatility
All of these rice cookers will allow you to cook other things besides just rice like other grains, vegetables, or even pasta. However, some come with additional tools that make that easier.
The Lid
Most of the lids had nothing special to them, but a few had special designs that capture foam and steam that allow the water to collect and drip back down over the rice. 
Extras
As you have noted some of these microwave rice cookers came with rice paddles or measuring spoons and cups. If this is important to you then you should look for the ones that include those. 
Conclusion
At the end of the day, no matter which one of these rice cookers you choose, you will be on your way to cooking consistent rice every time. 
When cooking rice on the stove it's easy to leave it on too long or not control the heat properly. But these rice cookers take all the guesswork out of it. 
We hope you enjoyed this article and that you have found the research helpful in your decision-making process.