Hey guys, Jeremy here from Ktchndad, again today we're going to talk about how to smoke a brisket. Brisket is my personal favorite barbecued meat, so to speak. I know there's a lot of people out there that like the ribs, but to me a brisket done right is pretty hard to beat.
Check out the video below for all of my tips or if you prefer to read continue on!
If you go to your grocery store you might only find the flat, but I recommend trying to find a whole brisket. It's got what's called the point, on top of that. It's a little fattier, but it's a lot more flavorful.
Some people prefer the lean brisket, which would be coming from the flat, but I personally like the point. So I have a whole brisket today.
My smoker is not huge and we're not serving that many people. So I'm actually going to cut this in half lengthwise as well as width wise so that I'm going to save half of it in the freezer for another day.
But I am also going to make sure that our guests will have either some of the flat or some of the point.
Seasoning the Brisket
It really doesn't matter too much what you put on there, as long as you make sure you have enough salt. You could just do salt and pepper if you want.
I do like the brown sugar cause it just caramelizes a little bit on the grill. That being said, the brisket is hard to beat, so you really don't need a ton of seasoning on it.
Okay, I have my brisket cut in half and season. I am going to check too if my grill is ready. Depending on the size of the brisket and type of smoker you are using, it could take anywhere from 6 to 18 hours. If you leave the whole brisket together, it could take 12 to 18 hours.
Smoking the brisket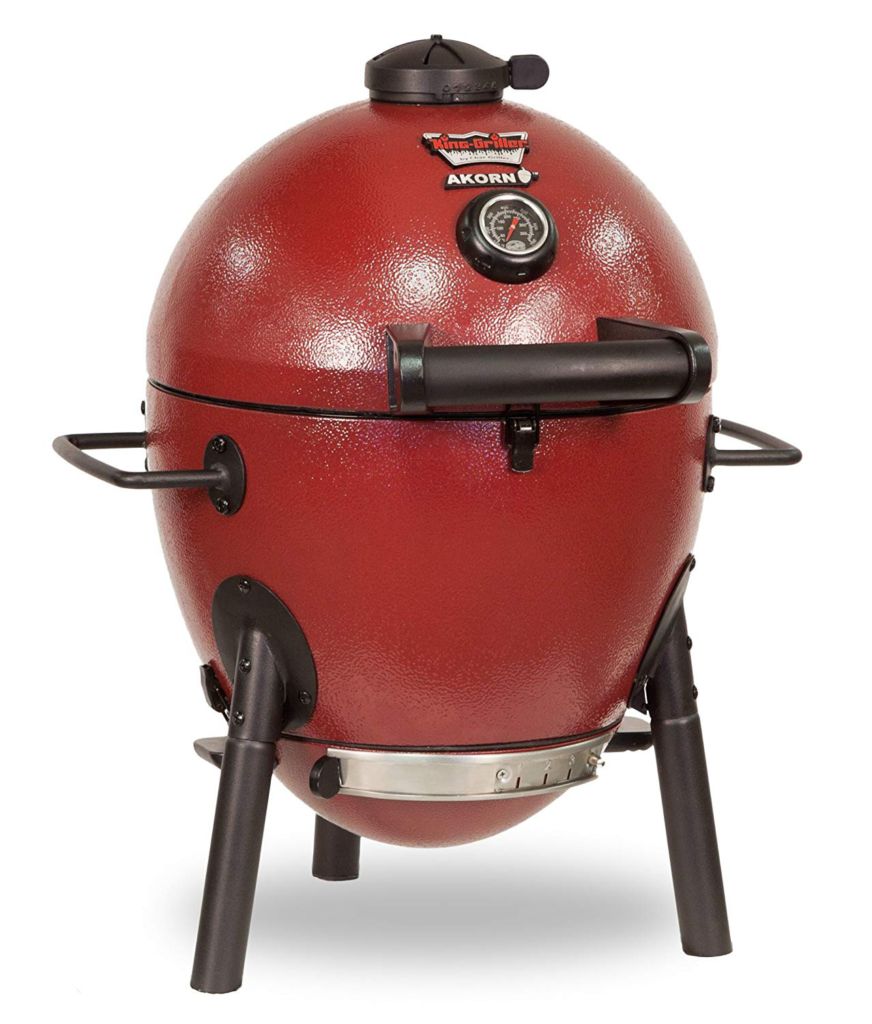 I have a small Akorn Char-griller. It tends to cook a little bit quicker even at the same temperature than some bigger smokers. So I'm hoping this amount will take about 3 to 4 hours.
Alright, my smoker is at the right temperature which is about 225 degrees. I've got my brisket cut and seasoned. You can do this way ahead of time if you want, even overnight. If you wanted the brisket to marinade a little bit.
I also have some wood chips that I have soaked in water for about 15 minutes. I'm going to throw them on right before I put the brisket. So now I'm going to take the grid off, add the smoking stone. As you can see, it's pretty black, I've used it a few times.
I put the wood chips in as well and then the smoking stone. Throw the grid back on and then throw the brisket on.
You might hear different opinions on this, but I'm going to put the fat side of the brisket down so that it's towards the heat source for two reasons.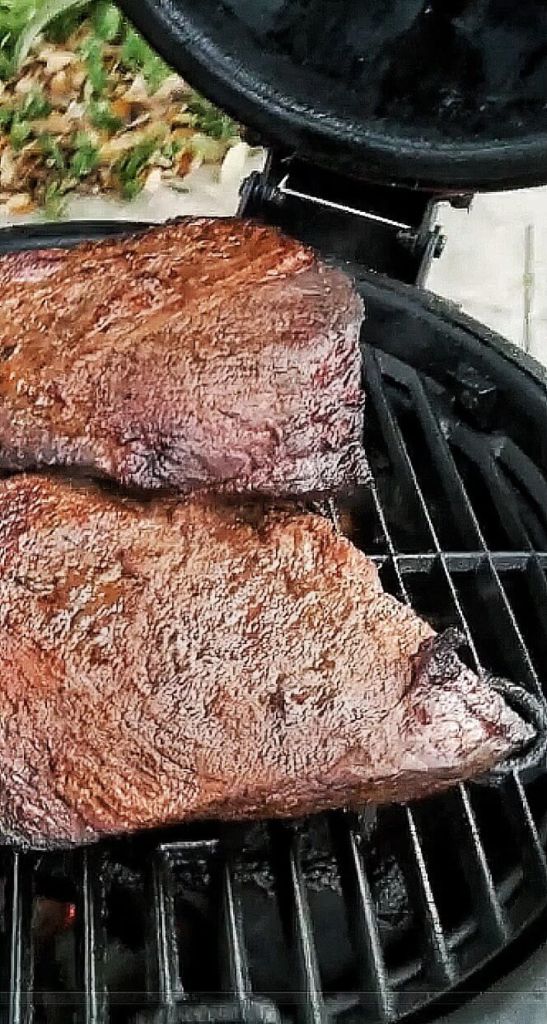 It kind of adds in a protective layer so that the brisket doesn't get overcooked while it's in there. Also, the fat is some of the most flavorful parts of the meat, but it doesn't taste great unless you render out most of it. So putting that towards the heat source is going to let most of the fat render out, but leave just enough that you'll be able to slice off on the meat.
After you throw the brisket on, you want to close the lid and adjust your vents, at the top and the bottom. The first 20 to 30 minutes or so are the most important to monitor the temperature. As I said, it's going to drop about 50 degrees and it'll slowly come back up.
So once you see where it's sitting at after about 30 minutes, then you can maybe monitor it every 45 minutes to an hour.
Foiling the meat
You may notice after a couple of hours the brisket will get to an internal temperature of about 140 to 150 degrees and might just sit there for a while.
This is completely normal and the reason is because there's so much water content in the meat that it starts leaking out and evaporates, it acts almost as a cooling process, which prevents the temperature from rising. So when it hits that point you can wrap it in foil or if you want to skip this part, or you can leave it alone.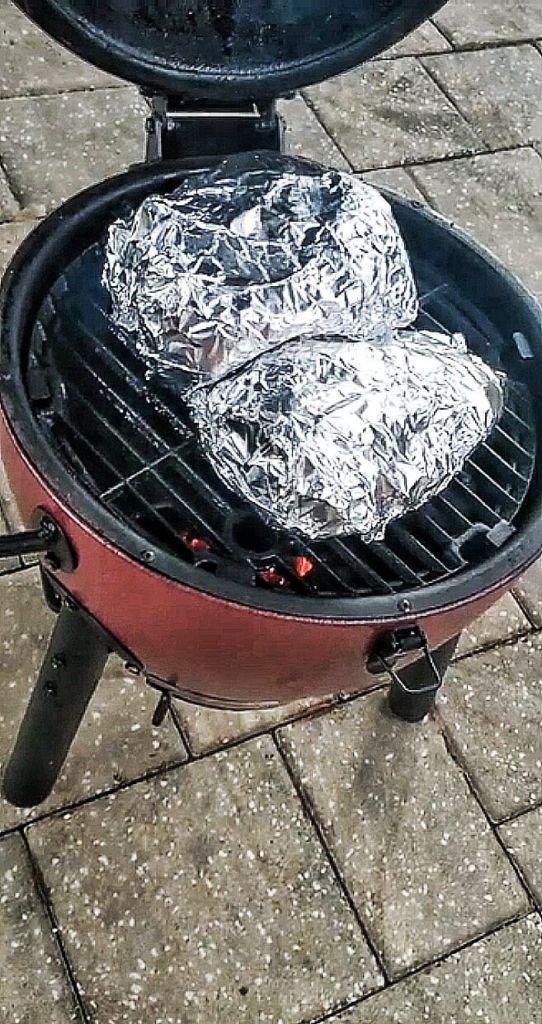 Eventually, enough water will come out so that the temperature will start to rise again. But remember, for a brisket, you want the internal temperature anywhere from 185 to 205, depending on how tender you like it.
The briskets take a while. It's been about four hours now. I'm just going to pop in there and check the temperature.
This is Akorn small, there is not much room for the moisture to evaporate. So it tends to cook a little bit faster than more traditional smokers. So let's pop in here and check it out.
The brisket, so far, they have great color, is nice and dark. They don't look like they're overcooked. The bottoms are especially caramelized.
So I am just going to check the temperature of one spot. If you want, you can just close the lid for a second while that thermometer is on.
Ideally, you'll have a Wi-Fi thermometer that you don't have to open the lid to check your meat. We will probably be reviewing those here coming up shortly.
But my small piece of brisket is at 180 and the large piece is about 160. So, I think what I'm going to do is wrap both of them in foil, and then let them sit there for another hour or so.
That way the moisture will stop evaporating, will keep them nice and juicy, and finish raising them up to about 195. I personally like the brisket to be a little more on the tender side.
Slicing the brisket
Alright, I've got both pieces of my brisket off the grill. The smaller piece, that was most of the flat, took about 5 hours, the bigger piece that was more of the point took about 6 hours.
I have wrapped it in foil with about an hour left ago and now I'm gonna slice them open.
When you're slicing a brisket, you always want to slice against the grain. You can see the muscle running through the brisket, so you want to cut perpendicular to that.
It's super easy to do with the flat, it's pretty obvious but the point is kind of marbely with its fat veins, so you might not be able to do it as easily with the point. To be honest, if you cooked the point where it's super tender, I'd usually just cube it up anyways.
So let's get to it. Alright, so here you can see the muscle running through the brisket. It's going this way, so we cut perpendicular.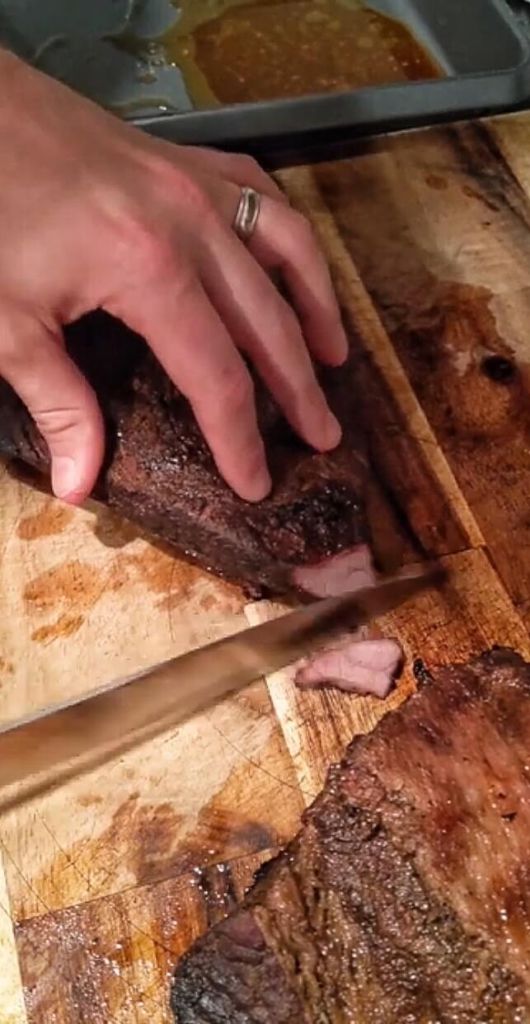 I am just going to start slicing it. This long, thin knife is usually best for that. You can see it's got a nice little smoke ring in there.
So, let's go ahead and slice the whole thing through.
Alright, guys, I hope you enjoyed the video. As always, enjoy your finished product.
I am keeping it simple today, on a slider bun, with a little bit of horseradish sauce and thinly sliced red onion.
Cheers.