In this article, I will explain more about the Kalorik glass toaster and will go into detail about its modern and practical design. Not only that, but I will also show you some consumer opinions about the product and provide you with a handy list of pros and cons related to this appliance that will help you to make the best decision when purchasing. 
Kalorik Glass Toaster
If you are on the hunt for a brand new toaster, make sure your next model is a toaster with glass sides. Why? Well, I will get into that in just a moment…
Toasters are funny appliances. They seem to work well for a certain time and then out of the blue they start to fall to pieces making your bread burn, constantly smelling of burning because of the singed bread crumbs stuck inside of them that are impossible to remove and their pop up function stops working properly.
Kalorik Glass Toaster Review
If any of the above sounds even remotely like your current toaster then it is definitely time for you to seek a replacement. But where can you find an efficient toaster that will last the test of time?  Stay tuned to find out!
Ready to find out more? Then let's get started with the overview…
Overview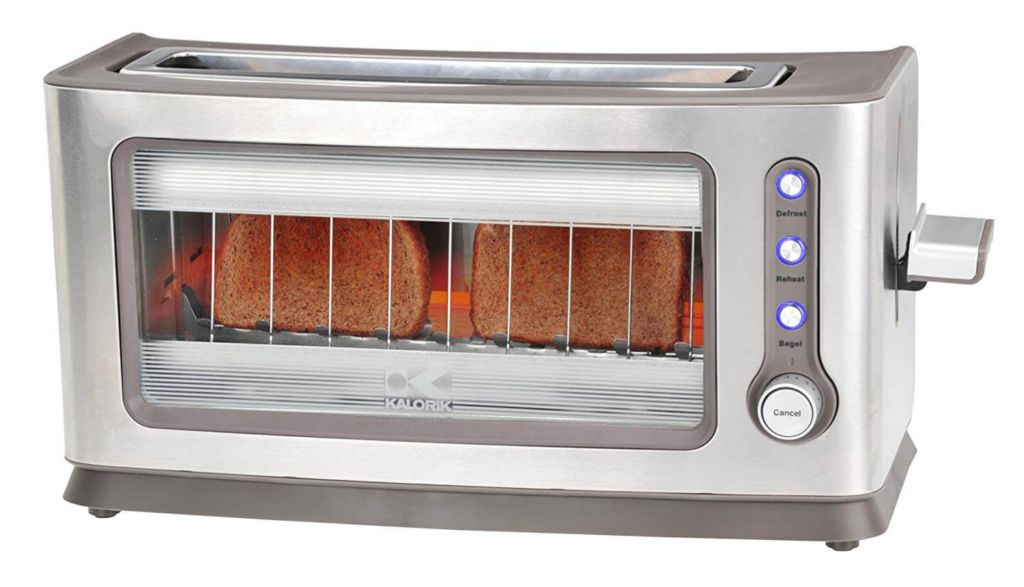 What are some of the interesting features that await you on a Kalorik glass toaster? Take a look at the following sunbeam long toaster review and you will see just how good of a choice it can be. 
Features
Glass sides. One of the best features of this toaster is the glass sides. The glass allows you to see your toast as it is browning inside of the toaster, that way you can control just how golden you would like it and pop it up when it has reached your perfect shade. You will never have to suffer through over-browned toast again!
Long and wide slots. This toaster features long slots that are sufficient for placing two slices of bread into to cook at once. Are you looking for the perfect appliance to toast your artisan bread? Then I am sure you will love this toaster as it has 38mm wide slots that are ideal for toasting bagels, paninis and other homemade slices of bread.
Browning adjustment. Another great feature on this toaster is the browning adjustment knob that allows you to alter exactly how brown you would like your toast. Keep the knob in the same place for consistent results every day!
Pros & Cons
Now you have had a look at some of the specifications that come with this Kalorik glass toaster, I am sure you are eager to find out what consumers have been saying about this particular make and model.
Take a look at the following list of pros and cons that will give you more of an inside peek at this Kalorik toaster and how it operates. 
Pros
Stays cleaner for longer. You may be wondering whether the glass is easy to keep clean from the inside out. But users have noticed that the crumbs from the bread fall through the toaster and do not stick to the glass, helping it to stay in pristine condition for longer.
Extra lift. The toaster has a fine extra lift feature that will help you to retrieve smaller pieces of bread.
Cons
One sided glass. It is worth bearing in mind that the toaster only has a glass viewing window on one side. So if you are planning to use the viewing window to check up on your toast as it browns, you may have to rotate the toaster depending on where you are in the room.
Some users have noticed that the toaster is slow to get warm.
Conclusion
So what can we conclude about the Kalorik glass toaster? This glass toaster is a fantastic choice for those who are looking for a toaster that has all of the following.
Various browning options so that you can have your toast your way.
A glass viewing window that will allow you to keep an eye on the status of your bread. 
Bagel, defrost, reheat, and cancel options that will facilitate toast making including defrosting frozen bread and reheating your toast once it has gone cold without burning it.
Long and wide slots that are ideal for toasting artisan bread. 
Extra lift feature that will make it easier for you to retrieve small slices of toast.
If the above mentioned features are what you are looking for in your ideal toaster, then the Kalorik glass toaster is the one for you!
So what should you do now? The next step is simple, purchasing! Follow one of the links on this page that will help you to add one of these great toasters to your basket now so that you will be able to use your Kalorik appliance to make a wicked breakfast for your friends and family as soon as possible.