Are you looking for the very best knife set that money can buy without spending an absolute arm and a leg? Then you will be more than glad that you have arrived at this Cangshan knives review of some of the best value for money knives. 
Cangshan knives are made in Yangjiang, China and they have many ranges of different knives that are perfect for cutting specific foods and preparing intricate meals.
The Cangshan S1 series of knives have a great selection of modern knives with a sleek and new design that is becoming increasingly popular among chefs and other cooking experts.
Are you ready to see just what is so special about these knives and why just about everyone is looking to purchase them? Then stay tuned.
If you are looking for a brand new knife block set, then perhaps you are considering purchasing one from the team down at Cangshan.
If that is the case, I am sure you would like to know more about the quality of Cangshan knives and take a look at a review of a Cangshan S1 series knife block set.
If that is the case, then you will find all the information you need in this very article.
Cangshan S1 Series Knife Block Set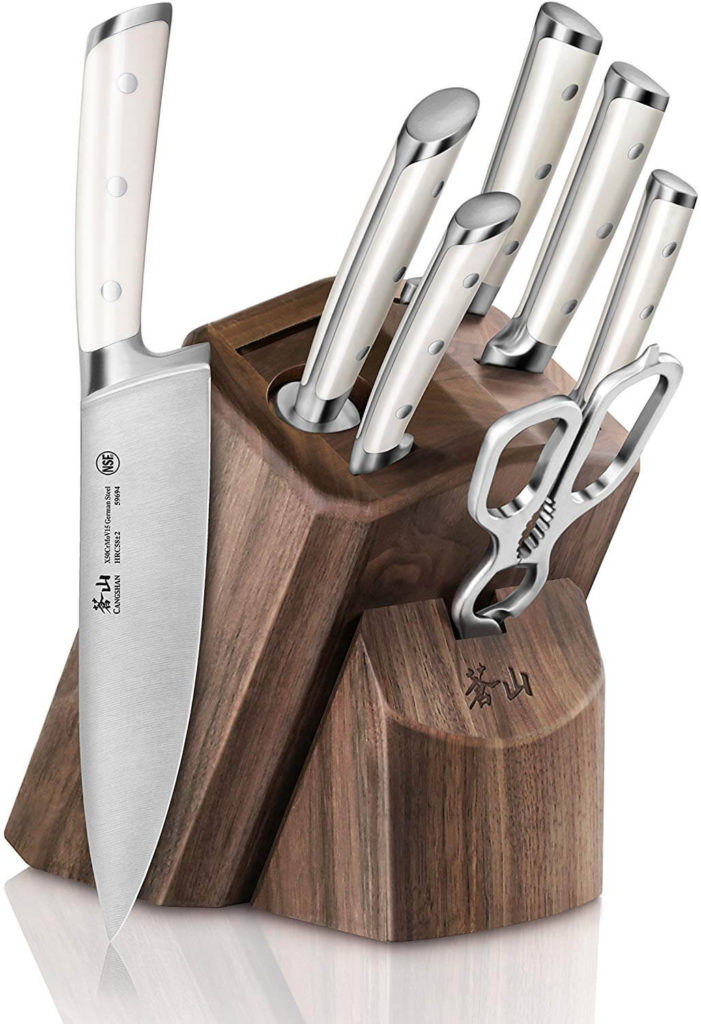 Are you looking for a knife block set that contains a knife to prepare just about every kitchen recipe?
Then you will love the Cangshan S1 series knife block that comes with 8 pieces of the most essential kitchen knives you will not want to be without. Take a look.
Overview
The Cangshan S1 Series Knife Block Set features a Chef's Knife, a Santoku Knife, a Pairing Knife, and Kitchen Shears. To keep everything sharp, you will use the included 8-inch honing steel and keep each of the blades in top condition. The knives themselves come presented with a handcrafted, unique grain walnut block that keeps the knives organized and makes them easy to find. They are made up of full tang, of one single sheet of steel, they are triple-riveted and have been perfectly balanced to help reduce wrist fatigue and make cooking an enjoyable experience.
Features
Chef's Knife
Santoku Knife
Paring Knife
Kitchen Shears
8-Inch honing steel
Unique Grain Walnut Block
Pros
Metal detachable shears
Well Designed
Excellent Build Quality
National Sanitation Foundation (NSF) Certified
Cons
Only comes in 8-piece and 10-piece combinations
Can get pricy
Are Cangshan Knives Worth The Price?
Purchasing a knife set is a bit of a pricey decision. And if you are looking to replace all of your knives it often works out far more economical to purchase a whole block of knives instead of buying them individually.
Even so, you may be wondering – are Cangshan knives worth the price? As of course, there is nothing worse than spending a pretty penny on second class kitchen cookware. 
If you are in doubt about whether a Cangshan knife set will be worth the money you spend on it, take a look at the following information that will explain everything that makes up a Cangshan knife set.
Cangshan knives are made in Yingjiang, China, but the steel used in the blades of their knives is usually German or Swedish, meaning the blade materials are tougher than your average knife blade and are less likely to pit and will require less frequent honing.
The team down at Cangshan is known for combining the best details about eastern and western knives into one single piece.
Their knives are well crafted and perfectly balance the weight of the handle with the weight of the blade, making the knives easier to use and helping to reduce wrist fatigue.
Honing Your Cangshan Blades
The solitary essential aspect of taking care of your kitchen area blades is keeping them sharp.
Not just does a plain blade make your work in the cooking area more difficult, however it additionally makes it extra unsafe. It births repeating: a dull blade is much more hazardous than a sharp one.
A dull blade requires you to apply more stress, which subsequently makes it more likely to slide and also reduce you.
If you want to explore the enigmas of blade sharpening, you definitely can. However if it comes down to utilizing a dull knife because finding out to make use of a whetstone is too complicated, do yourself a favor as well as have it honed by a professional. A flatware shop will possibly be able to do it while you wait.
What is honing?
Honing is one more issue. Developing involves grinding away small amounts of steel to reshape the side of the blade.
Picture having to grind a U into a V. Honing, on the other hand, is about lining up the side of the knife. The side is there, and also it's sharp, yet due to the fact that it's so slim, it has a tendency to fold itself over after a duration of use.
Developing simply uncurls that edge and straightens it.
Unlike sharpening, honing is something any kind of residence chef can and also ought to do themselves.
A refining steel or pole is a straightforward device that will realign the side of a knife with simply a few strokes. It's excellent to hone prior to each use (instead of developing, which you may just do once or twice a year).
Refining actually assists when slicing tough-skinned things tomatoes (although a serrated knife for tomatoes is not a bad idea.).
FAQ
Are Cangshan good knives?
Yes, Cangshan knives are great knives in addition to being quality knives that will keep a sharp edge for a long time they are very well balanced and aesthetically pleasing. Cangshan knives are professional grade knives at a reasonable price
Are Cangshan knives dishwasher safe?
No, the dishwasher will dull your knife blades and destroy the finish. Any quality knife will be destroyed in the dishwasher so it is recommended to hand wash your knives(not just Cangshan).
What are Cangshan Knives?
Cangshan knives are known for the quality and craftsmanship. They are very sharp blades that help you cut food precisely and effectively.
Cangshan Knives Conclusion
When shopping for a brand new knife set, you should definitely consider purchasing a Cangshan S1 series knife set, as it is superior to many others in the following ways.
Value for money
The S1 series provides you with great value for money and is a far more economical option than purchasing single knives.
Great storage
The wooden knife block is the perfect way to store these knives and it is nice and compact meaning it will not occupy too much space on your kitchen countertop.
Great blades
The blades on the S1 series are made from a full tang of German steel, the perfectly tough and sharp material that will last and help you to deliver razor-sharp and steady slices.
Before hitting the purchase button on any knife block you see on the internet, make sure it is up to your standards.
There is nothing more frustrating and time-consuming than not having the right knives to use to prepare a more intricate meal, so make sure your knife set will come with all of the varieties you need to make preparing a meal a walk in the park.
There is no tool better for slicing and dicing in the kitchen than this Cangshan S series knife block set!