Grilling a piping hot stack of tender and juicy meat is not just a great pastime for the summer. Pop a jacket on and turn up the heat and a grill is also perfect for use towards the end of the summer, in the spring and autumn. 

What I love the most about grilling food is how it helps to bring the whole family together. In the technology age that we are living in, I am sure you find it is increasingly difficult to get your family away from their devices and to sit around and have a good old fashioned chat.
That is what is so fantastic about outdoor grilling. And of course, if you are after the tastiest and most mouth-watering succulent results when using a grill then you will need to purchase one of the most popular grills on the market – a Weber original kettle premium.

Weber Kettle Review
You may be wondering, but why is a Weber original kettle premium grill so popular? And simply put, it's because it is mind-bogglingly awesome. Between the easy ash removal, the fast cleaning, and the versatile grilling options that come with this model, you know that when shopping Weber grills you are purchasing top of the range, sturdy equipment. 

Weber Charcoal Grill – (Weber Kettle Grill)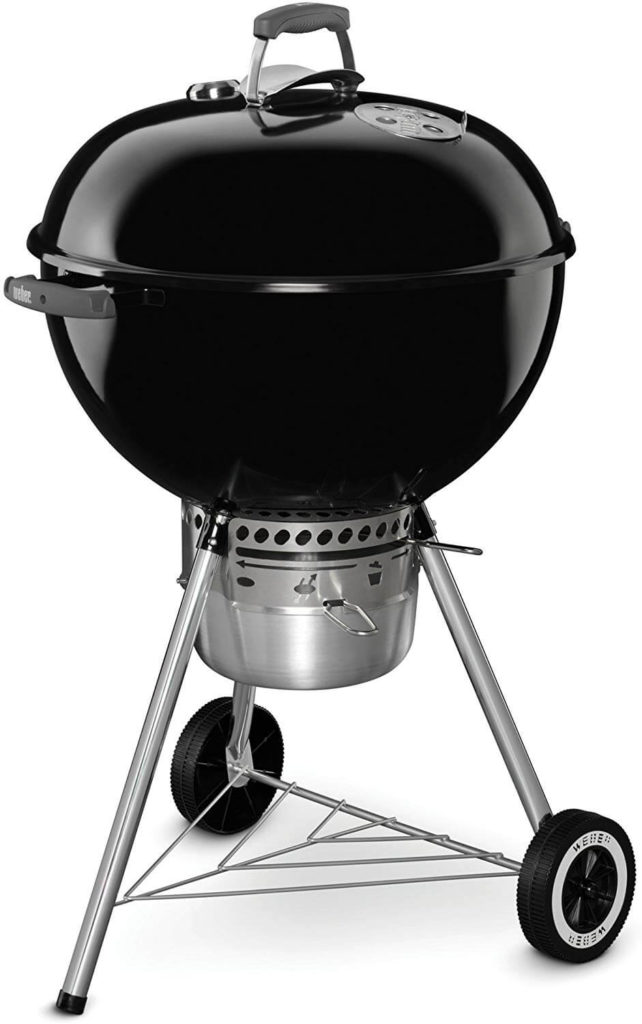 Are you looking for a brand new Weber charcoal grill that will suit all of your grilling needs? Then stop right here as the following Weber 22 kettle grill has been selected as one of the most popular grills on the market right now.
Overview
This grill has lots of fantastic features that are appealing to grill enthusiasts worldwide that I am sure you will also find enthralling. Check it out!
Features
One thing I love about this Weber charcoal grill is that it comes in a selection of eye-catching colors, there is a color to suit all tastes and color schemes. You can choose from a classic black – one of the most popular models, a shiny and smoking copper, or a natural and garden-friendly dark green. 
This charcoal grill has enough cooking space for you to feed the whole family this weekend! Hungry bellies and people waiting around for food to cook in batches is really no fun, and that is why this charcoal grill has enough cooking space for you to grill 13 patties at once so that you can get those barbecue meats smoking in next to no time.
Keeping an eye on your temperatures is really important when grilling as it will help you to achieve consistent and exact results. The built-in lid thermometer on this grill will assist you with that.
Cleaning a grill has never been easier thanks to its high capacity ash collector that will keep all of the ash in one place, making it simple to remove and dispose of.
This grill will stay in like new condition for longer thanks to the porcelain enameled lid that will protect it from the elements – such as extreme heat and damp conditions, protecting it from rust, corrosion, and peeling. The porcelain enameled coating is also key for retaining piping hot temperatures under the lid so that you will not need to refuel as often.
Pros
Easy to assemble
Has a built in ash collector
Great temperature control and easy to monitor with its built in thermometer
Cons
Food tends to stick to the surface of the grill
About Weber-Stephen
If you are looking to buy a brand new Weber-Stephen grill then you are most likely keen to know a little more about the company itself. Take a look at the following information that will give you some background on the brand.
Weber-Stephen is one of the oldest grilling equipment manufacturers on the market so they have a tonne of experience fine-tuning the very best grills for you to use.
They have been operating since 1952 and have been dedicated to producing great quality and long-lasting barbecue equipment ever since.
Weber-Stephen manufacturer a large range of grills and smokers that are popular worldwide.
FAQ
Are weber charcoal grills worth the money?
Absolutely! The porcelain enamel finish they put on all their grills/smokers ensure they outlast most competitors, especially when left outside. This finish is what prevents you from needing to season and re-season your Weber grills to keep them from rusting away.
How do you use Weber kettle vents?
After lighting your charcoal and arranging the lit charcoal on just one side place the lid on the grill with the lid vents open all the way. The lid vents should be directly over the side of the grill with no charcoal beneath them. Start with the bottom vent wide open and close the bottom vents to control the heat of your grill while always leaving the top vents fully open.
How do you clean a Weber kettle?
Empty the charcoal and ash out and use a dry rag to pop off any stuck larger pieces of debris. Since the Weber grill has an enamel finish you can simply wash it (inside and out) with a soft rag and some dish soap. Once complete there is no need to oil or season the grill, it is ready for use. To get your grates clean simply add lit charcoal and get the grates to a high temperature for 10-15 minutes and scrub them with a stainless grill brush.
Conclusion
If you have been looking for a great grill for a while now then you have most likely already come across some weber kettle grill reviews and been impressed by the high quality and easy maintenance advertised on a weber grill. Let me assure you that when purchasing high quality barbecuing equipment such as a weber kettle grill, you can only expect to get the very best grilling results.

Weber-Stephen kettle grills are some of the most famous grills on the market because they are easy to transport, thanks to their two wheels, are quick to clean due to the ash out tray, are resistant against all weathers because of the porcelain enameled coating and have ample cooking space that will give you enough room to cook up a storm for the whole family this weekend. 

So when purchasing a brand new smoker grill, make sure you consider a Weber kettle grill as they are far superior when it comes to quality and ease of use and speedy cleaning. Weber kettle grills are also a great solution for shopping on a budget as their grills come in at very affordable prices and are hard-wearing pieces of equipment that you will be able to rely on summer in and summer out.