There is nothing that will make it easier to cook up a tasty meal for the whole family to tuck into than having reliable cookware set beside you.
Tramontina Triply Clad
A great cookware set will help your meals to cook faster, evenly distributing the heat across the entire base and walls of the cookware. Some of the best cookware will also prevent hot spots, sticking, and burning and could even make it possible to cook with little to no oil or butter.
Tramontina 80116/544DS Cookware Set Review
But where can you go about finding a cookware set of this caliber? Look no further than our Tramontina cookware set review. But you may be wondering – which is more effective, Tramontina or All Clad? Take a look below:
Overview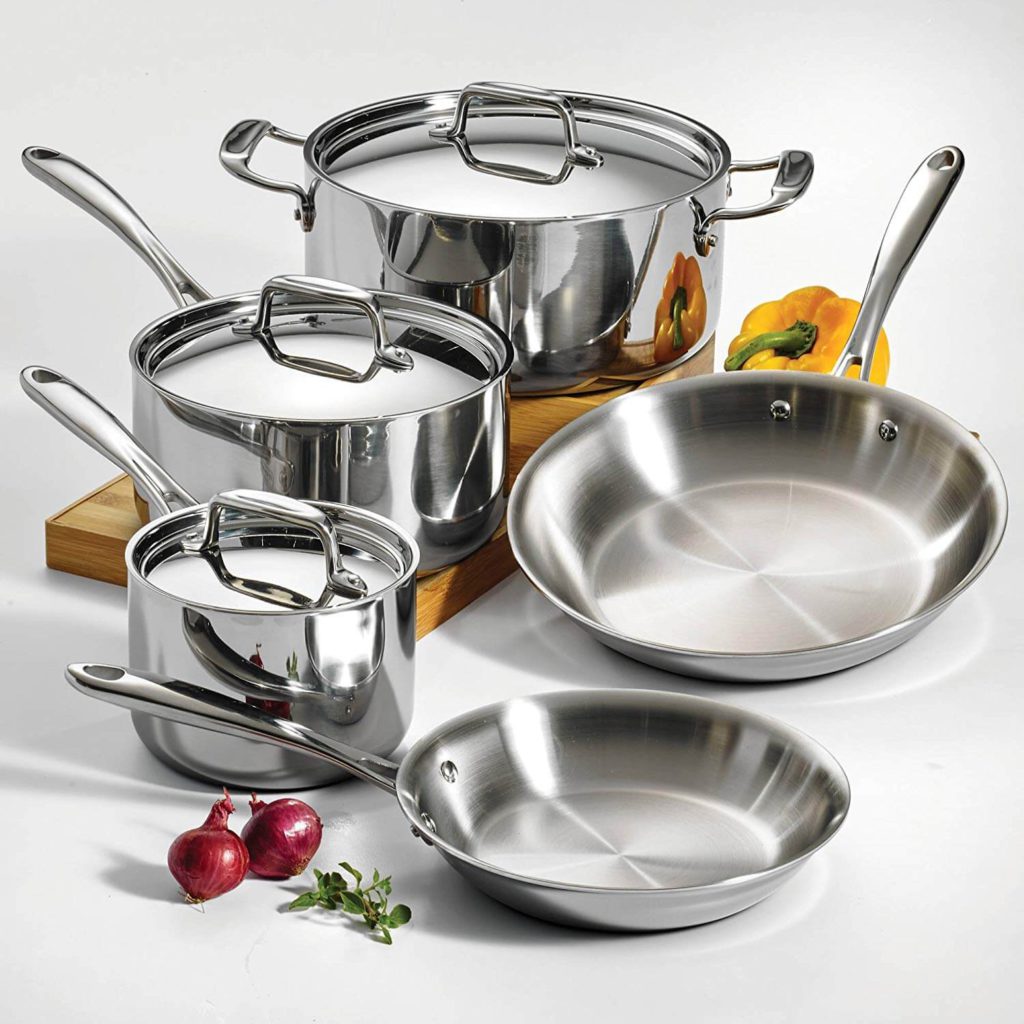 Are you looking forward to getting your hands on high quality and reasonably priced cookware set? Then you will love this Tramontina Stainless Steel 80116/544DS set.
Take a look at everything this set has to offer below.
Tramontina Tri ply Clad Features
8 piece set. This 8 piece set includes two frying pans, two-quart saucepans with lids, and one Dutch oven with a lid.
That great range of pots and pans will give you enough options for you to cook up a storm at the weekend with the right pan for just about any occasion.
Handles. This Tramontina cookware set has been put together with stainless steel handles that have been ergonomically designed to fit in your hands like a glove.
The ergonomic design of tramontina tri ply clad will also prevent your hands from slipping when handling the cookware, making it safer to use.
Easy cleaning. The entire cookware set is dishwasher safe making it easier for you to get everything cleaned up after a long evening in the kitchen.
Tri-ply clad vessel construction. The construction of the tramontina tri ply clad has been specially put together to help the cookware to distribute heat more evenly across the base of all of the pots and pans.
This tramontina tri ply clad cookware also helps to retain heat, helping food to stay piping hot for longer after it has been cooked.
Pros
Excellent quality and very durable and sturdy.
Heat distributes well throughout the pans.
Cooks food evenly
Cons
Food tends to stick to the surface of the pan while cooking which makes cleaning up afterwards a bit difficult.
Tramontina vs All Clad
Price
Tramontina cookware is often a lot cheaper to purchase when comparing it with All Clad cookware.
The great thing about Tramontina is that although it is lower on the price it is still high on quality.
Cooking temperatures
When cooking, being able to rely on durable, robust materials that will not warp when exposed to high temperatures is essential.
I must say that both All Clad and Tramontina cookware do well in this aspect as All Clad is oven safe up to 600 degrees Fahrenheit and Tramontina is oven safe up to 500 degrees Fahrenheit – a marginal difference to say the least.
About Tramontina
Have you just purchased a brand new Tramontina cookware set or are looking to buy one? Then take a look at the following information about Tramontina that will help you to have real peace of mind and confidence in your product after purchase.
Tramontina is a Brazilian company that is well known for its work manufacturing and crafting the perfect kitchen cookware and utensils such as induction cookers, pots and pans, knives, and much more.
The team down at Tramontina has been in action for over 100 years and they have dedicated this time to fine-tuning their kitchen products, doing everything in their power to make cooking easier and more enjoyable.
Tramontina cookware is also well renowned as having great value for money cookware, the very best at low prices, making Tramontina a popular choice for those who are looking for an inexpensive way to kit out their kitchens or who are looking for a practical kitchen set to gift to a newlywed couple or to a student who has just moved away from home.
The great range of products, the decades of cookware experience and their economical prices is what draws customers to Tramontina and I am sure these factors are also appealing to you and if so take a look at the Tramontina review which is coming up next.
FAQ
Is Tramontina good cookware?
Tramontina is a brand that has been around for a long time. It is well renowned for its high quality cookware and is among the very best ones in the market.
What is Tri Ply Clad?
It is the term used to describe the layers used in the cookware set. There are three layers of metal bonded together in this Tramontina Tri Ply clad cookware.
Is Tramontina stainless steel cookware safe?
Yes, having made up of high quality stainless steel it is completely safe to use.
Conclusion
Now that you have seen the difference between Tramontina tri ply Clad cookware and had a look at a spectacular Tramontina stainless steel tri-ply clad vessel 8 piece cookware set, I am sure you are chomping at the bit in order to go out and get yourself one or to order one online, or perhaps you were so keen that you have already got a hold of your Tramontina cookware set.
Whatever the case, I can assure you will not be disappointed when your tramontina tri-ply clad cookware set arrives and you are able to put it to the test. 
And as you have seen in this article when choosing between Tramontina and All Clad cookware, the difference is really minute when it comes to specifications and which one is better, but the difference in the price difference between the two of them is staggering.
If you are simply looking for something that will do a great job without requiring you to break the bank, then I am sure that a Tramontina cookware set will be right up your alley.
So when choosing your brand new cookware set, make sure you consider Tramontina as one of your most economical and hard-wearing options and as always, happy cooking!