Every household has their go-to knife when it comes to cooking. There is always that one sharp knife that you know you can rely on to help you chop up that pumpkin for a creamy soup starter or that will assist you when slicing through a sweet potato or suede for that perfect pot of mixed winter veggies. But what if your go-to knife is not quite as effective as you would like it to be? Then you need a KAN Core chef knife!
KAN Core Chef Knife
A KAN Core chef knife is one of those reliable knives that will help you to blitz through the preparation of your meals. In this article, I will go on to show you some KAN Core chef knife reviews so that you can take a look at what feedback consumers have given this fine kitchen tool.
Not only that, but I will also provide you with a helpful overview that will explain all of the fancy features you can expect to find on this knife when unwrapping the box.

KAN Core Chef Knife Review
So if you are looking for a multipurpose knife that will be by your side when the pressure is on in the kitchen, make sure you take a look at this KAN Core chef knife review!
Overview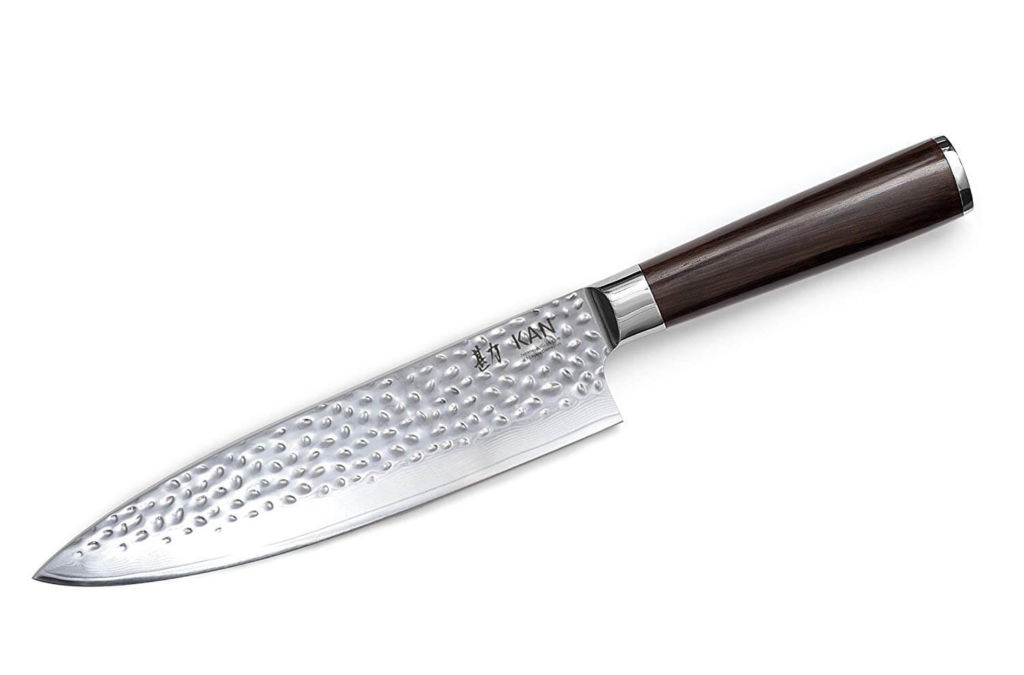 You may be wondering, what has the manufacturer got to say about this chef knife and just how sharp is it? You will be glad to know that all of these questions and more will be answered in the following overview. Check it out.
Features
Perfectly balanced. There is nothing that will steady your grip firmer than the perfect balance on the KAN Core chef knife. The knife has been designed to have the perfect weight of both the blade and the handle, which helps to make the knife easier and safer to use.
Lightweight. Hefty knives are no fun to use if you have to stand to do a lot of food preparation or are working with smaller fruits and vegetables. That is why this knife is lightweight – weighing only 15.2 oz, helping to reduce wrist fatigue while cooking.
Razor-sharp blade. The KAN Core chef knife is made with an AUS-10 core which is surrounded by 66 layers of stainless steel, each layer reinforcing the strength of the blade.
Damascus steel pattern. The Damascus steel pattern on the knife is not only aesthetically pleasing but also encourages food to fall away from the side of the blade as you slice.
Pros & Cons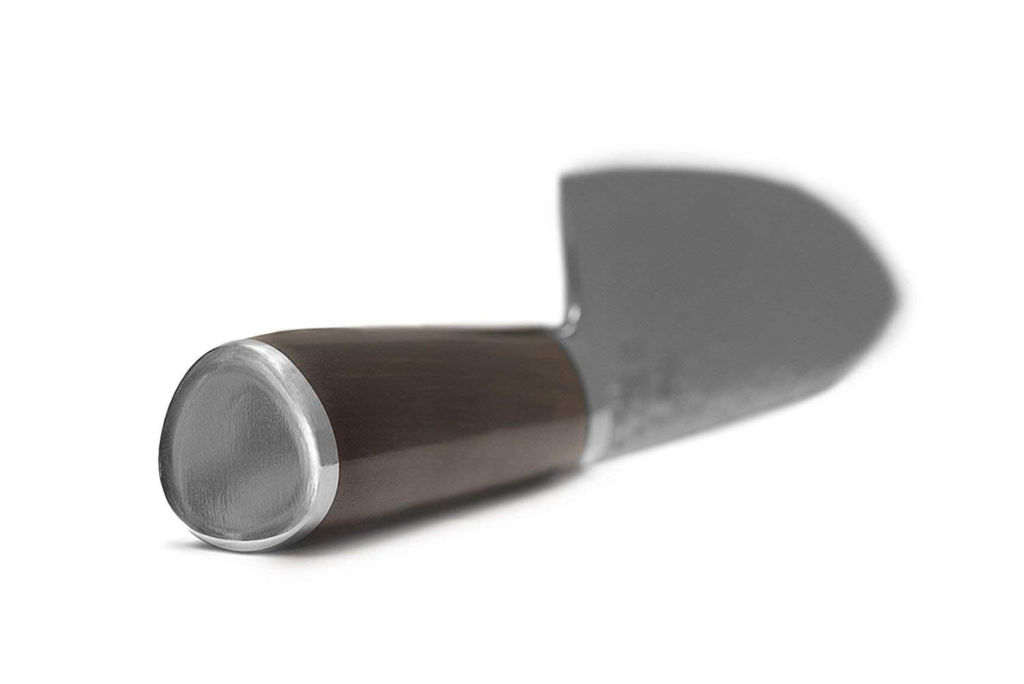 I am sure that now that you have seen a little more information about the KAN core chef knife, you are keen to find out what consumers have said about this kitchen cooking utensil.
Take a look at the following list of pros and cons that will show you exactly which features consumers love, and which they feel need a little tweaking.
Pros
Long blade. The 7.9-inch blade on this chef knife is fantastic as it allows the user plenty of blade space to chop through larger fruits and vegetables in just a few clean sweeps. 
Handle. The ergonomically designed handle has been made from dark ebony wood, giving this chef knife a classic, clean finish.
Cons
Hand washing only. Like is the case with most cooking knives, the manufacturers of this chefs knife have recommended handwashing it only as the harsh temperatures inside your dishwasher could cause the knife blade to split or pit and could even do damage to the ebony wood handle over time. It is recommended that you dry the knife and the handle thoroughly before storing it in order to keep the utensil in tip-top condition for as long as possible.
Conclusion
So what should you be able to expect from a great chef's knife? The ideal multipurpose knife should have all of the following features:
It should be well balanced between the handle and the blade, making the knife safer and easier to use.
It should have a long blade that will help you to chop through larger cuts of food.
A rock-solid blade will help you to get better contact on your food, slicing it into pieces with one clean sweep.
An ergonomically designed handle will give you a sturdier and more comfortable grip on the knife.
Fortunately, you can expect all of this and more from a KAN Core chef knife!
In conclusion, if your go-to knife is no longer working as well as you would like it to and requires far too much effort on your part to prepare tougher portions of vegetables and meat, then it sounds like you are in need of an upgrade, and what better knife to turn to than the KAN Core chef knife!
Order yourself one of these chef knives today and you will be preparing meals faster and more efficiently in time for that dinner party you have been planning with friends and family.