Cosori Instant Pot Review
Weeknights are always rushed and often the last thing we want to do in the evening is standing over the stove for an hour cooking a meal. In this Cosori pressure cooker review, I will show you why I love my electric pressure cooker.
There is nothing that makes me happier than the simplicity of tossing my meat and condiments into the cooker, turning it on low, and then getting on with my evening.
The best part as well is that the meat is always perfectly cooked with a more intense marinated flavor within a short time. And what could be easier than opening the lid, dishing it all up and microwaving a packet of minute rice to accompany your meal? 
Another great thing about using a pressure cooker is the taste of the meal afterward. Many types of meat such as pork and lamb are quite tough and rubbery if they are not cooked for long enough, but let's face it no one has time to let the meat simmer for hours on end on a weeknight and that's where the pressure cooker comes in to play.
Many electric pressure cookers come with various settings, depending on how quickly you would like your meal to cook. Placing your meat on lower settings will mean your meal will cook slower, giving the meat the opportunity to absorb more of the flavors, produce more juices and will breakdown to form that fall off the bone, melt in the mouth sensation that everyone loves.
The great thing about a pressure cooker is that even when the meat is placed on a higher setting, it will still cook down even the toughest cuts of meat and leave behind delicious juices that can easily be turned into a meat gravy to drizzle over your meal when serving. 
But as I am sure you will agree, the success of your pressure cooked meal largely depends on the quality of your pressure cooker. With so much competition out there on different electric pressure cookers, it can be tricky to know which makes and models will be the most effective for you and your family.
I too at one time found myself struggling, scrolling through what seemed like endless pages of electric slow cooker reviews and information until I found two candidates which I personally think make the very best small electric pressure cookers on the market right now. 
In this article, I will go on to share my findings of two of the very best pressure cookers and information on them including specifications that you should look out for before purchasing.
I will also discuss the differences between instant pots and Cosori cookers so that you can make the very best choice according to your needs. 
If you are after the very best Instant Pot or Cosori instant pot cooker than you have come to the right place. The following are what I think to be the very best Instant pots on the market so that you can get an idea on what will be ideal for you. 
Cosori CP016-PC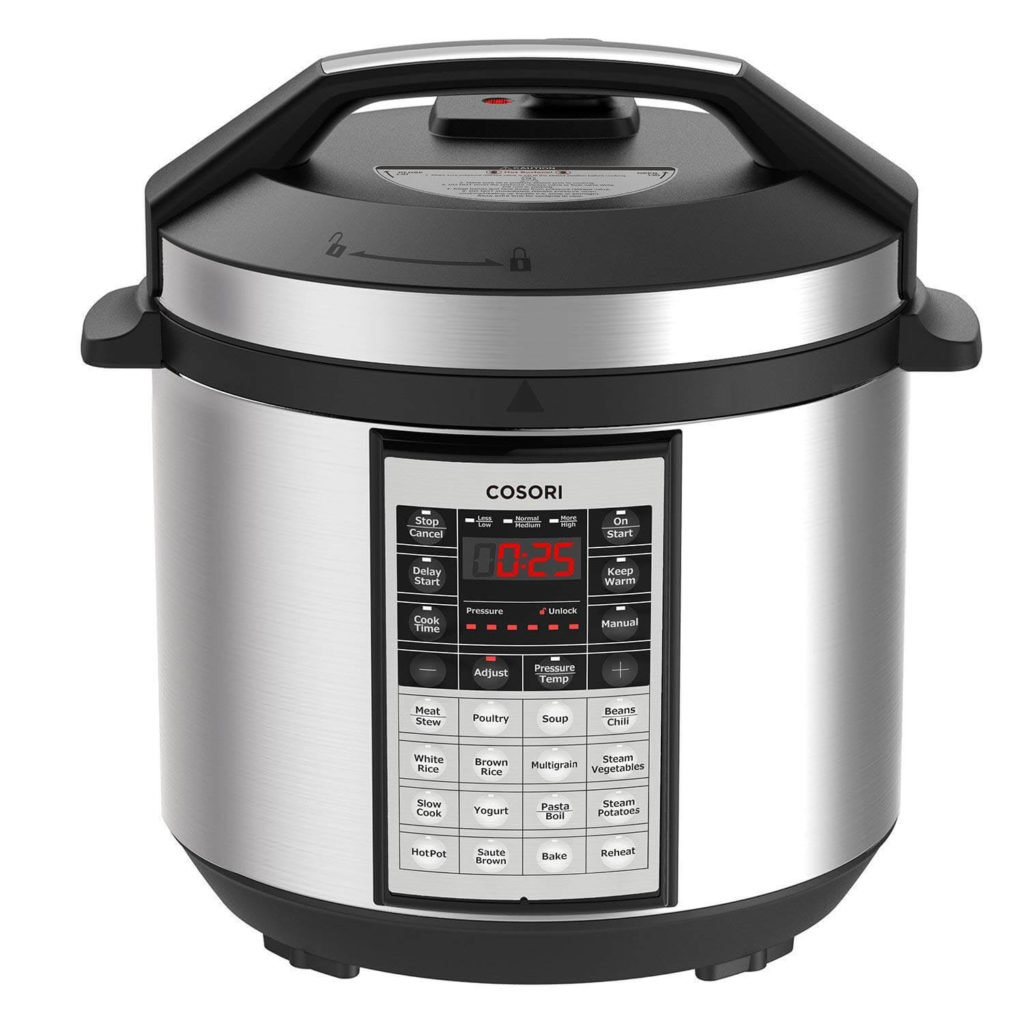 Here is a fantastic pressure cooker model by Cosori. Let me show you why.
Overview
This is a pressure cooker model by Casori, and has a 8 in 1 cooker option, which provides you with the flexibility to make a variety of different meals. It also features pressure cooker instructions that have been put together in order for you to whip up the tastiest meat as well as stew, and even poultry, white rice, brown rice, yogurt, beans, chili, steam vegetables, pasta and much more.
Features
8 in 1 cooker
Instructions
Keep warm setting
Additional settings
Pros
Easy to Use
Easy to Clean
Multiple pre-programmed options
Beautiful LCD display
Instant Pot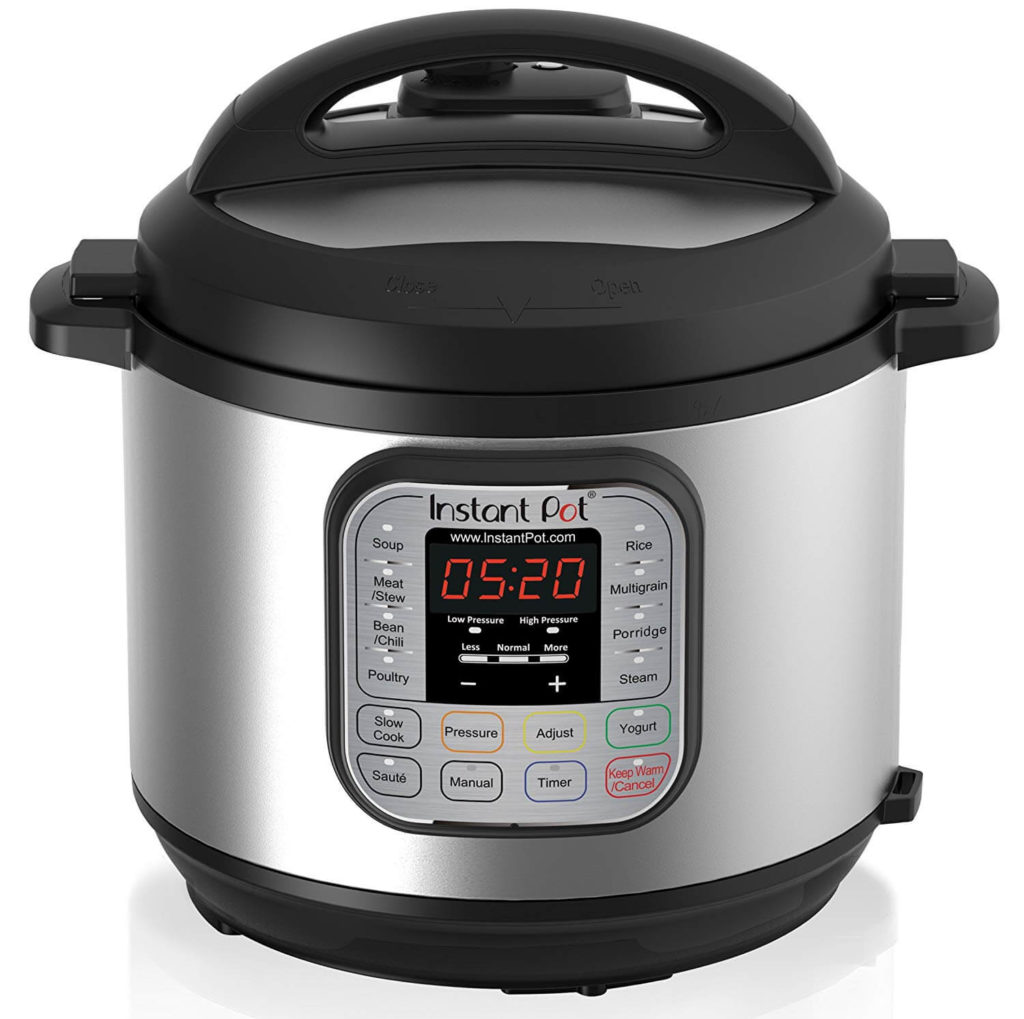 This Instant Pot cooker is a great kitchen companion. It comes in 4 eye catching colors that will perfectly suit both modern and more traditional style kitchens.
It comes in red, teal, black and white for you to choose the style that will best match your taste. But that's not all.
Overview
This is a pressure cooker that comes with pre-settings that can help you throughout your entire cooking process. This means that you can easily cook poultry, rice, soup, chili, beans and porridge.
It has the option that will allow you to sauté, slow cook, and even steam your meals.
Features
Pre-Programmed Settings
LCD Display
Timer
High Build Quality
Pros
Cooks fast and Saves Time
Plenty of Recipes
Easy to Clean
Advanced Safety Protection
Cons
Limited Stock Availability
Other Differences
So maybe you are looking to purchase a new electric pressure cooker but are not too sure about whether you should go for an instant pot cooker or a Cosori cooker.
Each cooker serves slightly different purposes and I will go on to explain them to you so that you can choose with confidence.
Other Instant Pot Features
There are a lot of benefits that come from using an instant pot pressure cooker. Here are just a few: 
If you find yourself stuck for ideas in the kitchen than an instant pot cooker will help you out. Most pressure cooker recipes have been adapted to the more popular instant pot, meaning that you won't have to do any complicated calculating or adapting of ingredients in order to make the perfect recipe.
Simply follow the instructions for instant pot cooking and you will be well on your way to a tasty evening.
Instant pots come in 3 sizes including 3, 6 and 8 quart – so that you can pick the size pressure cooker that will be best suited to  your family, a slightly smaller model for if you often cook for one or just a few people and slightly larger models that will help you to get dinner on the table for the whole family at Christmas. 
You can tailor-make any kind of meal with these cookers as they come with low and high-pressure settings. 
Other Cosori Cooker Features
Cosori cookers are becoming more and more popular on the market nowadays and here is why.
These pressure cookers have great settings that make cooking a lot safer as it comes with a pressure release function.
It also comes with preset settings that will help you to make certain foods and cook them to perfection.
Some of these settings include rice, porridge, soups, meats, and beans so that you don't have to sit calculating cooking times. 
Key Differences
But you may still be wondering – what are the key differences between Instant Pot and Cosori cookers and which one should I choose?
Instead of flicking through endless electric pressure cooker reviews, have a look at the following guide of the key difference between the two cookers, so that you can get an idea of what cooker will be best for you. 
Instant Pot is a famous name and it is a lot easier to find recipes to match this cooker on the internet. The number of Cosori cooker recipes available online is rising as they are becoming more popular, but it still may be a bit tricky to find all of your favorite recipes tailored to this cooker.  
There is more variety available with Instant Pot cookers and you can find models that vary in size, in specifications and functionality. On the other hand, there aren't many Corosi cookers on the market so your options will be more limited. 
So there you have it. If you are looking for the easiest way to make the best recipes on the internet and are hoping to be able to choose from a wide variety of pressure cooker models, then an Instant Pot cooker will definitely be the one for you. 
FAQ
How long does it take for Cosori to pressurize?
It takes about 5- 20 minutes.
How long does it take for a pressure cooker to depressurize?
A pressure cooker may take 10-15 minutes to cool and depressurize..
Where are Cosori products made?
The products are designed in the United States and manufactured in China.
Conclusion
So there you have them, the very best pressure cookers available to purchase today. As mentioned before, all you need to do is to decide whether you would prefer the Instant Pot or Cosori make. 
Have a look at the specifications mentioned and make a list of the ones that are really essential for you, which will help you to choose the best pressure cooker that will really be your right-hand man in the kitchen. 
The pressure cookers mentioned above are both fantastic, so I am sure you will be able to put together a tasty meal regardless of what make you choose.