If you carry around or use a pocket knife often it is important that you keep your pocket companion sharp, this will require a fair bit of constant sharpening especially if you use your knife often.
While a sharp knife may sound more dangerous it is actually much much safer to have a sharp knife than a dull knife.
Why?
A dull knife will require a lot of force and pressure to cut which is where problems occur vs a clean cutting consistent sharp knife. In this article we will review our selections for best pocket knife sharpener .
Top 6 Best Pocket Knife Sharpeners Comparison Chart
Table could not be displayed.
Top 6 Best Pocket Knife Sharpeners On The Market 2020 Reviews
Victorinox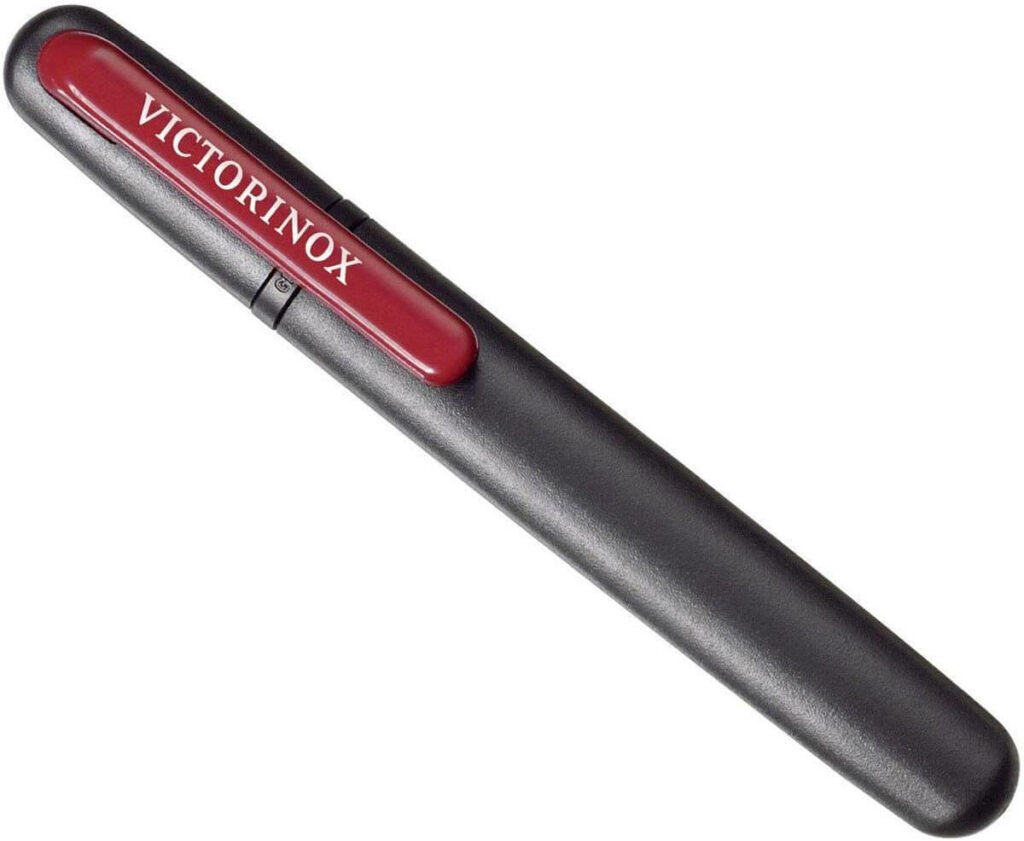 First up for Review is the Victorinox Fixed Blade Sharpener. Victorinox is a very well known brand for quality and this compact and the sturdy german made sharpener is no exception to that rule.
The compact size of this sharpener makes it easy to carry around in your pocket alongside your knife so that you can sharpen anywhere anytime. 
This is a full ceramic sharpener not a steel one so as you wear off the diamond dust more is revealed as the ceramic wears.
(A common issue with steel sharpeners is once the diamond coating wears off all that is left is the steel)
This is a great pocket knife sharpener.
Smith
Next up for review is the Smith PP1 Sharpener.
This is a great sharpener with more of a folding design and it offers quite a few different features.
This excellent sharpener features a course section for damaged or extremely dull knives, a fine section for fine-tuning and taking your knife edge to perfection, and a round rod that is excellent for serrated blades. 
This sharpener is a full featured multi-tool that can handle a variety of different types of pocket knives.
In our testing for the price this was a fantastic sharpener and the folding functionality made it easy to carry around, additionally this sharpener features a lanyard hole which makes it even easier to add to your keychain or backpack. 
Lansky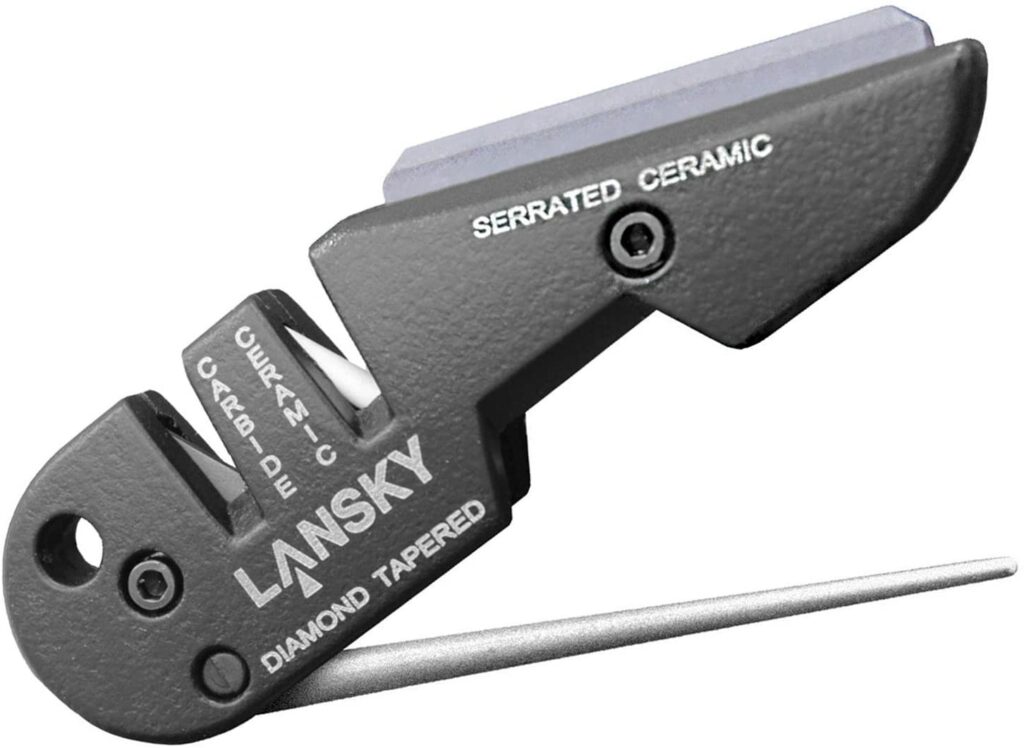 Next up is our Lansky folding sharpener.
This sharpener takes on a very similar design to our last reviewed sharpener but adds on a little more in terms of features.
This sharpener is another fantastic one to carry around because it works on serrated, gut hook, AND fillet knives. This is certainly one of the more versatile sharpeners that we have reviewed. 
This sharpener is completely made from metal so it will last a very long time and be able to take a lot of abuse in your pocket and in your backpack.
While a relatively unknown company when shopping for your next pocket knife sharpener this is certainly one to consider.
Wusthof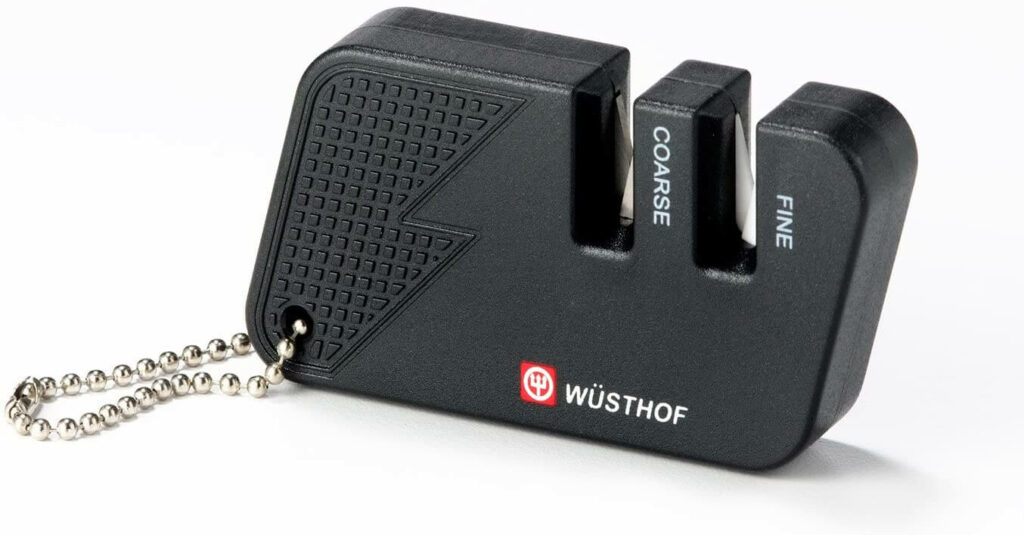 Next up for sale is the Wusthof 2 stage pocket knife sharpener.
Wusthof is a well known quality knife manufacturer, especially in the Kitchen, as any avid kitchen dad readers will know since we have reviewed many of their products.
This sharpener features a carbide sharpener for the course side and a ceramic sharpener for the honing and finishing side much like many other sharpeners we have reviewed here.
This is a quality budget sharpener however it lacks many of the full features of the other sharpeners covered in this article.
If you are looking to save a few bucks for a very simple sharpener with none of the bells and whistles of other sharpeners in this article this may be the one for you.
Sharpal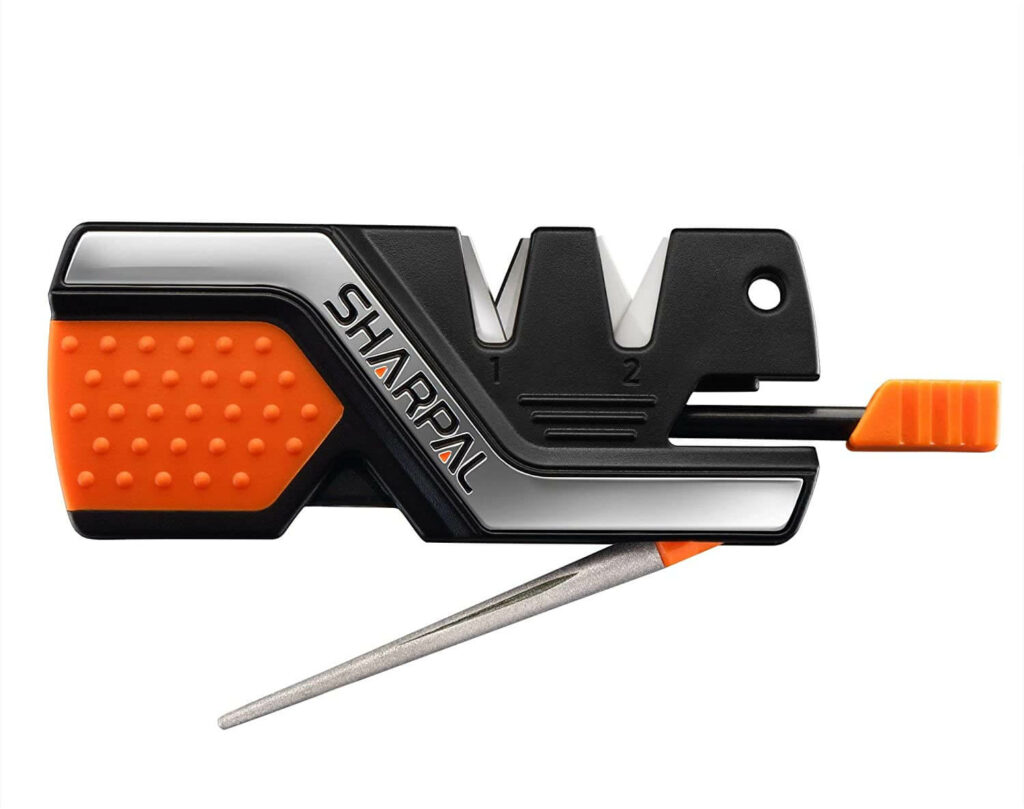 This Sharpal sharpener is designed to be more of your camping utility tool/survival tool with all the features this thing packs in such a small package.
This unit features the course and fine sharpeners as most other sharpeners we have reviewed as well as a way to sharpen your serrated blades.
In addition to sharpening just about any blade time you can throw at it this pocket tool also features an all weather fire starter and a super loud emergency whistle.
If you find yourself camping a lot, especially in remote areas, the extra features on this pocket tool may be exactly what you are looking for.  At a very affordable price this is a great folding knife sharpener.
Spyderco
We have saved the best sharpener for last and it certainly is the most unique in design compared to the others in this article.
This sharpener also includes an instructional DVD and booklet on how to use it unlike the other sharpeners we have reviewed. 
You have to pay for the best, so is this worth the investment?
First off this unit includes a carrying case for all of the components and everything snaps into place in its compact design. This kit includes 2 brass safety rods, 2 fine sharpening rods and 2 medium grit sharpening rods. 
While not quite as portable as the other units we have reviewed here it is absolutely the very best of sharpeners, if portability is not the most important feature for you and you have the budget for this sharpener you will not be disappointed with this pocket knives sharpeners.
This is, in our opinion, the best knife sharpener for pocket knives.
Best Pocket Knife Sharpener Buying Guide
What are some of the things to consider when you are searching for the best pocket knife or small knife sharpeners?
We have outlined a list below of features to consider and why we think they are important. Some of these factors may be more or less important to you so we would suggest you use these as starting points to consider.
Compact Design
Compact design may or may not be important to you. If you find yourself sharpening your knives before every trip and don't ever find yourself needing to sharpen your knife mid-adventure then this one may not be important to you.
However, if you use your knives often and like to have, perhaps a keychain knife sharpener size with you this may be of value and is certainly something to consider.
Adjustable Angle
Depending on the type(s) of knives you plan to sharpen you will likely need to pay attention to the angles on your sharpener. With fixed angle sharpeners you lack the versatility to sharpen quite the range of knives as with a sharpener like the Spyderco that we reviewed.
Sharpening Stages
Depending on how dull or sharp your knife is will dictate which "stage" you use on your sharpener. The courser stages are for a more dull knife while the finer stages are more for fine tuning the edge of your knife. It is nice to have the versatility to handle each scenario on your sharpener.
Safety First
It is important that each sharpener is rigid in construction so that it will not fall apart and cause you injury and also has a way to protect your hands while you are sharpening.
It is important to look at your sharpener before purchasing and ensure you will be able to safely operate it.
Quality Counts
As mentioned in safety you do not want a flimsy sharpener that may break from repeated use. Not only could this cause you injury but it also would be a waste if a sharpener only lasted for a handful of sharpenings.
Additionally you don't want a sharpener that will destroy your knives, ideally it is best to have a ceramic sharpener.
Versatility
It's important to think about what you will be using this sharpener for when considering this option as important.
If you are going to be using your sharpener as more of a full-featured do it all tool then one of the multi-function ones we reviewed above may be best.
Versatility may not be important to everyone, and that's ok, it is just something to consider before making your purchase. 
Conclusion
So which pocket knife sharpener is the one for you? That is a choice you will have to make based upon our detailed reviews above.
Just because we made our pick for which sharpener is the best above does not mean it is the best for you.
Some of the more full-featured sharpeners that are more inline with your budget will do the job excellently and last you for many years.
Just because we reviewed the high dollar sports car doesn't mean you have to choose that one, the classic pickup truck still does the job and will last you for years to come.