Oven mitts are likely the most used item in any kitchen and are often overlooked. It seems quality oven mitts are generally disregarded due to their simplicity in your kitchen even with how much use they get.
As you will see in our below oven mitt reviews there is quite a range of mitts to choose from and some come with features you typically would not expect. Check out the below for our suggestions for the best oven mitts.
Top 7 Best Oven Mitts In 2020 Comparison Chart
San Jamar KT0215 Cool Touch Flame Conventional High Heat...
MASTRAD - Silicone and Cotton Mitt - Orka TEX - Anti-Slip...
OXO Good Grips Silicone Oven Mitt with Magnet, Licorice...
Our #1 choice
Silicone Oven Mitts Heat Resistant to 500 Degrees - 2 Extra...
Grill Armor Oven Gloves – Extreme Heat Resistant EN407...





San Jamar KT0215 Cool Touch Flame Conventional High Heat...

MASTRAD - Silicone and Cotton Mitt - Orka TEX - Anti-Slip...

OXO Good Grips Silicone Oven Mitt with Magnet, Licorice...

Our #1 choice
Silicone Oven Mitts Heat Resistant to 500 Degrees - 2 Extra...

Top 7 Best Oven Mitts In 2020 Reviews
Big Red House
Overview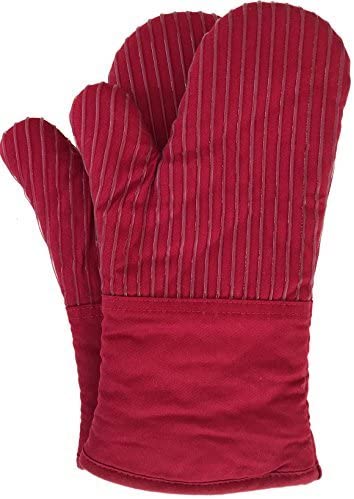 Up first for review for the best oven mits are the Big Red House Oven Mitts. These are more of the typical large cotton mitts that would typically come to mind when you consider oven mitts.
Features
These quality mitts are available at a great price.
To add to the simplicity of a cotton oven mitt they have silicon gripping to ensure you do not drop anything you are holding with these.
These mitts have a long design so that they cover your upper arm so you don't burn yourself when handling items from the oven.
These are a great budget set of oven mitts.
Pros
Very affordable price
Provides well heat protection
Cons
Too bulky in size and sometime is a bit difficult to grip the dishes due to this but considering it provides such well heat protection it can be adjusted with.
Homwe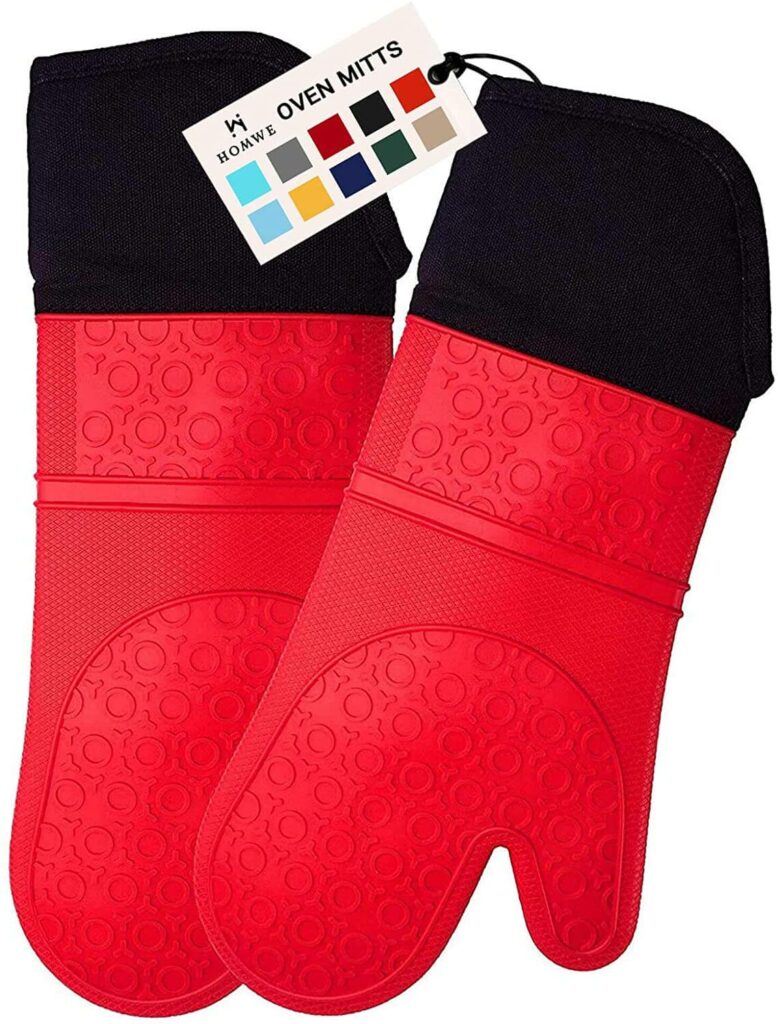 Up next for review are the Homwe Professional silicone oven mitts.
Overview
These oven mitts are fully silicone at the grips and are certainly a front runner for best silicone oven mitts.
Features
One of the great things about these mitts is they are much easier to clean than their cotton counterparts.
With all silicone mitts like these you can just run and scrub them under running water to clean them versus having to launder them for every spill. These mitts fit just about any budget and are rated to offer protection up to 450 degrees Fahrenheit.
In our testing these mitts worked great, were thinner than many others which was helpful for getting a firm grip, just make sure you don't exceed the temperature rating.
Pros
Easy to clean
Thinner than cotton mitts which makes it easier to grip
Cons
Does tend to burn off if the temperature is too high and exceeds the given heat limit.
Grill Armor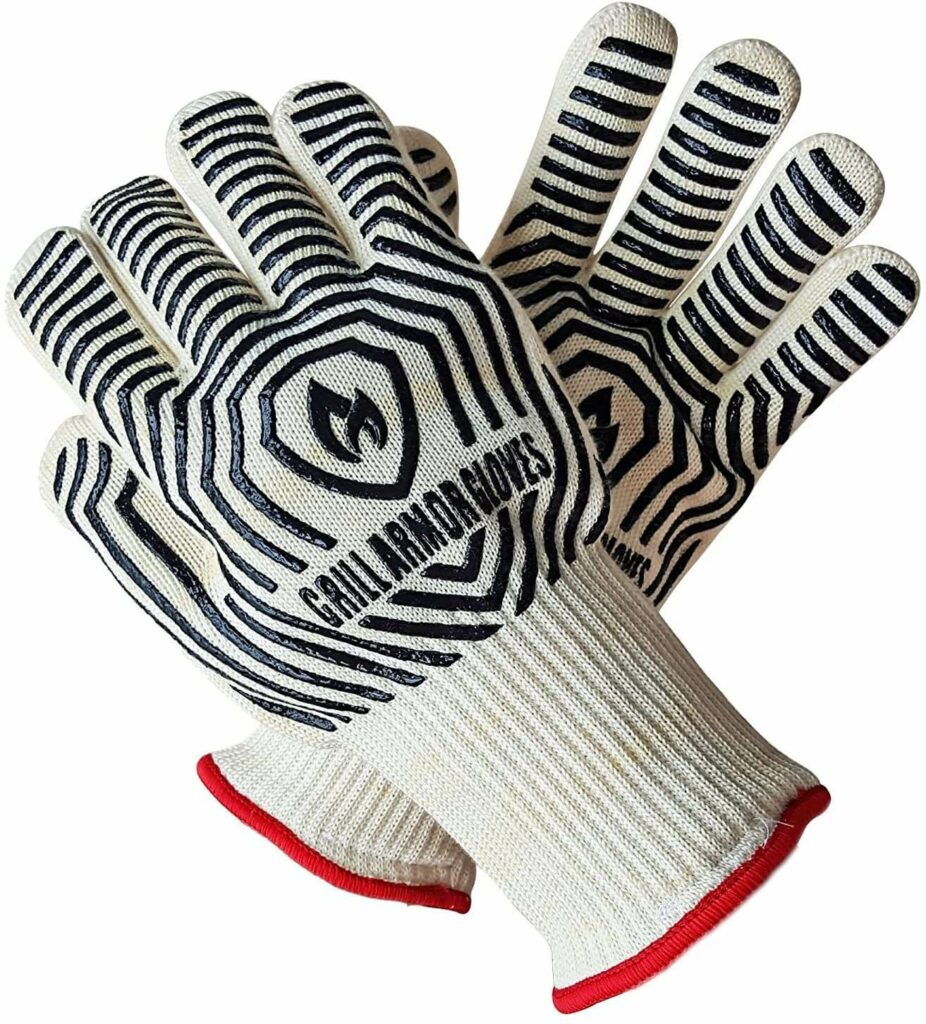 The Grill Armor Extreme gloves are the only "mitts" we reviewed that fit like standard gloves.
Overview
If you are looking for oven and/or grilling mitts that are more like typical gloves for more versatility then these could be exactly what you are looking for.
Features
These gloves are made of fabric with silicone grip so that you can get a firm grip on everything you pick up.
These gloves are rated for up to 932 degrees fahrenheit which is among the highest of the mitts/gloves that we tested in this article.
In our testing though these gloves were rated for such a high temperature
Pros
Easy to work with and grip
Endures pretty high heat
Cons
These gloves do tend take a lot more time to slide on and remove, just by the very nature that they are more glove-like vs slip on mitts. Other than these minor factors these are an excellent choice.
Frux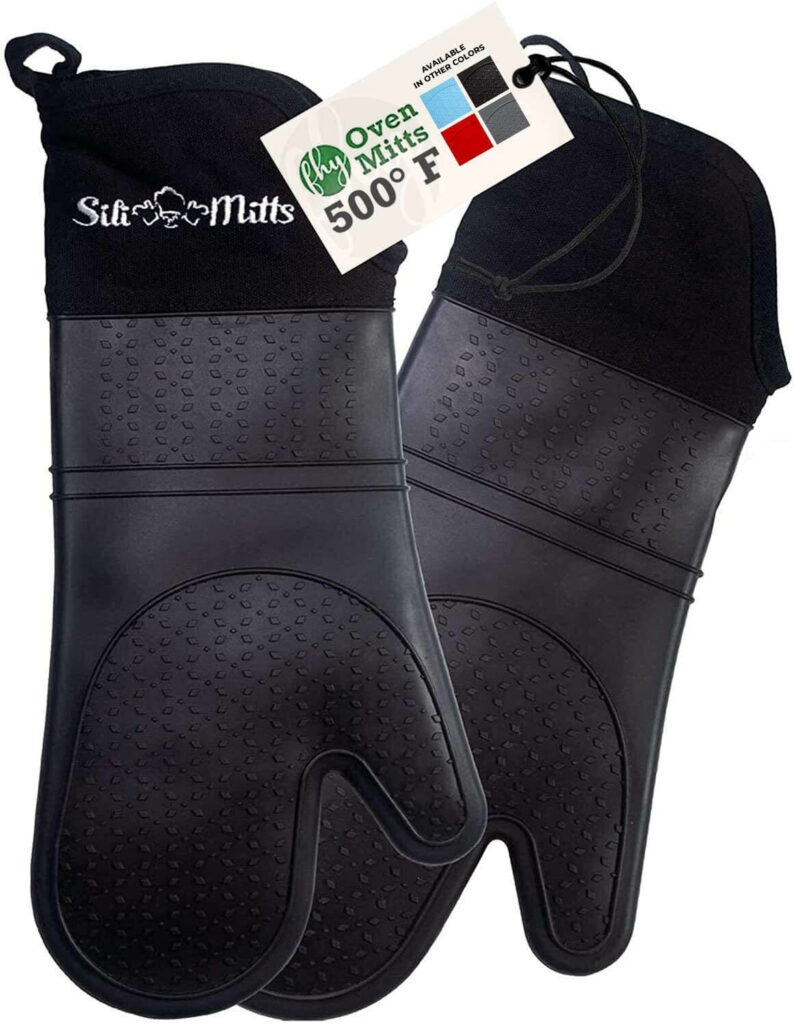 These Frux Home and Yard Silicone oven mitts are among the best we have reviewed and they come in at a very fair price.
Overview
These mitts are rated for up to 500 degrees fahrenheit and while they are machine washable we suggest you stick with the easier hand washing after use.
Features
These mitts include an excellent return policy so if they aren't exactly what you are looking for you can always return them, however we cant imagine why you ever would.
In our testing this was among the the best silicon oven mit we encountered.
Pros
Great for everyday baking as long as the temperature is upto 400-500 degrees
Provides well heat protection
Cons
It is a bit too ulky in size which might be a bit of a struggle but other than that it is a neat mitt.
OXO Good Grips Silicone Oven Mitt With Magnet
If you want an oven mitt that not only provides protection from heat but also has a great fit, then this is the one for you.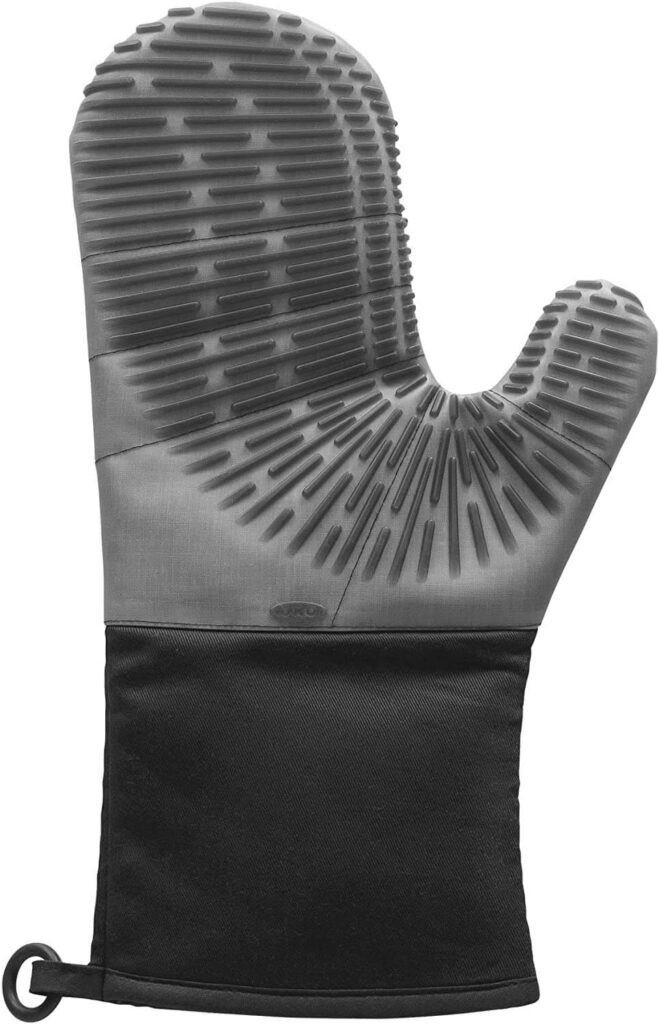 Overview
Our OXO Good Grips Silicone Oven Mitt was the most heat resistant of any of the mitts that we tested.
Features
This mitt says it is safe for up to 600 degrees fahrenheit, while that's not the highest claim of the reviewed mitts in this article this was the first mitt where we could hold items 450+ degrees and not feel the burn on our fingers after just a couple seconds.
While this mitt is the most hardy for temperature it comes with a price, so if you are handling very hot food and cookware often this should be the mitt you go with.
Pros
Can take a high level of heat
Easy to grip
Not too much bulky
Cons
This mitt a bit towards the pricier end among the other on the list.
Mastrad
Let's take a look at this Mastard plus oven mitt. This silicon oven mitt is ideal for your everyday use and has some great features. Let's take a closer look.
Overview

The Mastard Orka Plus Oven Mitt is another standard silicone mitt that follows the format of being waterproof and easier to clean.
Features
This silicone mitt is rated for up to 480 degrees according to the manufacturer specs.
In our testing this mitt performed reasonably well compared to the others in use however, this mitt was a bit more fragile than the others we reviewed.
This is a lower cost mitt however for not much more money you could receive a mitt that will last a bit longer than this one.
Pros
Can handle heat very well as long as maintained upto the given temperature
The price is great and pretty affordable
Cons
The fit is not as comfortable as some other mitts but othe than this tiny issue this is a great oven mitt.
San Jamar KT0215 Cool Touch Flame Oven Mitts
Overview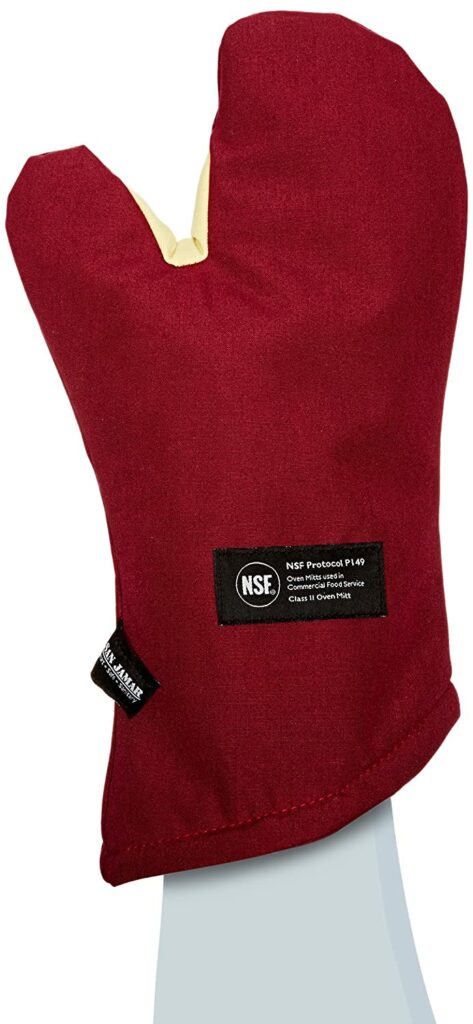 Our last review is an interesting set of mitts by San Jamar. The KT0215 oven mitts are another very unique take on typical oven mitts.
Features
These fabric mitts fit very large, these are more like wrapping your hand in a very thick piece of fabric.
These mitts were great at handling hot items they are rated for temperatures of 535 degrees for 30 seconds.
These mitts are easy to slip on however they may be difficult for most people to handle. These mitts are machine washable and are a solid oven mitt of great quality.
Pros
Easy to slide on
Can handle a high level of heat
Perfect of regular use
Cons
It is a bit large in terms of size and that can cause a bit of trouble to handle but toherwise this is a pretty neat oven mitt.
Best Oven Mitts Buying Guide
We have amassed a list of things below to keep in mind when choosing your perfect oven mitts.
The below points are important factors to consider when you are choosing your ideal mitts or gloves for your kitchen.
This certainly is not a 100% complete list however it is a good starting point highlighting the main items of consideration.
Material
Do you boil a lot of liquids? Do you handle a lot of hot liquids? If that is the case you may want to consider mitts that are silicon and will certainly repel most water.
If that is not the case than you may be ok with typical cloth mitts. Silicon mitts will also be easier to clean since they can just be rinsed.
Your Use
As mentioned above with materials where you will be using your gloves/mitts is one of the most important things to consider.
If you are using your gloves around the grill a bunch its important to consider that maybe higher temp rated gloves and even ones with more finger mobility may be important.
Ease Of Use
Do you struggle to put on gloves? Do you have larger or smaller hands? These are all important things to consider when choosing your mitts.
A larger mitt you can just slip into on the fly may be much easier to use than gloves that have to be put on more precise. 
Heat Resistance
This is one of the most important factors to consider in your mitts. As we covered above we showed the manufacturer specs however it is important to pay attention to how the hot items actually feel to your hands.
We tried to offer detailed accounts of how we felt using each glove and handling hot items.
Conclusion
Hopefully you found our list of best oven mitts reviews helpful in your search. There are many things to consider as we outlined in the above buyers guide for which mitts will work best for you.
Typically these mitts are not a one mitt fits all situation so you will need to think about your usage and which is best for all your situations.
We have outlined many different gloves and mitts in our above review just for this reason so that you can weigh your options for which is your best kitchen companion.