Harry Potter Magical Marauder's Map Porcelain 4-Piece...
Harry Potter Gryffindor 16-Piece Dining Set | Set Includes...
Melange 12-Piece 100% Melamine Dinnerware Set (Santa Comes...
Rustic Melamine Dinnerware Set - 12 Pcs Yinshine Outdoor...
Our #1 Choice
Pfaltzgraff Trellis White 16-Piece Stoneware Dinnerware Set,...





Melange 12-Piece 100% Melamine Dinnerware Set (Santa Comes...

Are you looking for an interesting and unique way to liven up the decor in your kitchen? Then you should definitely consider purchasing a fun dinnerware set. Just how fun are we talking? There are so many creative and customizable dinnerware sets on the internet – there really is something for everyone.

Are you looking for a way to show off your fun dinnerware but aren't sure how to do so whilst keeping it classy? A display cabinet is one of the easiest ways to do so. Instead of filling a dinnerware display cabinet with bog-standard mugs and dishes, why not try displaying your collection of creative dinnerware on it instead? Do you like decorating your house with a theme? The most popular and quirky dinnerware sets come in different colors so that you can match your mugs and plates with the color scheme in your kitchen.

Another great way of showing off your dinnerware set is by using wall brackets and hooks. Specially designed wall brackets for plates are available for purchase at most home decor stores that will allow you to slot and hang a medium-sized plate securely on a wall. You can place the plates on the wall in a certain shape or around the arch of a door or make a feature wall displaying matching plate designs.

Novelty dinnerware often comes in at a much higher price than standard dinnerware sets because of the creativity and time and effort that goes into making the sets, so it is important to purchase a set that not only looks good but is also made of high-quality materials to ensure that your set will last the test of time.

This article has been designed with you in mind as I will go in detail about the steps you need to take to keep your novelty dinnerware set in the best condition possible. I will go on to discuss the best way for you to clean your dishes with some do's and don'ts on how to look after them. 

Are you looking for a brand new funky dinnerware set but aren't sure which one to go for? Then you will love the second half of this article as I will go on to list my top 9 favorite unique whimsical dinnerware sets that you will adore. Not only are these mugs quirky and innovative, but they are also made of top quality, robust and resistant materials that will make sure your creative dinnerware set will last through the ages. 

Top Unique Dinnerware Sets
Are you a movie saga fan? Or perhaps you are looking for a dinnerware set that will help to spread Christmas cheer across the table this holiday season. Or maybe you are simply looking for a dinnerware set that will help you to adorn your table every day and make it look special. 

Whatever the case, the following are 9 of the top unique dinnerware sets on the market right now. Not only are they great to look at, but they are also well made of the very best materials that make for hard-wearing dinnerware. Check them out!

Harry Potter Marauder's Map Dinnerware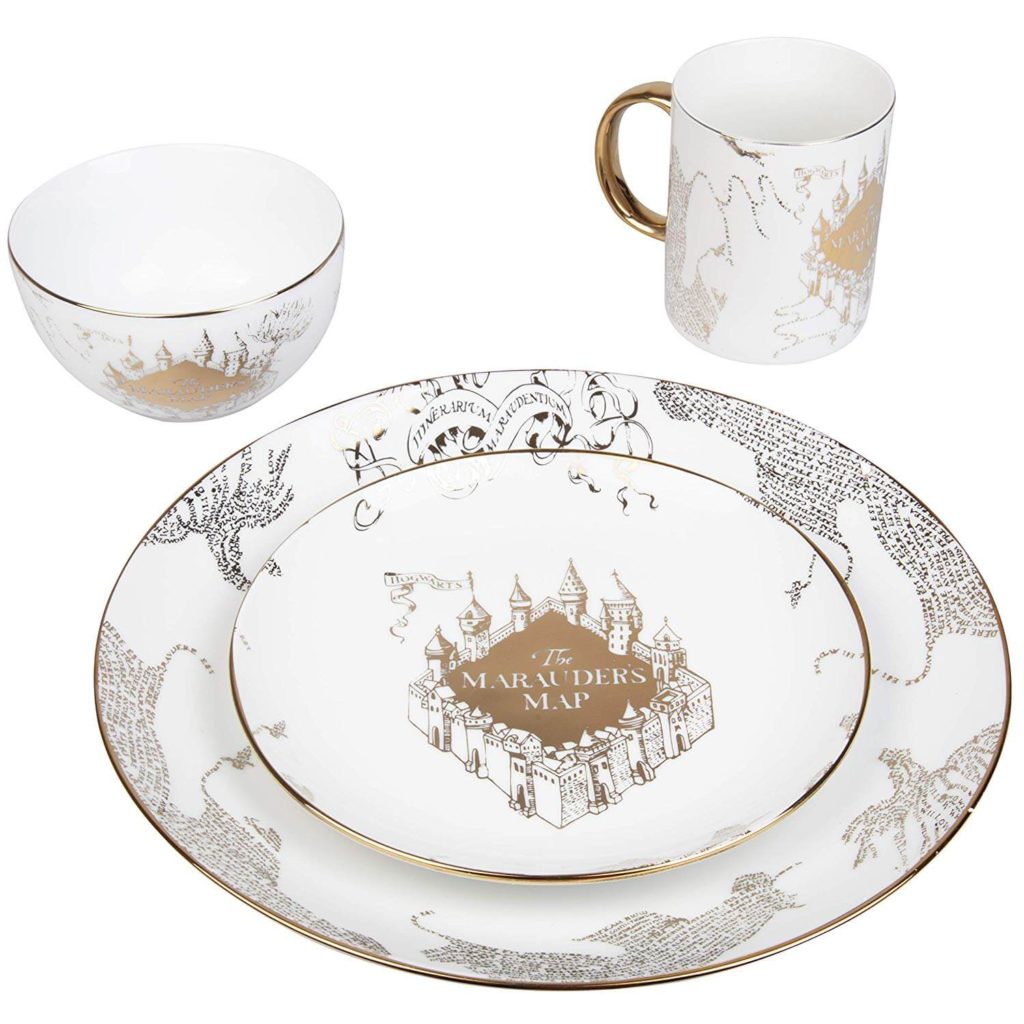 Are you a Harry Potter fan and are looking for a funny dinnerware set? Or maybe you know a real Potterhead and are looking for a unique gift to give them. Either way, you will love this Harry Potter Marauder's Map 4 piece place setting.
Overview
This set contains 4 pieces, including 1 dinner plate, 1 salad plate, 1 bowl and 1 mug. It is designed with a golden design of the Marauder's Map that is featured on both the Harry Potter Books, as well as the movies. Keep in mind that you cannot microwave this set, or place it in a dishwasher, and it should only be washed by hand in order to keep it in the best condition for as long as possible.
Features
Porcelain Build
Easy to Clean
Themed
Pros
Unique Design
4 Pieces
Officially Licensed
Cons
Pricey
Not Microwave Proof
Must be washed by hand
Harry Potter Gryffindor Dinnerware Set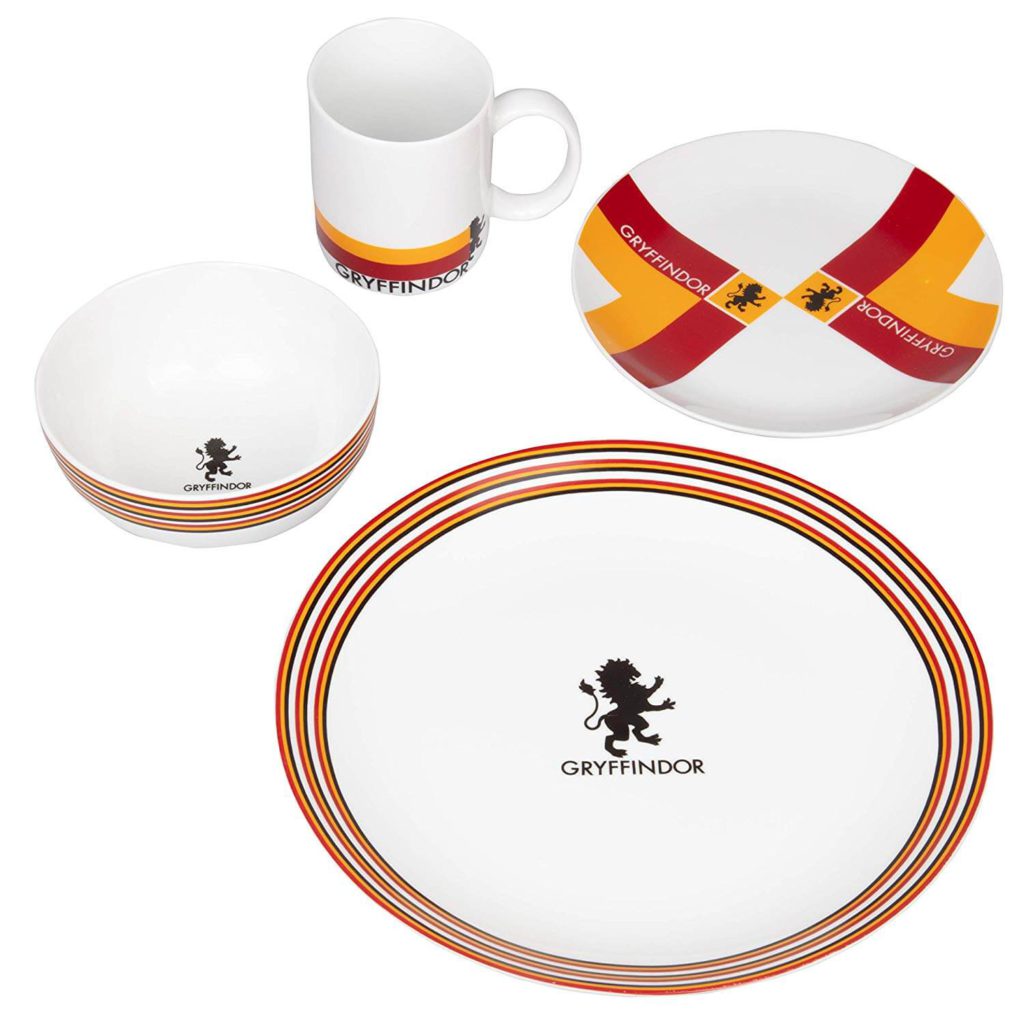 If you are a number one Harry Potter fan then you will not want to be without this set of Harry Potter dishes, bowls and mugs for 4.
Overview
Perfect for the entire family as it comes with 4 dinner plates, 4 salad plates, 4 mugs and 4 bowls, so you are truly getting a lot out of this package. It displays the Gryffindor house as well as mascots and it is even In the same colors as it should be. If you are a fan of harry potter, this is the perfect set for you, as it also comes in the form of Ravenclaw, Hufflepuff and Slytherin designs.
Features
Great Design
Fit for the Entire Family
You are getting 4 of each
Pros
Microwave Proof
Dishwasher Proof
Great Build Quality
Melange Dinnerware Set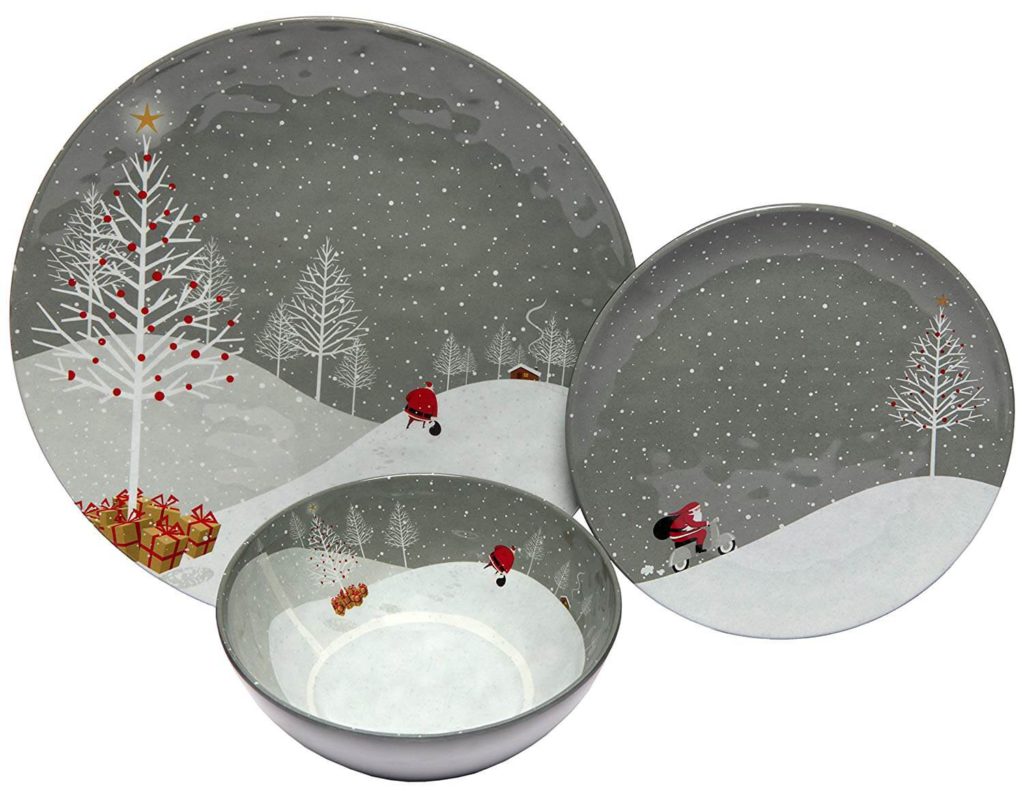 If you are looking for some unique dishware to jazz up your dinner table at Christmas then you will love this Santa Comes Home dinnerware collection. 
Overview
This is a 12 piece set that comes with 4 dinner plates, 4 salad plates as well as 4 bowls. This makes It the perfect set for the entire family, especially over the winter holidays. These plates are heavy duty as they are made of 100% melamine, which is a strong material that makes the set resistant against chips as well as cracks, and in turn this keeps your Christmas dinnerware collection in good shape.
Features
Heavy-duty 100% melamine
12-pieces
Dishwasher Safe
Full of Character
Pros
Durable
Easy to Clean
Fills the Holiday Spirit
Yinshine Dinnerware Set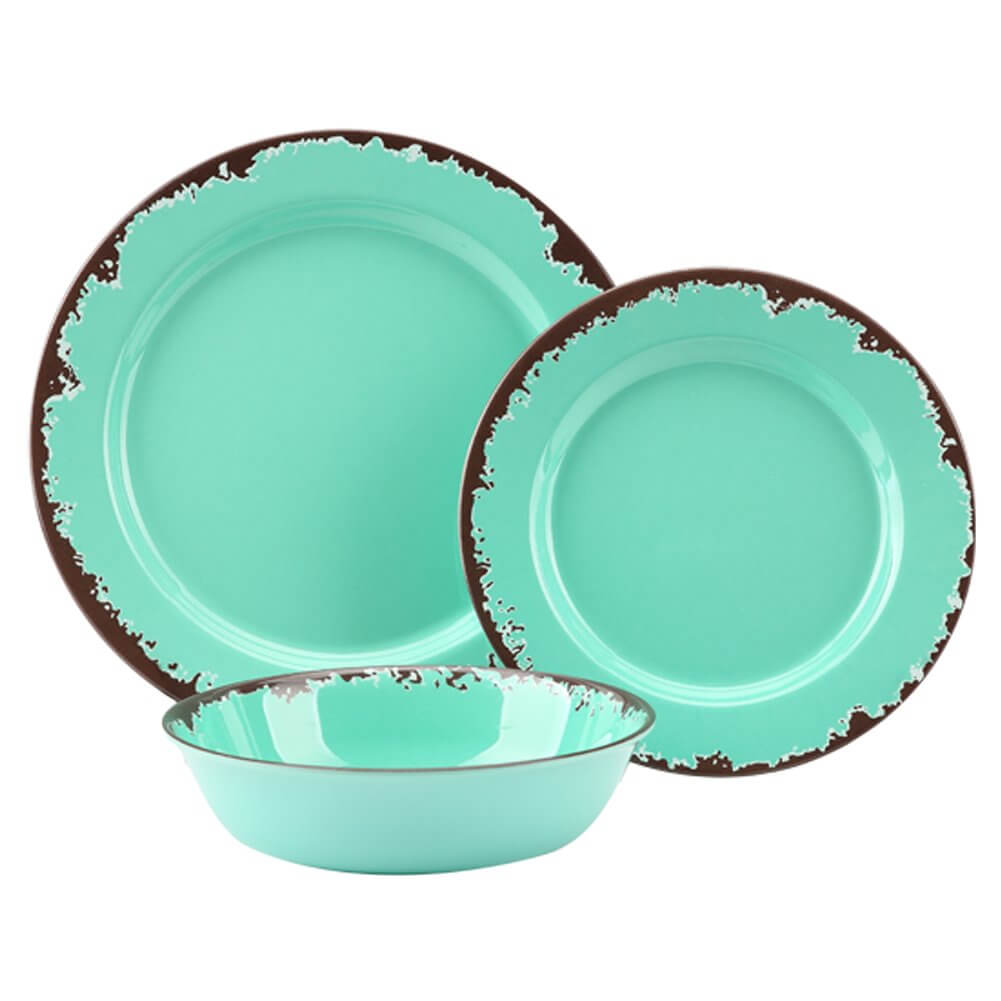 If you have a more traditional, country style kitchen then you will love this 12 piece, green dinnerware set. 
Overview
This set features 4 dinner plates, 4 desert plates, 4 bowls and as such it makes it a great gift for just about anybody. It is 100% melamine built, and its so strong that you can easily put it in a dishwasher. The vibrant green coloring makes it unique and perfect for people who want to bring an added color to their kitchen.
Features
Unique Color
Full melamine build
Pros
Durable
Easy to Clean
Unique Look
Cons
Cannot be microwaved
Limited colors
Pfaltzgraff Trellis Dinnerware Set
Fun dinner plates make great presents for newlyweds and displaying such sets is a great and inexpensive way to help liven up the kitchen or dining room decor.
Overview
This Pfaltzgraff 16 piece set has 4 dinner plates, 4 desert plates, 4 mugs as well as 4 bowls. It is the perfect match for traditional as well as rustic kitchens due to the weathered and aged scroll pattern on all of the plates. This is unique, and should bring a whole new dimension to the look of anyone's kitchen.
Features
16-pieces
Unique pattern
High-quality stoneware
Pros
Good looking
Durable
Dishwasher and microwave safe
Cons
Will not fit into anyone's kitchen theme
Gourmet Basics Dinnerware Set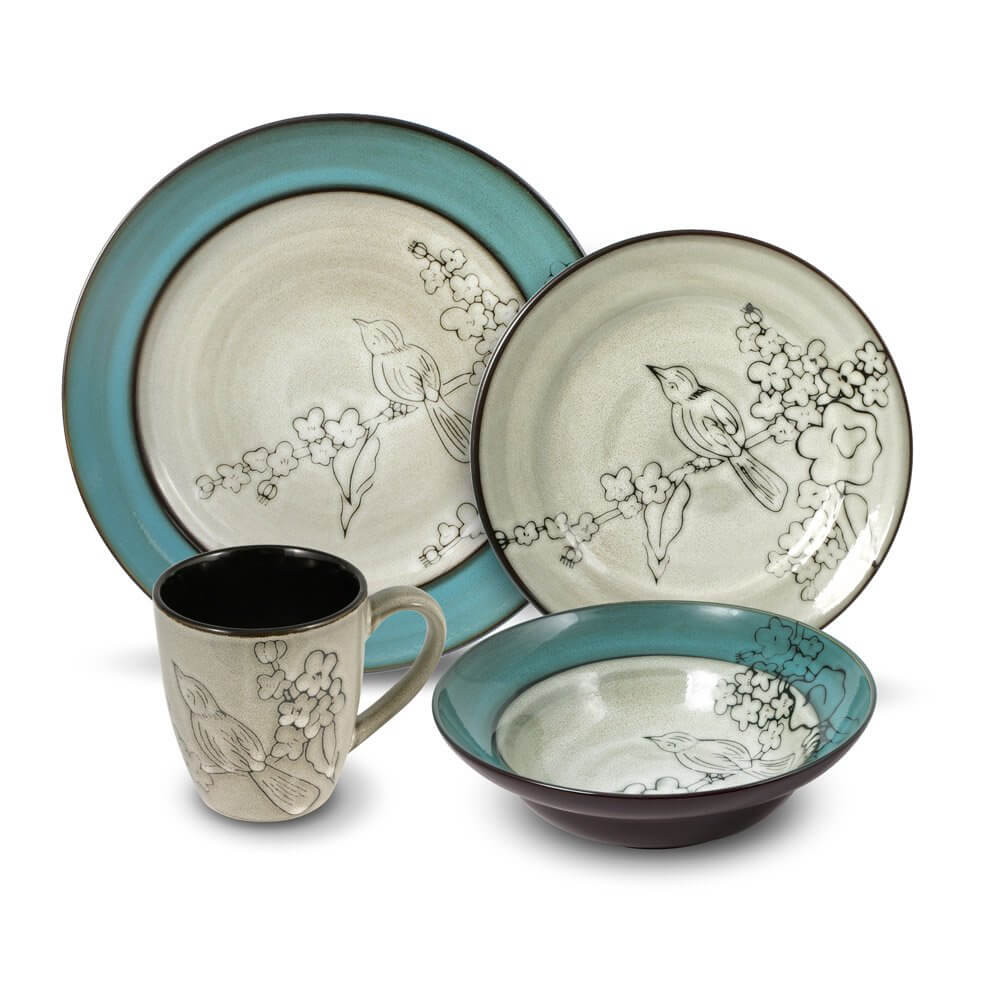 Here is a beautiful song bird dinnerware set by Gourmet basics.
Overview
It comes in a variety of options and is a 16 piece set that includes 4 mugs, 4 dinner plates, 4 dessert plates as well as 4 bowls. There's also a 32 piece selection, with 8 of each, and a 48 piece collection with 12 of each. It also has a bird perched on a twig bloom design, which is perfect and will add a whole new dimension to your kitchen.
Features
Unique pattern
Comes in 16,32 and 48 pieces
Crafter from Stoneware
Pros
Dinnerware Chip resistant
Microwave and Dishwasher Safe
Unique design
Cons
Can be on the pricier side if you go for the 48 piece option
Paula Deen Dinnerware
Are you looking for the perfect country backyard set that will perfectly match and represent your garden in bloom? Then you will love this 16 piece stoneware set by Paula Deen.
Overview
This is a 16 piece set that comes with 4 dinner plates, 4 desert plates, 4 bowls as well as 4 mugs. All of these have various designs as well as a rooster, a chicken, or a bunch of flowers in bloom. The designs of this dinnerware has a delicate hand-painted style that makes it resemble ornaments when presented on your dining room table.
Features
Unique Design
Garden Rooster Colorfully Captured on it
Set and Used daily
Quality Build
Pros
Durable
Easy to Clean
Dishwasher Safe
Lenox Dinnerware Set
This Lenox butterfly meadow 18 piece dinnerware set is ideal for larger families.
Overview
This set features 6 dinner plates, 6 dessert plates and 6 mugs. All of them have a unique scalloped shape and are made from porcelain.
Porcelain is an excellent material as it is tough and can guard against cracks and splits to the dinnerware.
Features
White Porcelain Material
6 of each dinner plates, dessert plates, mugs
Pros
Durable
Unique Design
Dishwasher Safe
Microwave Safe
Cons
The shape can be inconvenient for some people
Elama Dinnerware Set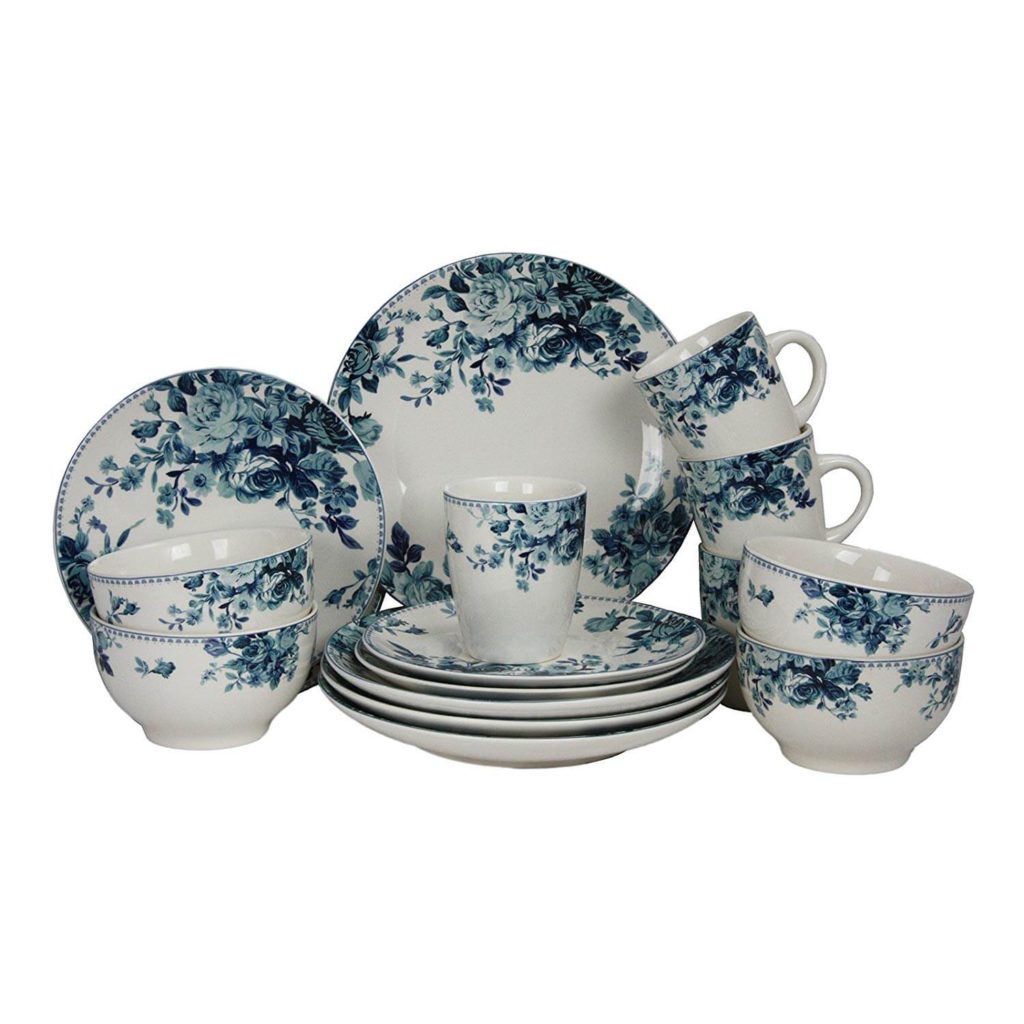 Last, but definitely not least you have this traditional rose dinnerware set by Elama. This 16 piece set is perfect for 4. 
Overview
This set includes 4 perfectly crafter bowls, including 4 mugs, 4 dinner plates, and 4 dessert plates. All of them feature intricate blue rose patterns and a high level of detail. This makes them shine, and as such, if you happen to pick these, you will add a whole new dimension to your kitchen due to their unique design.
Features
Stunning accent
16 pieces
Beautiful Colors
Pros
Full service for 4
Microwave Safe
Dishwasher Safe
Best Way to Clean Your Dishes
Unique dish sets are pricier than your regular dish set so it is important to look after them. Also, most unique dishware sets come in set numbers of matching mugs and dishes that look perfect and in unison when laying on the dining room table, so the last thing you will want is to have one plate or mug broken or missing from the set that will unbalance the theme of the table. 

Perhaps you already have a quirky dinnerware set at home but are reluctant to use it because you just can't seem to get them clean. Or maybe you are looking to buying your first unique dish set but would like some more information about the cleaning of them before committing to a purchase. Whatever the case, it is always a good idea to check the cleaning instructions with the manufacturer's guide that your dinnerware set comes with. Just in case you don't have that, or if you are looking for some bonus tips and pointers, the following dish cleaning guide will really help you out. Pay close attention to each of the tips and tricks in order to get the very best results.

The best way to clean your dishes
Leave your dishware to soak in warm, soapy water immediately after use. Warm water helps to remove grease and food particles and soaking your dinnerware immediately helps to prevent food from drying on and becoming more difficult to remove, it also helps to prevent staining.
For tough stains
Mix together a couple of teaspoons of baking soda and a dash of white vinegar to form a sticky paste. Use this paste on a non-abrasive sponge and rub in circular motions over dinnerware to remove stains. 
Leave washed dishes in direct sunlight for a few hours as the sunlight acts as a natural bleach and can lift stains off of plastics and other materials.
For even tougher stains
Fill the sink with hot water and add 1 tbsp of baking soda and 1 tbsp of white vinegar (or 1 tbsp of fresh lemon juice) per cup of water. Submerge the stained dinnerware in the solution and leave it to soak for 1 to 2 hours and then repeat the above-mentioned steps as necessary.
Things to avoid when washing your dishes
Don't leave your dishes unattended for too long after using them. Food debris, marks, and stains only get tougher to remove with time so it is important to get working on the stains straight away, especially coffee and tea mugs.
Avoid washing your dinnerware with abrasive scouring pads and rough sponges as they scratch plates over time and remove their initial shine. 
Follow the manufacturer's instructions as most quirky dinnerware sets are not dishwasher safe and must be washed by hand.
Don't use a dishwasher to wash glasses as these often become foggy and lose their initial shine quickly when exposed to the harsh temperatures inside a dishwasher. 
Be careful when using bleach on glazed tableware as the harsh product has been known to tear the glazing off of plates, bowls, and mugs.
Conclusion
So there you have them, 9 whimsical dinnerware sets that will both liven up your kitchen and your dinnertime – it is simply up to you to decide which design will suit you the best. 

If you are a movie saga fan or are looking for dinnerware set for a friend or family member that is, then they will love the Harry Potter dinnerware set mentioned above.

Are you looking for something pretty to add a unique dash of style to both modern or traditional style kitchens? tHen you will love the floral and rose style dinnerware sets by Elama and Lenox. 

Searching by material is also a great idea. If you are looking for something robust and hard-wearing that will stick with you through the ages, then you will love the Melamine dinnerware sets mentioned earlier – the green, Rustic collection and the Christmas themed Melamine collection that is more resistant against chipping, breaking and splitting.

So choose the style you would like and then pick a dinnerware set. If you love a little variety in your kitchen and always find yourself looking for ways to shake things up a little bit, then why not purchase two of the above mentioned sets, so that you can mix and match what you display as and when you want to.