Pfaltzgraff Delano 16-Piece Porcelain Dinnerware Set,...
Dinnerware Set Danmers 18-piece Opal Dishes Sets Service for...
Our #1 Chioce
LENOX Butterfly Meadow 7-Piece Bowl Set, 9.1 LB, Multi
DL Stylish 12-Piece Dinnerware set, Service for 4, Butterfly...
Pfaltzgraff 5229618 Arden 16-Piece Porcelain Dinnerware Set,...
Pfaltzgraff Delano 16-Piece Porcelain Dinnerware Set,...
Our #1 Chioce
LENOX Butterfly Meadow 7-Piece Bowl Set, 9.1 LB, Multi
DL Stylish 12-Piece Dinnerware set, Service for 4, Butterfly...
The best base for every dinner party is having the best dinnerware sets. I am sure you will agree that you could serve the most gourmet meal with a Michelin style dessert, but if your dinnerware is not up to scratch it will always make your food look second best.

There is nothing worse than going to set the table for a dinner party and realizing that your dinnerware set is not up to standard. I know what it is like to raid the cupboards hunting for a set with 6 matching unchipped plates and really struggle. Or if you are anything like me, you are a bit of a liability in the kitchen and the 8 matching plates you originally purchased have dwindled down in number to just 5 half-decent ones.

One of the reasons my dinnerware sets never really lasts long is (I apologize in advance for passing the buck) my partner and kids. They just cannot seem to understand that guest plates are for guests and the old chipped mugs and plates are for everyday use. As you can imagine, it is not as if I haven't made it clear enough, I have spoken to them about which plates to use many a time, but they just don't seem to get it.

I think it is partly to do with their location. What used to be my "fancy" dinnerware set lies displayed on an antique cabinet in the dining room, the plates neatly arrayed and followed by a row of matching mugs (there are fewer of those now than when I first purchased the set, but hey) ready to be grabbed to use when guests come over. And I think that is the problem. I love my family to bits, but they are extremely lazy. My hideous chipped, stained and scratched dinnerware set is tucked away in a cupboard by the kitchen sink, whereas the fancy dinnerware set is on display at arms reach from the fridge and dining room table. The problem? The everyday use plates are just "too far away" for my family to be bothered to get up and get them and that is why they persist on eating with the best.

Another reason why my guest plates don't stay in good condition is because of my little one (I'm sorry I am passing the buck left, right and center today). He is very sweet and obedient and understands that the best plates are for when we have visitors. Sometimes my youngest has his little friends over from school to play and he is very independent and if he feels peckish and wants a snack bar or some grapes to eat and share with his friend, he will help himself to them in the kitchen. Since I have taught my son that guest plates are to be used by, well guests, he considers his little school friends as his number one guests that must use my finest china dinner plates in order to really enjoy their animal crackers with chocolate spread. And as you can imagine, a couple of seven-year-olds don't understand how to be careful with fine bone china and another two plates bite the dust.

One of the final and most frustrating reasons I don't have many fancy dinnerware plates left is because of my klutzy family members. I always want to give them the best when they come over, so I always lay out what is left of my very best china dinnerware set on the table. It only takes mum to drink half a glass of wine too much or the men to start getting excited over who has won the game and -smash- there goes another plate.

It got to the point where I was down to just two plates and 3 mugs when I finally decided to replace my dinnerware set and I did quite a fair share of research into finding a delicate looking but hardwearing set that could really face the challenge of surviving in my house. To my amazement I found a dinnerware set that is made of some fantastic materials and to this day (dare I say it) every mug and plate is still intact, shining brightly as if they were new.

Perhaps you recently purchased a dinnerware set but discovered that after a few months it started to look tired, scratched and chipped. Or maybe you are looking for a brand new dinnerware set to liven up your dining room table and save for when guests come over. Whatever the case, maybe aren't too sure what to look for before purchasing. That is why this article has been designed to help you – the fantastic host to pick the very best everyday dinnerware set that will last, as I will share the tips and things I looked out for when purchasing the set that has to lead me to find something that really screams quality.

Top 8 Reviewed Dinnerware Sets
Pfaltzgraff 5229621 Delano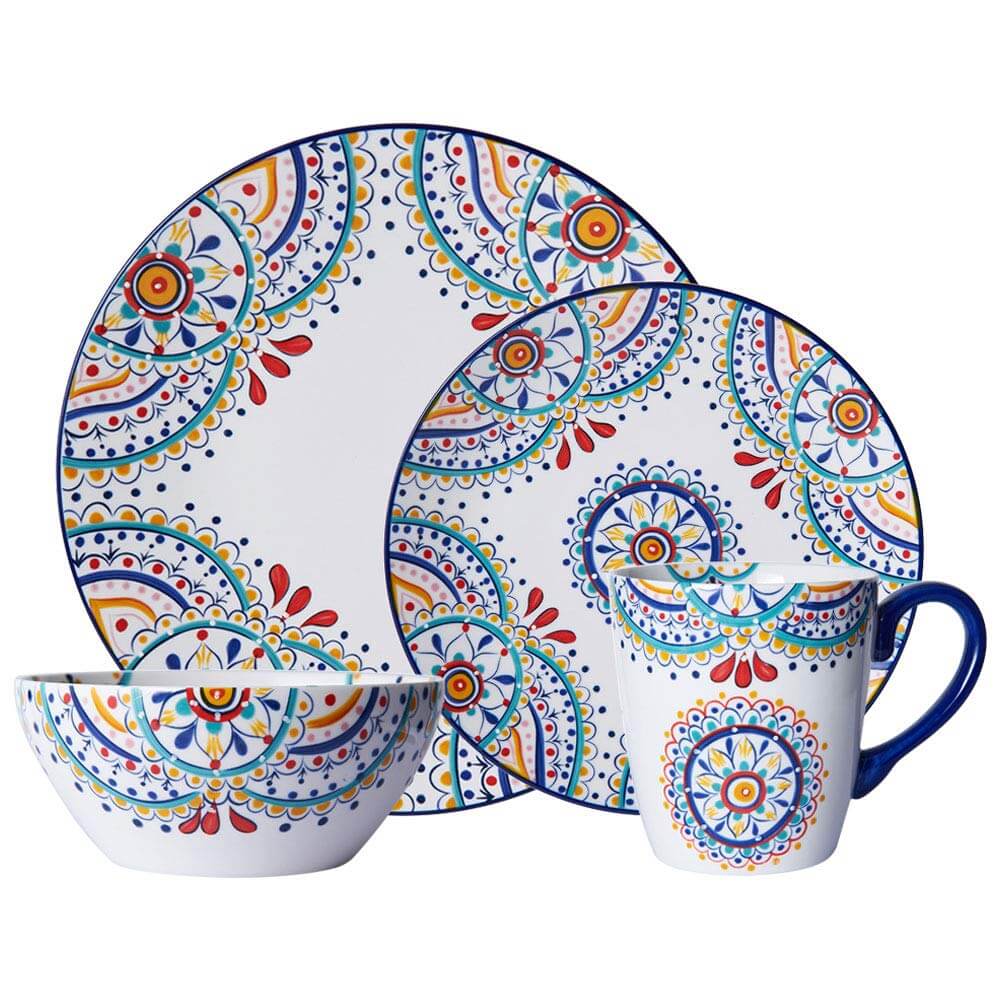 Are you looking for the best porcelain dinnerware set? Then this 16-piece set by Pfaltzgraff may just be the one.
Features
This beautifully decorated and colorful dinner plate set will lay like pieces of jewelry on your dining room table.
The set comes with four each of large dinner plates, side plates, salad plates, soup or cereal bowls and mugs, making it the perfect set for a family of four.
It is made from high quality porcelain that is both dishwasher and microwave safe.
Danmers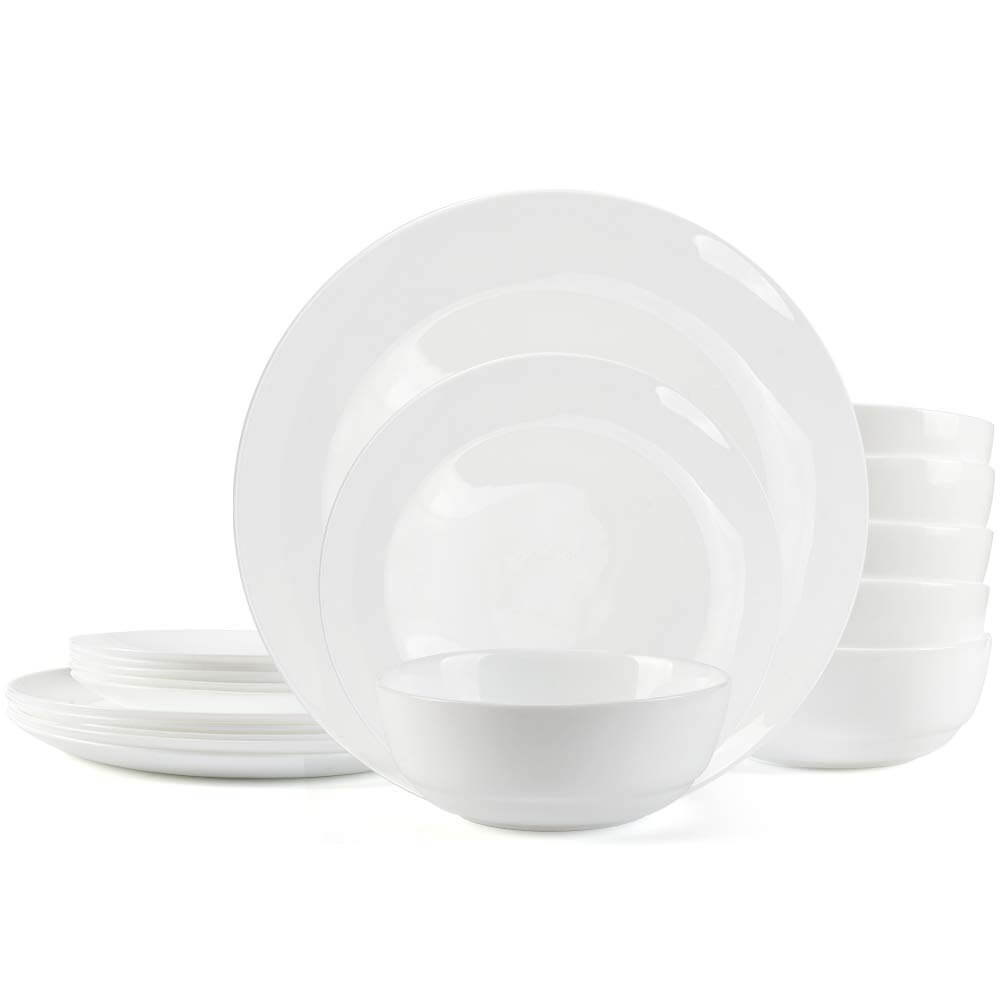 Are you after the best white dinnerware set? White is a great crisp and classic color and this 18-pieces Opal dishes set agrees.
Features
This strong glass, lightweight yet hard-wearing dinnerware set will lay the table for 6 as it comes with six of each: dinner plates, bread, and butter plates, salad bowls.
This set makes for easy preparation and cleans up after all the guests have left as it is both microwave and dishwasher safe.
They have a great stackable design making them easy to store, not taking up unnecessary space in kitchen cupboards.
Lenox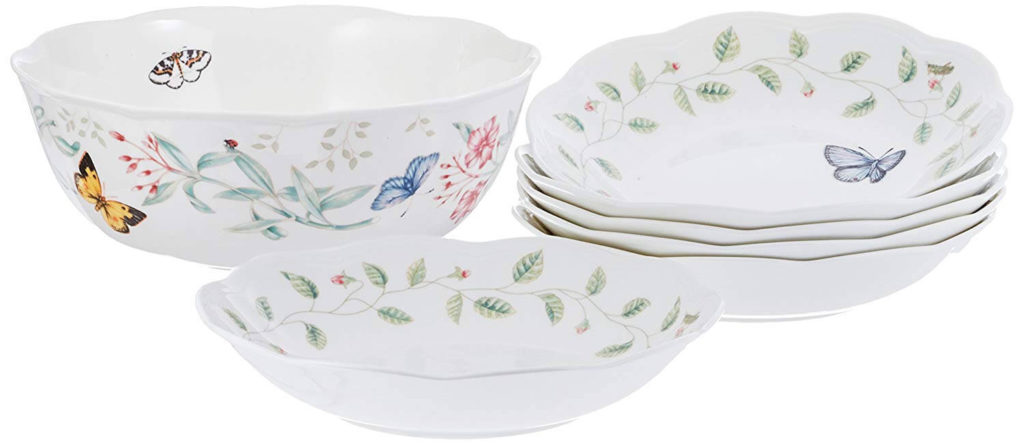 Perhaps you have already got a great dinnerware set for when family and friends come over, but are looking for a nice set of everyday plates. That is where this Lenox butterfly meadow 7 piece set comes into play.
Features
It is made of chip-resistant Lenox porcelain that is fantastic at withstanding sudden temperature changes, fill it with boiling water and then pop it in the freezer and it won't bat an eyelid.
It comes with 7 large serving bowls and 6 pasta bowls, all featuring a beautiful butterfly design.
DL Dinnerware set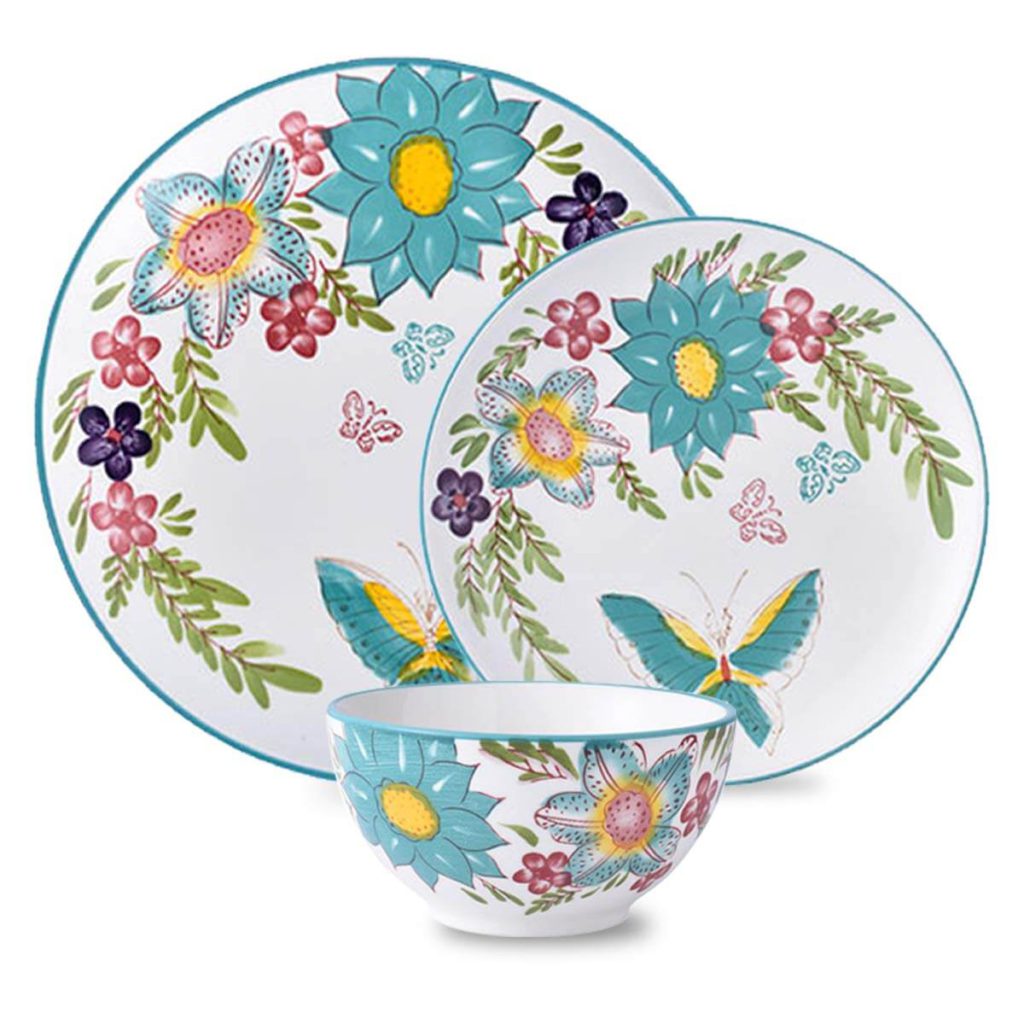 Here are the very best dinner plates you need to lay the table for the family everyday.
Features
The service for 4 comes with 4 each of dinner plates, dessert plates, and soup bowls.
The beautiful hand painted design will make the plates look like works of art when displayed in your kitchen cupboards or when lying on your dining room table.
Pfaltzgraff 5229618 Arden
Here are another one of the best dish sets on the market right now by Pfaltzgraff.
Features
This set serves 4 and includes 4 each of dinner plates, salad plates, mugs, and soup bowls.
The elegant blue patterns are like mini works of art and will look fantastic when displayed in both modern and more traditional style kitchens and dining rooms. The eye-catching design also makes them the perfect gift for newlyweds.
Lenox Vintage Dinnerware
It is not easy to find the best everyday dinnerware set, but this Lenox unisex vintage collection is making it a whole lot simpler.
Features
The very intricate design and beautiful borders make these plates into a truly beautiful display that your guests will marvel at.
This 5 piece place setting comes with a dinner plate, salad plate, bread plate, teacup and saucer, all accented with cobalt, 24-karat gold and platinum.
Melamine Dinnerware Set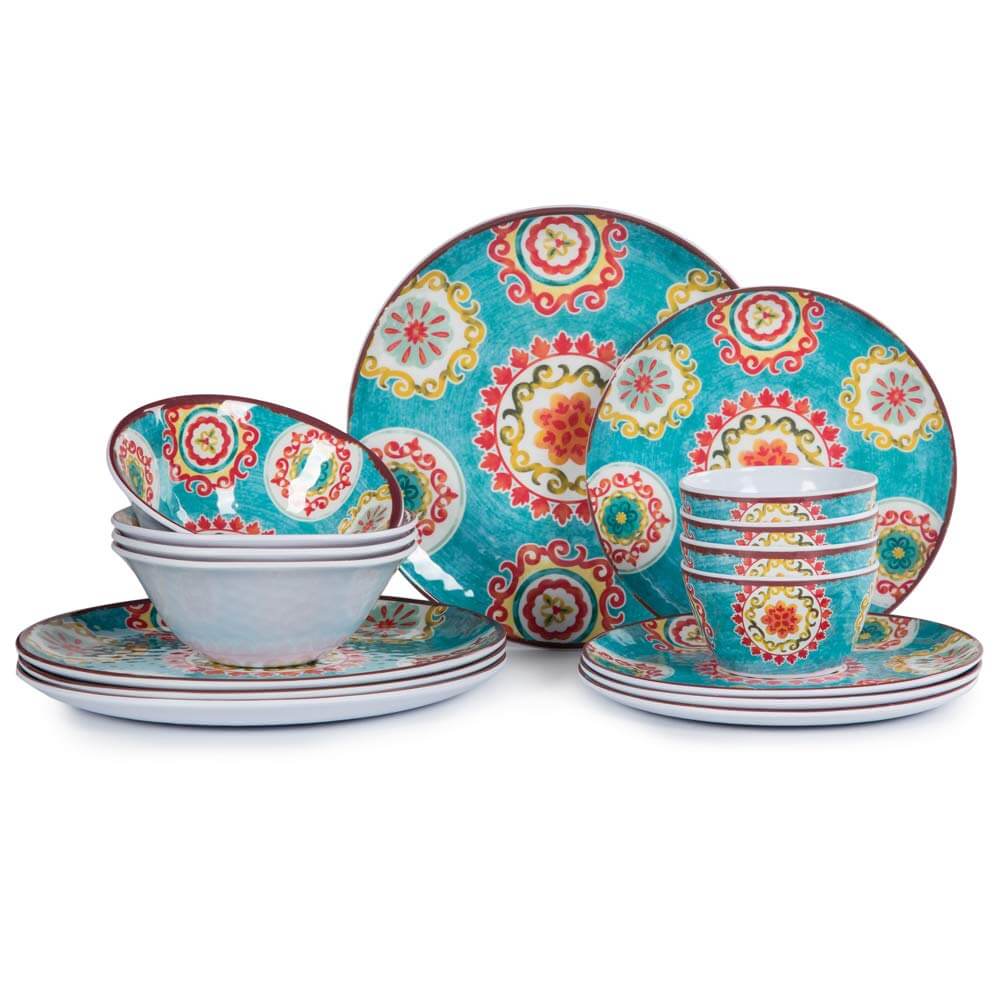 Here is the best casual dinnerware set for 4.
Features
You will receive 4 each of: dinner dishes, salad dishes, soup bowls and sauce bowls.
The creative design on this set makes them a really unique and beautiful set that comes in your choice of green or pink.
The set is made of melamine, an unbreakable and extremely lightweight porcelain.
Elama Dinnerware Set
Looking for something sturdy? Here are the very best stoneware dishes that were built to last.
Features
This set comes in a fantastic blue bohemian design that will look like intricate paintings sat on your dining room table.
This service for 4 comes with 4 of dinner plates, side plates, bowls, and mugs – everything you need for a complete meal with the family.
The delicate design may make this set look fragile, but don't worry as they are both dishwasher and microwave safe.
Think Bigger and Make a Good Investment
If you are looking for a great dinnerware set that will last, going budget will not help. Cheaply priced dinnerware sets will give you a quick solution if for example you are kitting out your brand new student flat and are trying to keep the cost down or are looking for a cheap dinnerware set to take camping or traveling. The best dinnerware brands are more pricey and like with most things, you get what you pay for.

There are a lot of decisions to be made when picking a dinnerware set, for example, the number of units, the variety of plates and bowls, colors and material and this section will help you to decide.

Choose your size
There are lots of different sizes of dinnerware sets, some with enough plates and bowls for large parties of 10 or smaller parties of just 4. Choose a set according to the number of guests you usually have seated at your table on special occasions, so that you can have enough nice plates to go around.

Choose your color
Dinnerware sets come in so many different colors. White is a nice classic dinner set which will make the room look bigger and makes food look well-presented and elegant when on the plate. Bright and bold colored plates with bright are great at reflecting fun Mexican or Brazilian style dishes and are perfect for families. Choose the style plates that catch your eye and matches your kitchen.

Choose your shape
While most plates come in your standard round or oval shape, there are a few squares or more rectangular-shaped dinnerware sets on the market. These square-shaped sets are really quite fancy and will be the perfect shape to purchase if you are looking to impress your guests this weekend.

Choose your range
Having a great range of different sized shapes bowls can be helpful if you like making dishes with little sauces and dips all arranged in little bowls in the middle of the table for people to choose what they want, buffet style. If you are a bit more of a one-pot cooker than this may not be a necessary feature for you.

Most place settings include four pieces but you can find sets with fewer and more pieces per person, depending on your preference.

You should choose what kind of bowls you would like, as some sets come with small dip bowls or larger soup bowls. It is a good idea to get a set that offers you a mixture of both.
What to Look For in Your New Dinnerware Set
If you are on the hunt for the best quality dinnerware sets it will be useful for you to consider the information mentioned above, as it will help you to pick the right color, shape, range, and size of your dinnerware plates. But what about the material?

Different dinnerware sets are made of varying materials, so it is important to know the difference between the materials so that you can decide which one will best work for you.

The following is a guide of what materials to look for when choosing your new dinnerware set. Check it out!

Earthenware
Earthenware dinnerware sets are commonly used when the set includes hand-painted designs. If you are looking to purchase a bright, statement dinnerware set, then it will probably be made at least in part of earthenware.

Unfortunately, earthenware isn't as strong as it looks, although chunky bowls and plates are often made of earthenware, you will find that they chip and crack easily, especially if you will be using them daily.

It is often porous, meaning that it is prone to staining over time, so if you are going to purchase an earthenware table set, it is best to buy a colored one, that will mask the sight of stains for longer.

Stoneware
Stoneware dinnerware sets are often stronger than earthenware sets as they are made with vitreous glass added to the clay when molded, making them stronger. These plates are thicker and sturdier, usually coming in a professional polished shiny or satin finish, perfect for everyday use and to impress dinner guests at the weekend.

Be sure to protect your stoneware dinner set from extreme and sudden temperature changes or they will crack.

Porcelain
Porcelain dinnerware sets are usually thinner and have more delicate shapes than other dinnerware materials. It is extremely durable and non-porous and should definitely be kept aside for those all-important dinners with the in-laws

Bone China
The fanciest of all dinnerware set materials would definitely be bone china. Despite how fragile it looks, it is actually one of the strongest dinnerware materials and is highly resistant. Bone china sets usually have more delicate shapes and designs and often come with gold or silver overlay that is not suitable for microwaving or dishwashing.
FAQ
Why is Corelle unbreakable?
Corelle dishes are way more resistant because they are made up of tempered glass. The outer layer of the glass is treated with heat and constant pressure that keeps cracks on the surface from breaking apart.
Conclusion
Choosing a new dinnerware set is a big decision. You want to make sure you have something with enough pieces for the size of your party, is the right color to match your dining room and made of long-lasting, hard-wearing material. You will also want it to have the right size bowls and side plates to make sure that the set really suits you and your style of cooking, serving and eating.

So, before you click confirm and pay on that dinnerware set you have had your eye on, consider the above-mentioned factors and make a few notes on what you are looking for in a dinnerware set. Once you know what you are after, consider 8 of the best dinnerware sets mentioned above and favorite the ones that fit your needs. Once you have narrowed down the list to maybe two or three sets that match your preferences, it will simply be a case of choosing your winner.

Happy dining!