If you are looking for a brand new cookware set that will help you achieve success every time you enter the kitchen, then I am sure you will fall head over heels for a Rachael Ray 12 piece cookware set. 
Rachael Ray Cucina Cookware Set
Why's that? Rachael Ray Cucina and all of its cookware glory is a complete cookware set that will give you the right tools to make just about any meal. This Cucina Rachael Ray set is ideal for families and would make the perfect starter up kitchen set thanks to the mix of cookware and utensils in the set for those who are looking to kit out a new kitchen. 
Are you ready to find out more? In this article, you will be able to dive into Rachael Ray cookware reviews and see just why this cookware set is sought-after by many. Not only that, but you will be able to take a closer look at the features included in the set and what consumers have to say about it.
Rachael Ray Cucina Cookware Set Review
So if you are looking to treat yourself to a brand new kitchen cookware set, look no further than to this Rachael Ray Cucina reviews for guidance on choosing the best model.
Overview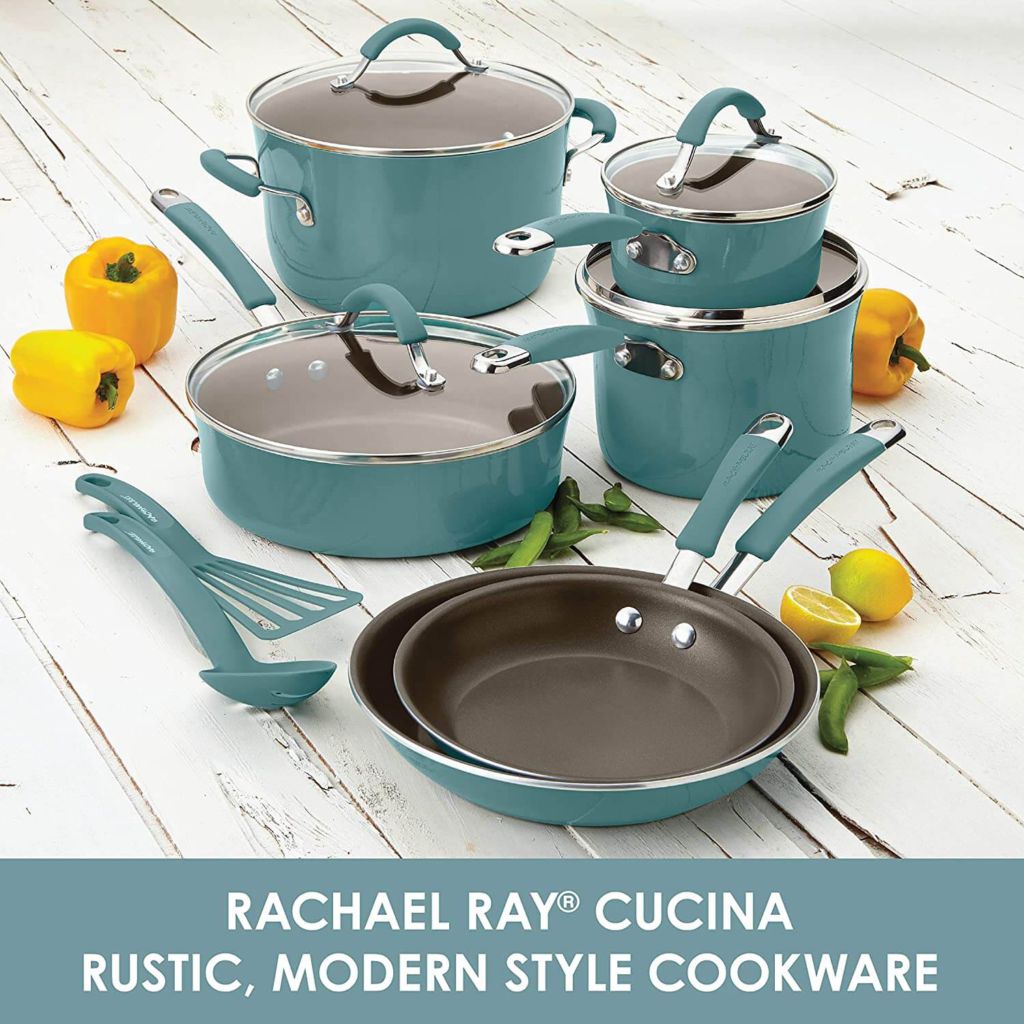 Here's the perfect way to get to know this Rachael Ray Cucina cookware set better. Take a look at the following list of specifications and features that await you in this fabulous cookware collection.
Features
What comes inside the box? I am sure you will be happy to know that this set comes complete, including two saucepans with lids, one stock pot with a lid, two skillets, and one sauté pan with a lid. That's right, with this cookware set you will have the perfect pot and pan for just about every kitchen eventuality. It also comes with a slotted turner and a slotted spoon, so not only are you armed with the right equipment, but you will also receive the right utensils to handle it with!
All of the pieces in this set have been designed with rubberized stainless steel handles that help the user to get a firm grip on the cookware, making it safer to use. The rubberized handles also help them stay cool to touch, helping you to maneuver things around the kitchen without having to use an oven glove or heat proof cloth. 
This set comes in a variety of modern colors that you can choose from. Why not choose a set that will best match your kitchen color scheme?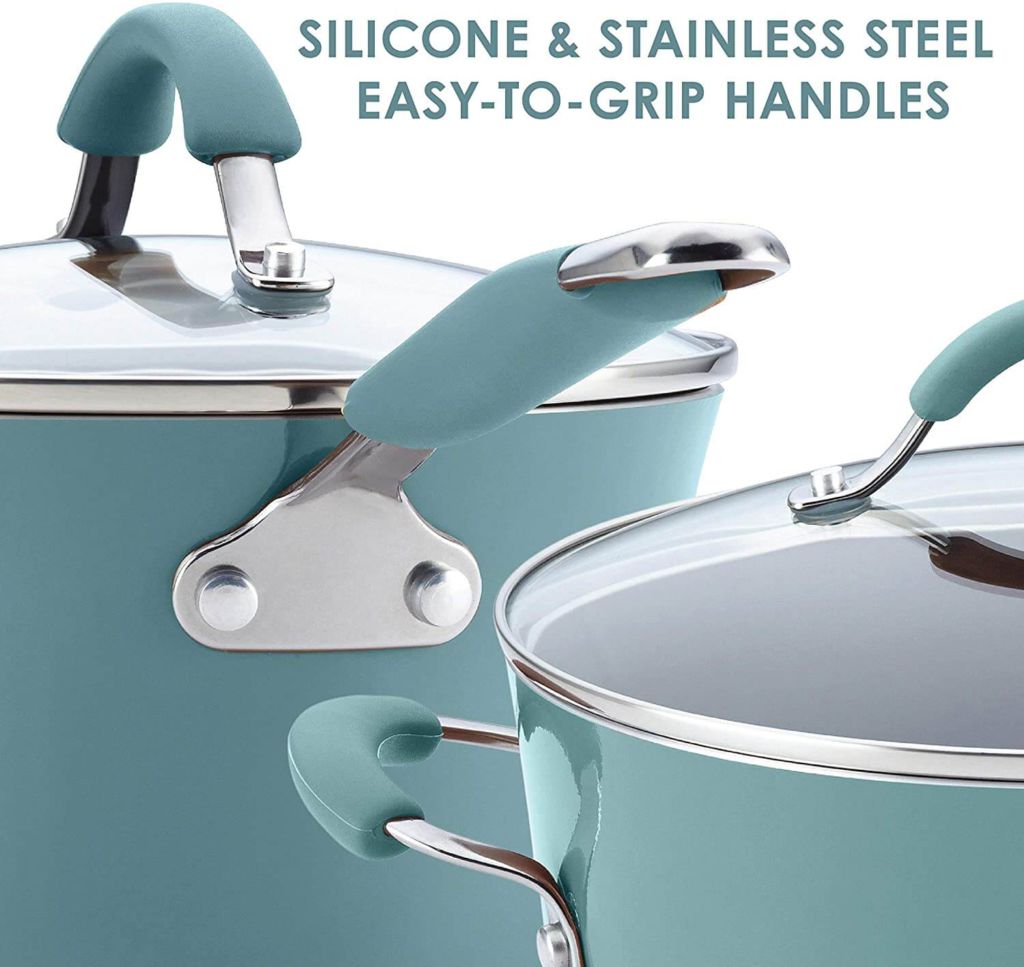 Pros & Cons
So what is everyone saying about this model? As stated above, the Rachael Ray Cucina set is super popular amongst families and those who are looking to kit out a brand new kitchen. Let's take a look at why.
The following list of pros and cons will provide you with our opinions and what we thought were the strengths and weaknesses of the Rachael Ray cookware set.
Pros
The lids that feature in this cookware set are shatterproof and have been made of toughened glass – the ideal material that will help you to keep an eye on your food as it is cooking and will also work to prevent accidents.
There is nothing that will help to set your mind at ease more than the lifetime warranty that comes included with this cookware set. 
Cons
This set has a great non stick coating, but it is not very temperature resistant. Although the set is oven proof up to 400 degrees Fahrenheit, excessive use of high temperatures will begin to affect the non stick coating and will begin to warp the pans. It is recommended to use this set on low to medium heat so they stay in pristine condition for longer.
Conclusion
So what can we conclude about this cookware set by Rachael Ray? Well, if you are looking for a rustic cookware set in a variety of quaint colors with rubberized anti slip and heat proof handles, shatterproof lids and a great non-stick coating, then this set is ideal for you.
Not only will this set do a great job, but will also look the part, thanks to its bright and bold selection of colors. You can choose from a dirty orange, a classic jet black, a cool blue, and more! Pick the ideal color set that will perfectly match your kitchen and your preferences.
Another reason why families and starter-uppers love this cookware set is because it is coming to you at a great price, considering the number of pots and pans and also the handy cooking utensils that are included in the set. These added extras make this the ideal cookware package for those who are setting up their first kitchen and filling it with all of the necessary bits and pieces.
If everything that was mentioned in this article sounds like a winner to you, then make sure you purchase a Rachael Ray Cucina cookware set today so that you can start breaking in this awesome cookware as soon as possible!