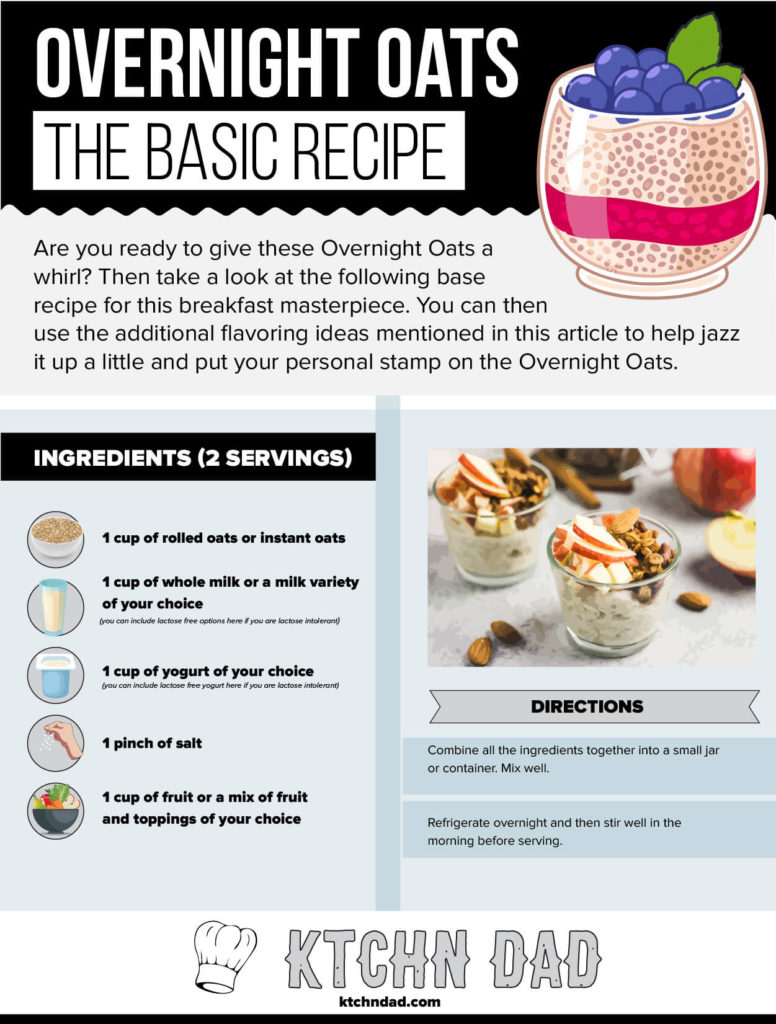 Share this Image On Your Site
Please include attribution to https://ktchndad.com/ with this graphic.
Are you bored of the same old breakfast choices in the morning? Cereal, toast, a banana with a cup of coffee, nothing seems to be giving you that essential spring in your step that you need to get through a long Monday morning at work. If you feel like your morning breakfast ideas have lost their pizzaz, then you have come to the right place.

Let's be honest, there is no busier time of the day than the mornings, between trying to get yourself ready and out of the door on time, you have to make sure the kids are ready, nagging them to put the iPad down long enough for them to put their shoes on and making sure that they've got something nutritious in their bellies that will keep them going until recess. All of this is a battle in itself. Then there's hubby, making sure he's not going out the door with that unironed shirt on and helping him find his car keys for the umpteenth time can take the stuffing out of you in the mornings.

With all of the madness going on in the house in the morning, the last thing you need to add to your list is a complicated breakfast routine, there is simply no time. Flipping homemade pancakes, stirring waffle mix and frying eggs and bacon are luxuries that are strictly reserved for weekends and the holiday season (if you're lucky). It is essential that breakfast recipes are easy to put together and tasty and will keep you going until lunchtime.
Overnight Oats – A Quick And Tasty Breakfast Recipe
If you have been searching high and low for a nutritious, scrumptious and quick breakfast recipe that can be whipped together in next to no time, then you will love this Overnight Oats recipe. My favorite thing about this recipe is that it doesn't require any cooking! You simply mix all of the ingredients together and then place them in the fridge overnight and by morning you will have the best oaty breakfast ready to dip your spoon in. 

Another thing I love about this recipe is how versatile it is. An overnight oats recipe can easily be modified to include your favorite fruits and yogurt flavors, and you can make it as plain or as sweet as you like it. It is easy to make this recipe with a bunch of different flavors and to suit all tastes, making it the perfect recipe for the family to tuck into in the morning.

Overnight Oats – The Basic Recipe
Are you ready to give these Overnight Oats a whirl? Then take a look at the following base recipe for this breakfast masterpiece. You can then use the additional flavoring ideas mentioned in this article to help jazz it up a little and put your personal stamp on the Overnight Oats.
Ingredients
1

cup

of rolled oats or instant oats

1

cup

of whole milk or a milk variety of your choice

you can include lactose free options here if you are lactose intolerant

1

cup

of yogurt of your choice

you can include lactose free yogurt here if you are lactose intolerant

1

pinch

of salt

1

cup

of fruit or a mix of fruit and toppings of your choice
Instructions
Combine all the ingredients together into a small jar or container. Mix well. Refrigerate overnight and then stir well in the morning before serving.

This is just a basic Overnight Oats recipe, try mixing any flavors or ingredients together until you find a flavor combination that your family loves!
Overnight Oats – Fun Recipes
Now that you have seen just how easy it is to make Overnight Oats, I am sure you are pumped and ready to make your very own. In order to make this recipe exciting, you will need a few extra ingredients, but you will be happy to know you can start with the things you have on hand in your kitchen cupboards.

Berry Blast. Mix together chopped strawberries, blueberries, and raspberries to make up one cup and add them to your base recipe. Substitute plain yogurt for vanilla or coconut yogurt.
Caribbean Pineapple. Replace plain full fat milk with coconut milk and use coconut yogurt instead of plain. Chop a cup full of fresh or tinned pineapple chunks and add it to the mix.
Looking for something sweeter for the kids to tuck into as a snack after school or for breakfast over the weekends? Then take a look at the following recipes they'll go nuts about:

Choccy Oats. Add 3 heaped spoons of cocoa powder to the mix and two tablespoons of grated chocolate.
Nutty-nana Oats. Half the quantity of yogurt and add one whole mashed ripe banana. Add 2 tablespoons of peanut butter 4 cubes of grated milk chocolate.