Why do you need the best milk frother you say? Well aren't you tired of paying for over priced coffee at all of those chain restaurants?
Save yourself some money and enjoy better coffee at home with an easy to use milk frother.
Discover the art of making terrific tasting coffee by utilizing the very best milk frother.
Let's check them out and find the ideal one for you …
9 Best Milk Frothers Reviews
Our #1 choice
Breville BMF600XL Milk Cafe Milk Frother
Norpro Glass Froth Master, 2 cups, Black
Secura Milk Frother, Electric Milk Steamer Stainless Steel,...
MatchaDNA Premium Milk Frother & Steamer Jug | Automatic...
aerolatte Milk Frother, 8.5-Inch, Satin Finish





MatchaDNA Premium Milk Frother & Steamer Jug | Automatic...

Breville BMF600XL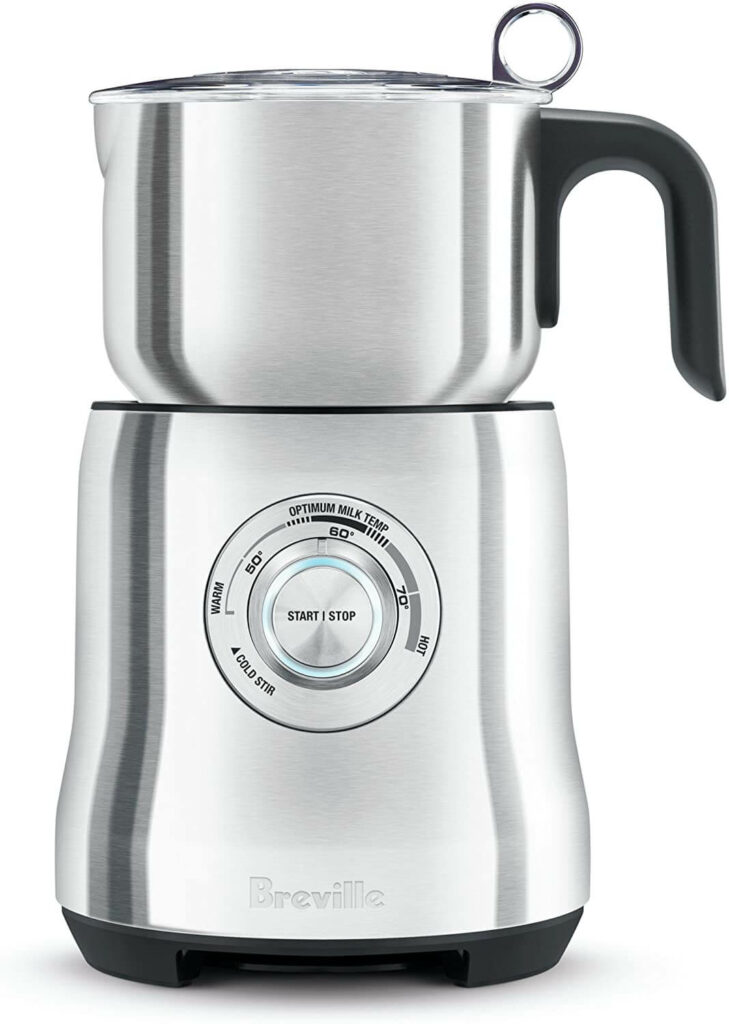 The Breville milk cafe milk frother is one of the best milk frothers on the market. It is definitely on the higher end price-wise, but you get what you pay for. 
Overview
You can make your favorite coffee at home, whether it's a lot of lattes, cappuccino, or even hot chocolate. 
Features
It has an easy to use the dial on the front and a simple start and stops button.
It holds up to three cups of milk and even has an auto-off feature once your milk is hot. 
It comes with a cappuccino disc and a latte disc ensuring that you have a perfect layer of froth on your coffee. 
You can also use it to just heat milk without producing foam if you just want some hot milk. 
This is a very popular milk frother with over 3,000 reviews and a 4.6 star rating.
Pros
It's easy to clean.
Has an auto shut off feature
Cons
A couple years ago, some people reported that there was a fire hazard but that seems to have been resolved. 
However, it's noted that it does not work well with alternative milk. 
PowerLix MilkPro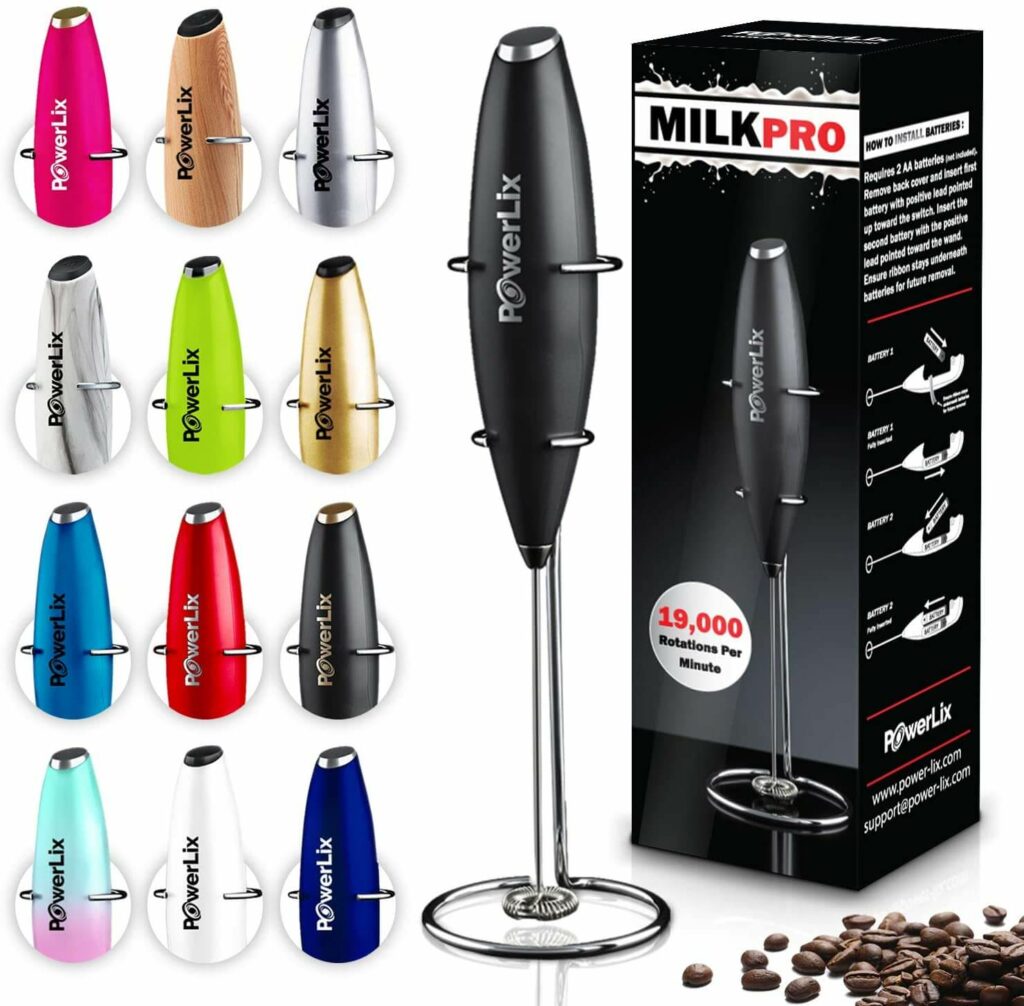 The PowerLix milk frother is a great economical option, especially if you are on a budget. 
Overview
This one does not heat up the milk, so you will need to either warm it up on the stove or in the microwave. This simply adds air and froth to the milk by whipping it. 
Features
It's battery-operated, so you don't have to worry about a cord hanging around. It is also a very powerful spinning at 19,000 revolutions per minute. 
It also has a 100% money-back lifetime warranty that should make you feel comfortable making this purchase. 
Simply stick it in your heated milk and hold down the button until you have the thickness that you desire. 
This milk frother has 25,000 reviews and a 4.4-star rating. It doesn't get much better than that.
Pros
This one is super easy to use.
It comes in several different colors, so you can match your kitchen style.
Cons
This model simply adds the froth and doesn't have a heater feature.
HIC Milk Creamer Frother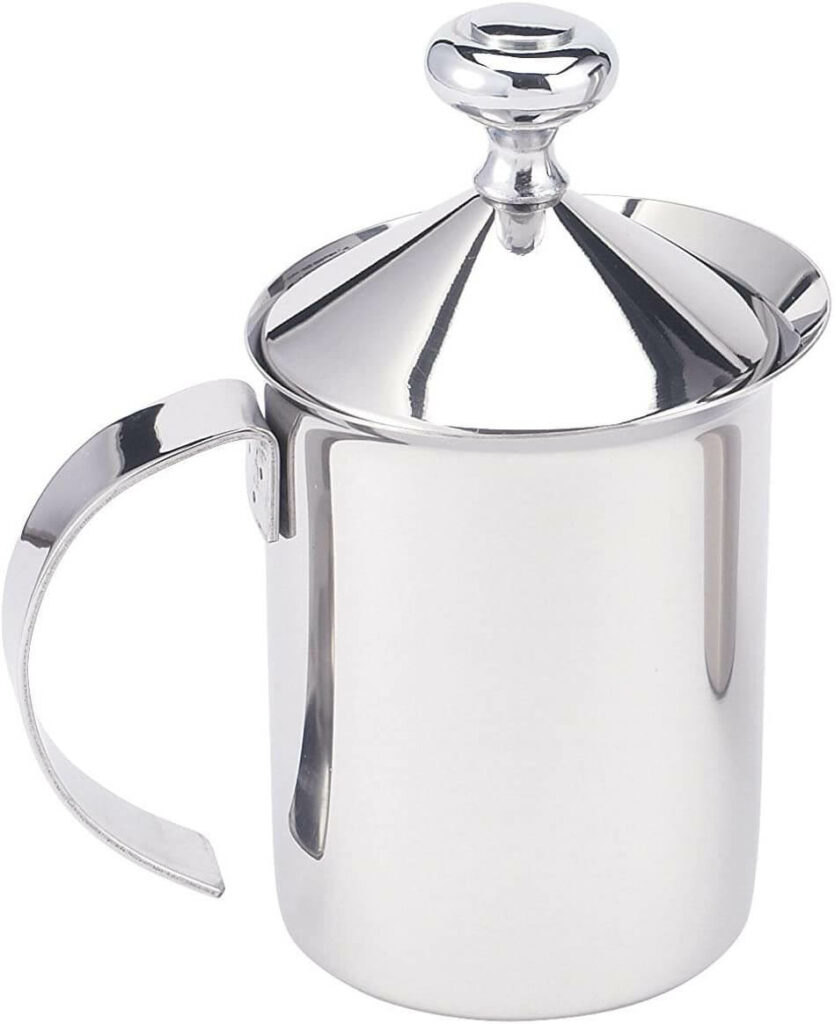 Another great option if you're on a budget is the HIC milk frother. We like this one because there are no electrical components to break. 
Overview
Simply add your warmed milk to the frother and use the hand pump for about 30 to 60 seconds. The hand pump has a mesh screen that forces air into the milk creating the froth. 
Features
Sometimes less is more, so if you like more the simple things in life this may be a better choice for you. 
It only has a 14-ounce capacity. So if you're making multiple coffees every day, you might consider one of the larger options. 
Just remember if you're going to heat the milk inside this container you need to take the lid out because there's plastic in the frother itself. 
Another popular milk frother would just under 2,000 reviews and a 4.3-star rating.  
This milk frother should also work better with alternative milks as well. 
Pros
Froths milk within seconds
Can also heat up the milk in the container just take the lid and frother out before placing it on heat.
Cons
This milk frother does not mention a warranty. However, it's only around 20 bucks. So, even if you don't like it, it's not a huge loss.
Aerolatte Original HandHeld Milk Frother

The Aerolatte milk frother is similar to the PowerLix. It's a simple handheld milk frother.
Overview
Again, it's not going to warm your milk. But by using the whip it rotates very fast to add air and froth to your milk. You should only need to use it for about 30 to 60 seconds. 
Features
Simply stick it in a cup with warm soapy water and let it run to wash away the milk. 
This product has been around for over 18 years, so you can be sure that there's been continuous innovation in the qualities there. 
This is also great if you travel a lot as you can easily take it with you anywhere you go. It comes in red, white, and black colors to match the rest of your kitchen appliances. 
Their warranty lasts for five years and keeps in mind that you do need two double-A batteries to use the product. 
Just under 4,000 reviews, this is a 4.2-star rating.  
Pros
It's also easy to clean.
Perfect for daily use
Cons
Just like with any products, most of the negative reviews simply state that it doesn't work. When you look at any product that sells this many, they're bound to be a few bad apples in the bunch. However, if this happens to you, just be sure to contact the seller for a replacement.
Norpro Glass Froth Master

The Norco glass froth master is another great milk frother under 20 bucks. It's a little bit different than other ones we've listed so far as it is made of glass and has a 2 cup capacity, which is one of the larger ones. 
Overview
This is good again if you don't like the idea of electrical components breaking. It has a hand pump, so as you pour the milk in there, you simply use the hand pump for 30 to 60 seconds to create your foam. 
Features
The Norpro brand has been around for nearly 50 years and they pride themselves on quality. 
You can put cold or warm milk in this to create foam. 
This one is not as popular with only 1300 reviews but still has a 4.1-star rating.
You can use alternative milk in here, but just realize that none of them are going to froth as well as dairy.  
Pros
Froths milk within just a few seconds
Can froth both hot and cold milk
Cons
One thing to note, that you need to handle this with care as it is glass and can break easily.
Ikea Milk Frother 100.763.20
Overview

The Ikea milk frother is one of the cheapest frothers on this list and this has one of the lowest ratings that only 3.8 stars. However. If you don't feel that you need to use it very much it could still be a great option for you. 
Features
Just like the other handheld battery-powered milk frothers.
It's super easy to use and claims that it froths milk and just 15 to 20 seconds. 
This milk frother probably works best with small batches.
So don't try to froth milk for multiple coffees at one time just pour what you need for one. 
Pros
Perfect for daily use
Very easy to use and workds very quick
Cons
Doesn't have the heating feature and can only be used to froth
Secura Automatic Electric Milk Frother And Warmer
The Secure Automatic milk frother is the mid-range milk frother and is a highly popular product.
Overview
It comes with a two-year warranty and you can use it to make hot or cold milk froth for Cappuccinos and lattes alike. 
Features
There are two different sizes available, one is 250 milliliters and one is 500 milliliters. So, depending on how much coffee you make each morning you may want to get the bigger size. 
This one is super easy to use, if you want your milk hot simply touch the on and off button.
If you want it cold, then press the on button for three seconds before releasing and this will turn the froth on without heating the milk. 
It also has a cleaning brush and an ergonomic handle that will help you pour the milk into your coffee after it's frost.
It's also made of stainless steel, making cleanup and breeze. 
Of all the alternative milks you may find that oats are almond milk works best in this device.
Pros
Very simple and easy to use
Easy to clean up after every use
Froths milk within seconds
Cons
Tends to spill the milk if filled up over the margin. Just be sure not to overfill the frother. 
Capresso 204.04 Froth Plus Automatic Milk Frother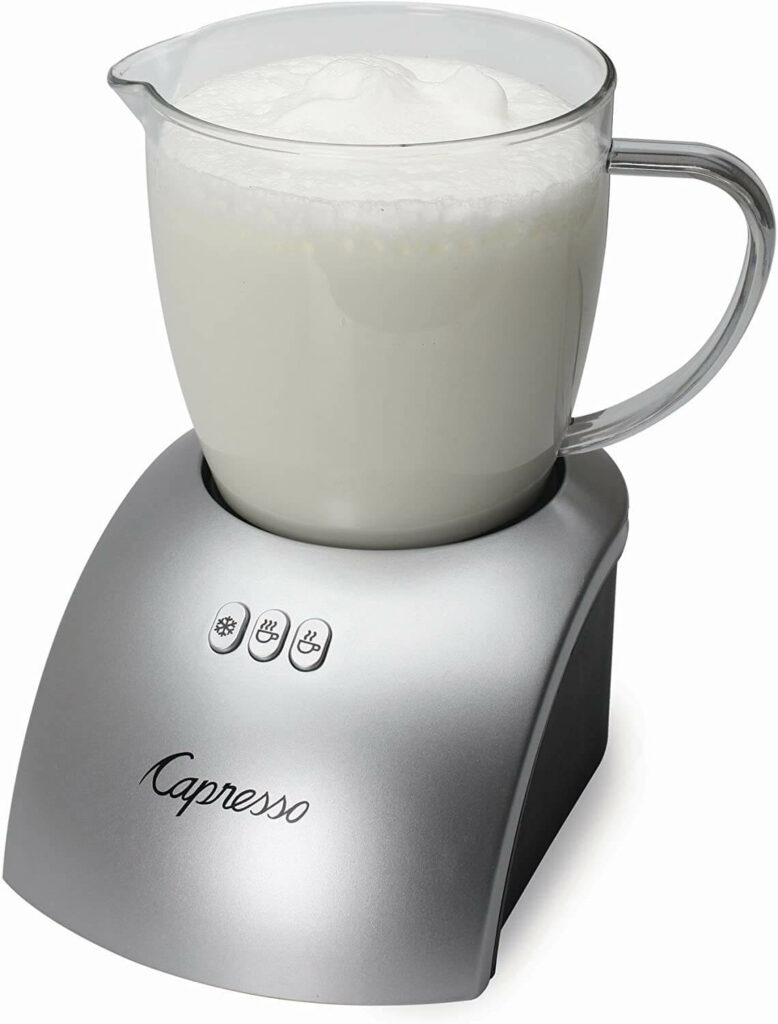 The Capresso froth plus is on the higher end of the milk frother. But Capresso is known for its high-end quality coffee appliances. 
Overview
It has a little bit larger capacity and can hold eight ounces of milk for frothing or up to 12 if you just want to heat the milk. 
Features
This is super easy to use with just one button to touch and even comes with a nice recipe book to help you get started making fancy drinks for your friends and family. 
You can even add flavorings to your milk as you steam it and froth it. Simply add your ingredients for 10 to 20 minutes and the warm milk before turning on the frother. 
This only has 300 reviews probably because it's a little more expensive but it still has a solid rating at 4-stars. 
Pros
Has a larger capacity so can froth larger amount of milk
Works pretty quick and fast
Cons
Might have to be careful about not to overfill the jug
A few people had issues with this, however, this is surely a high-quality product.
MatchaDNA Premium Automatic Milk Frother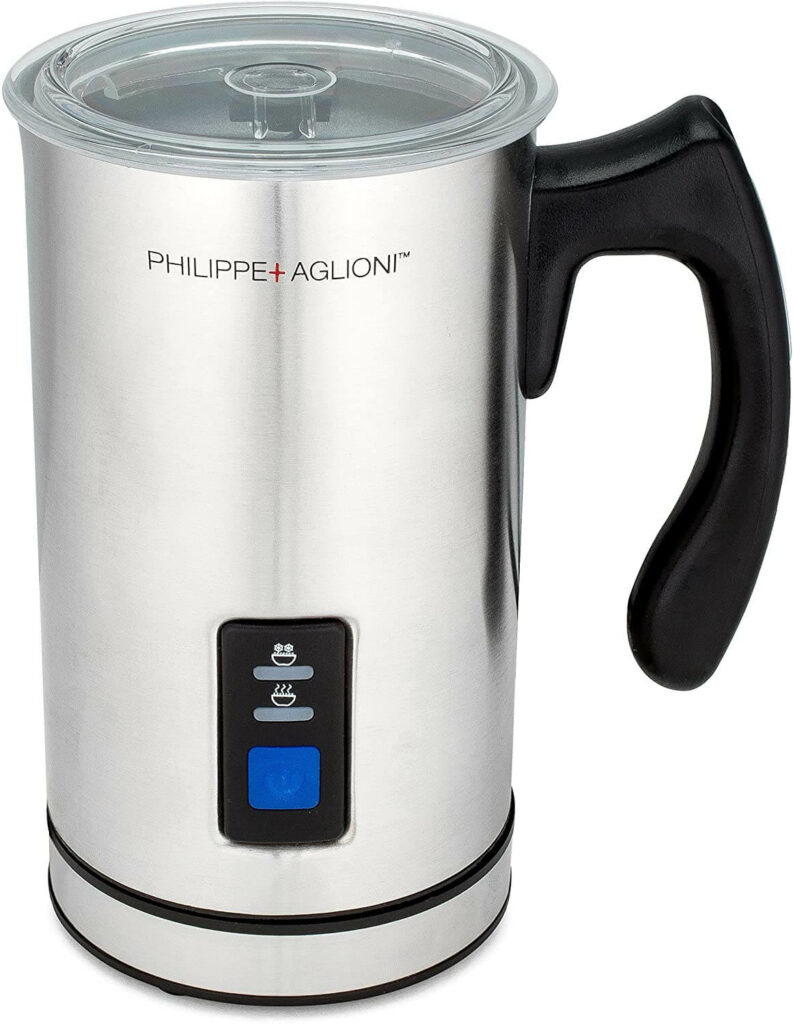 The Matcha DNA milk frother is another high quality, mid-range milk frother. 
Overview
In fact, it is very similar to the Sakura milk crawler and comes with a one-year 100% money back guarantee. 
Features
Super easy to use with just one button to turn it on or off. And it's stainless steel construction makes it easy to clean. 
It only has about a one cup capacity. However, it's usually better to make coffee and small batches. 
This product has a 4.1 star rating with just over 600 reviews. There are not many complaints on this one. 
Pros
Easy to use
Cleanup is a breeze
Ideal for everyday use
Cons
Capacity is not that high and can only froth uptoa cup of milk at once.
Buying Guide
So, out of all these milk frothers. What should you be looking for? Let's get into our buying guide now.
Types Of Milk Frothers
There's really three main types of milk frothers. The handheld battery operated milk frothers are super convenient and easy to use. However, require a little more work. 
They're also the hand pump milk frothers, which have fewer parts that can break and also require more work, and then there are also the automatic milk frothers that are a little more expensive but a little more hands-off and probably allow you to get them more consistent froth each time. 
Capacity
Most of the milk frothers on this list have a capacity from one to three cups. We recommend making your coffee in small batches, however, if you have a large family this can get time-consuming so. Looking at the capacity is something worth considering.
Ease Of Use
All of these milk products are pretty easy to use. 
With the automatic ones being the easiest as you can simply push a button and walk away. However, if you don't have the patience to use the handheld frothers, then you should look for one of the automatic ones
Cleaning
Cleaning is important, especially for the electric milk frothers. As if you don't keep them clean, they could wear down and break. 
The stainless steel versions will also be easier to keep clean. 
Accessories
Some of the higher end milk frothers come with different discs to create the type of foam you need for either cappuccino or a latte, so if you are a snob with your froth, you may consider one of these. 
Budget
These milk frother's range from less than $20 to over a hundred. Only you know what you can afford to spend however just like with everything you get what you pay for.
Conclusion
So, what really is the best milk frother? Well what works well for some people is gonna work differently for you.
We always encourage you to do your own homework before you buy. Just make sure to consider all the options. 
We hope you enjoyed this review and if you happen to use any of these milk authors, please let us know how you like it in the comments below.