Adjustments and advancements in technology are working to make household appliances work faster and more efficiently. Everything seems to be on the up, with new technology and self-operating appliances on the increase that help to make preparing a complex meal in the kitchen something you could do in your sleep.
I am sure you will be glad to know that the Dalstrong Gladiator knife series is keeping up with this technology advancement trend and they are always improving their knives to stay in line with modern ways of cooking whilst keeping true to the original design ideas that made us fall in love with Dalstrong in the first place.
So what will we consider in this article? This Dalstrong knives review will help you to learn more about one of the most essential knives for your kitchen. What is that? A Dalstrong Gladiator Series chef knife. Not only will this Dalstrong knife review go on to explain some of the highlights of this knife, but it will also discuss some of the features that users feel Dalstrong should do a little tweaking to in order to perfect their next model.
Stay tuned to find out everything you need to know about this chef's knife!
Overview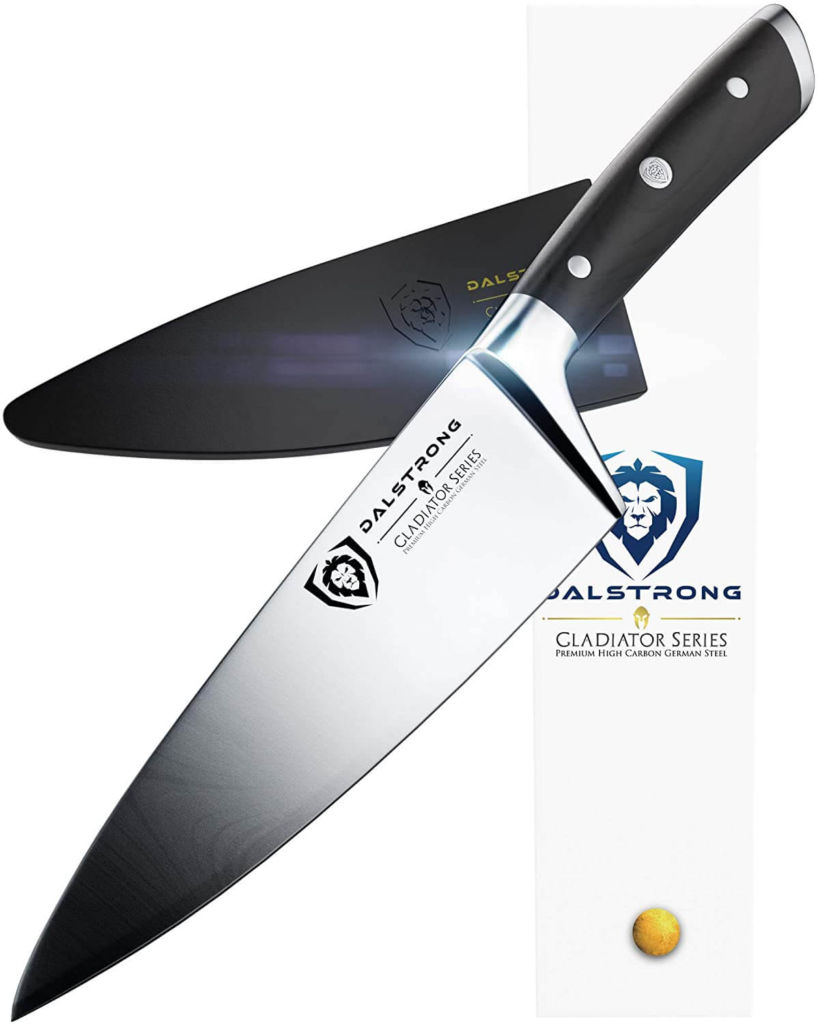 Everyone needs a super tough, resistant and razor sharp chef's knife in their kitchen drawer that will help them to complete a wide variety of different food preparation tasks. Take a look at the following list of features which will explain just why this Dalstrong Gladiator knife is the one for you.
It doesn't get sharper than this. This knife blade is precision forged from high-carbon ThyssenKrupp German steel, making for a super, tough and razor sharp blade.
Would you like your knife blade to stay in razor-sharp condition for as long as possible? Thanks to the PerfectFit sheath included with this knife, that is now possible. Simply store your knife in the sheath when it is not in use to prevent it from rubbing against other utensils and materials and becoming blunt.
Mirror finish and easy to clean, this helps to make this a perfect daily use knife.
Pros & Cons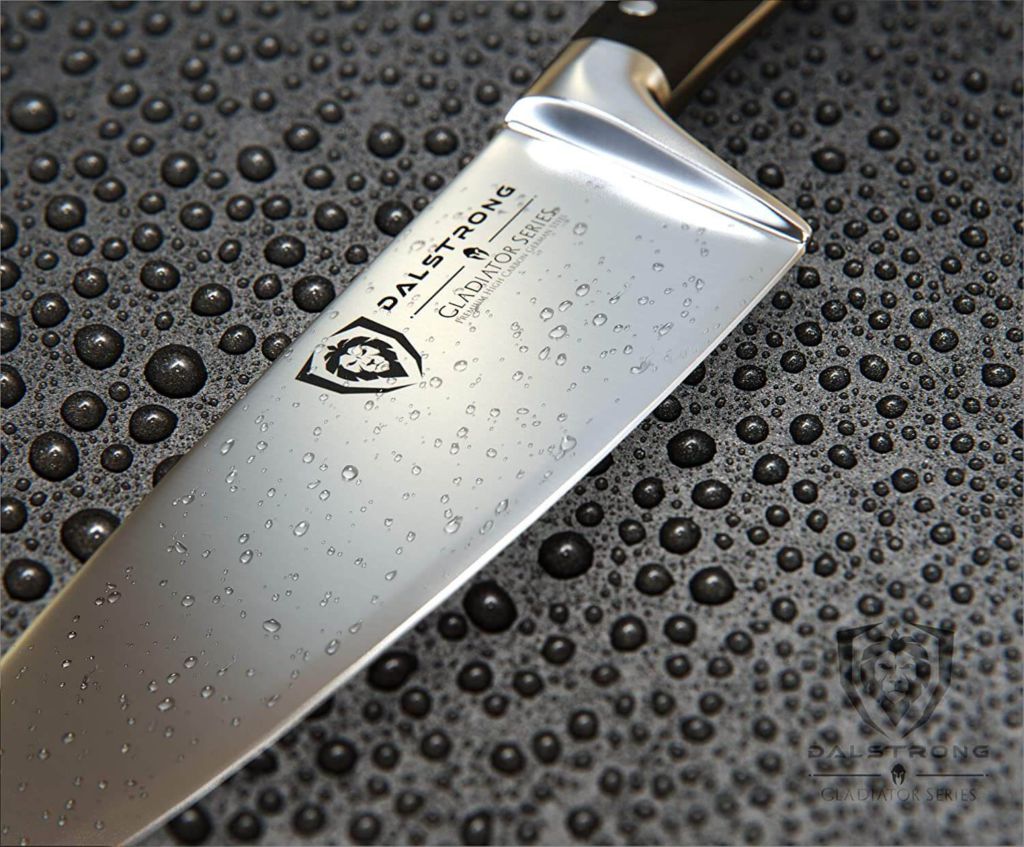 But that isn't all that this Dalstrong Gladiator chef's knife has to offer. Take a look at the following list of pros and cons that will explain this knife in even more detail, getting into the nitty gritty of it all.
Pros
Ergonomic handle. This chef's knife has been designed with an ergonomic handle that will fit comfortably in the palm of your hand, regardless of whether you will be chopping with your right or your left. This handle helps to reduce wrist fatigue for those who will be standing and slicing in the kitchen for extended periods of time.
Bolster. The bolster on the knife helps to perfectly balance the knife blade with the handle, making the knife both safer and easier to use. The bolster also acts as a finger guard, helping to prevent accidents.
Full tang. The full tang design on this knife adds to its solid construction, meaning your knife blade and handle will not be inclined to bend or warp, even when you are continually using the knife to cut into tough vegetables or cuts of meat.
Cons
This is an exceptionally good knife, especially for the price tag. The main con of this knife is since it is a single forged piece of steel vs folded (like many more expensive knives) it may not last as long, however that is why this knife is a fraction of the cost.
Conclusion
Would you like to get dinner prepared faster than you had ever imagined possible? You may be wondering why a new Dalstrong Gladiator chef's knife is necessary to do so. But the truth is that it is an essential ingredient in order to get everything speedily prepared.
You see, with a great chef's knife behind you, you will be able to chop the ingredients faster without having to cut twice as the knife will slice straight into your fruits and vegetables with one simple motion.
There is so much more to be said about this Dalstrong knife that I think we could stay talking about it all day. So why not check out just how awesome it is by adding one to your basket today so that you can see the fantastic results in action?