No matter what you're cooking in the kitchen, a thermometer always comes in handy. Knowing how to properly cook food is a simple way to make sure your guests enjoy it. 
A candy thermometer is just like any other meat thermometer, except you can usually read higher temperatures. It also usually has a longer stem so you can put it in a deep pot. 
Let's check out some of the best candy thermometers on the market today. 
Candy Thermometer Comparison Table
Table could not be displayed.
Top 7 Candy Thermometers To Buy In 2020 Reviews
Habor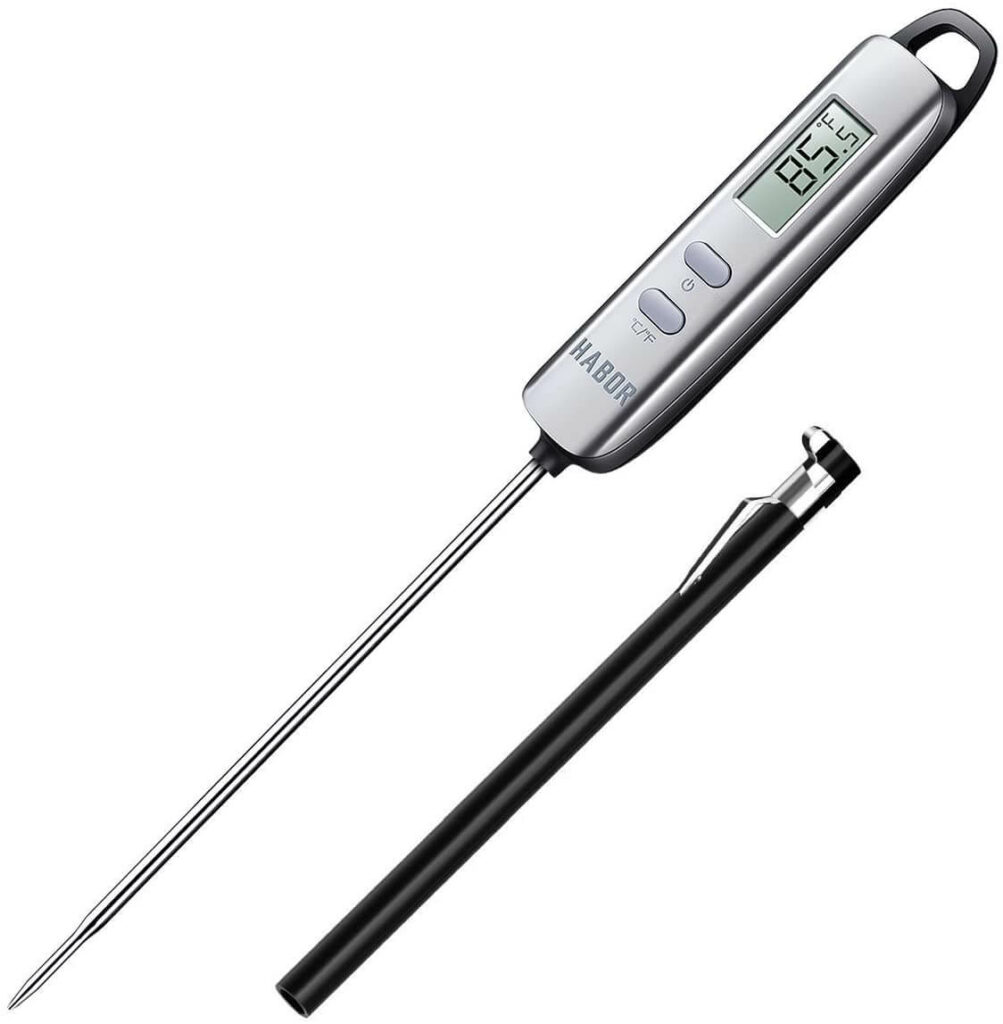 The harbor meat thermometer is an  instant read thermometer with a digital display. It's very affordable and it's fast. It usually only takes four or five seconds to give you an accurate reading. 
It's seven inch probe makes it great for cooking. With sugar whether you're making jam or chocolate, but you can also use it for larger cuts of meat like turkey or chicken. 
It comes with a plastic protective cover and a tent and it cuts off after 10 minutes in case you forget to turn it off to save your battery. It has a wide temperature range. It can go as low as minus 58 degrees and up to 572 degrees. 
Be sure to keep the probe clean and wipe it all after each use before you put the cover back on. 
You can also switch between Fahrenheit and Celsius for the temperature reading. 
Just remember this is not dishwasher safe and you do not want to submerge the head unit in water as it could damage. 
You should also never use a thermometer in a closed oven because while the probe is meant to withstand high temperatures the head unit is not. 
This is a very popular thermometer with almost 18,000 reviews on Amazon and a 4.4 star rating. So while there may be a few customers who received a defective product, it's highly likely that you will love this thermometer. 
Polder
The Polder candy thermometer is a cheap but effective tool that will help you cook anything that you want to. It has six temperature zones printed on its stainless steel display. 
It has an insulated handle so it is cool to the touch while you're cooking. It also has a clip that allows you to attach it to the side of your pot. 
This temperature range isn't as big as the previous, only going from minus 90 degrees up to 400, however, that should be plenty to cook all kinds of desserts, jams, chocolates, etc. 
This is not a digital display, however it does use mercury free material inside its temperature reading. 
And while it is accurate and precise it may take a few more seconds then the digital displays. 
This is another popular item with over 4,000 reviews in a slightly higher 4.5 star rating. 
CDN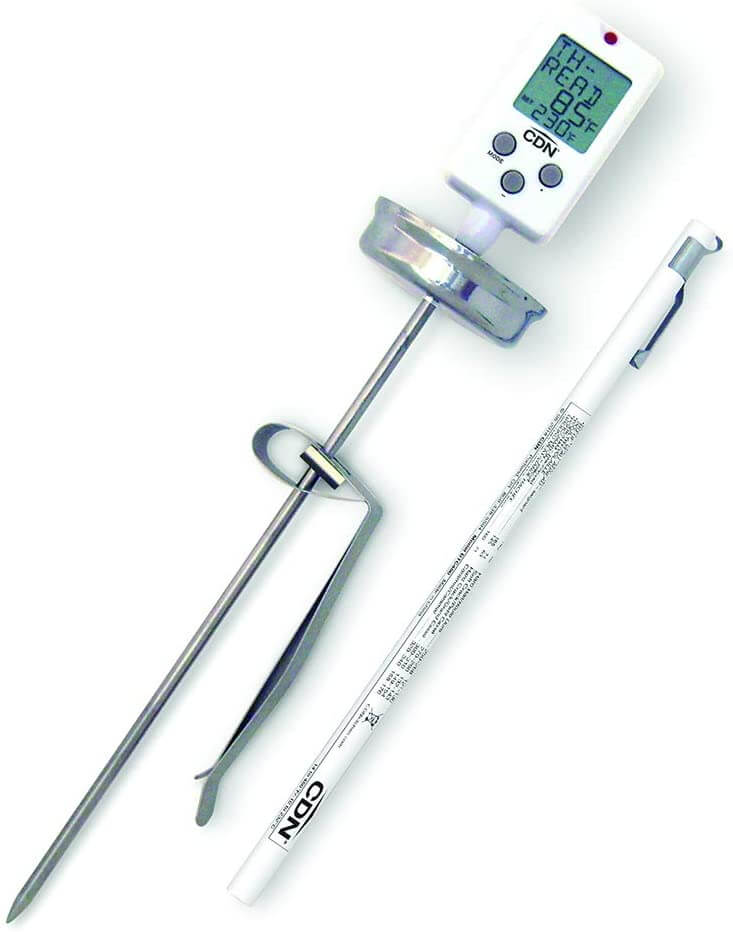 This digital candy thermometer has a range of 40 degrees to 450 degrees and it includes a pot clip and a deep probe allowing you to make large batches of your favorite foods. It also has a nice protective shield that protects the head unit from whatever you're cooking in case there's any splatters. 
It also comes with a plastic protective shield to cover the probe when you are finished cooking. 
It also comes with seven pre-programmed temperatures that help you make cooking a breeze. 
This thermometer is also neat as it shows you to temperatures the set temperature and the current temperature so you can try to see how much longer it's gonna take for your food to reach the set temperature. 
CDN or component design, northwest is known for making quality kitchen equipment for the last 30 years. 
It comes with two batteries and is backed by a five-year warranty. 
Because of this. It is highly rated with over 1,400 reviews in the 4.1 star average. 
Winco

The WinCo candy thermometer is similar to the polar as in the design. It has a stainless steel clip with an insulated handle. 
With a similar range, this actually comes with a set of two thermometers, so you have a backup which is nice. 
There is nothing fancy about this thermometer, what you see is what you get. However, Winco is known for making quality restaurant equipment.
This one doesn't come with as many ratings, but still seems to work well from most of the customer reviews.
CIA
The Culinary Institute of America candy thermometer is another simple yet effective tool. It does not have a digital display, but it does come with a 5 inch probe and a stainless steel pot clip. 
This is one of the few candy thermometers on our list that actually allow you to calibrate the temperature with a wrench. Simply place the thermometer in a cup full of ice water and adjust it until it reads 32 degrees fahrenheit. This also comes with a lifetime warranty if that is a concern for you. 
It's plastic protective sheath also comes with standardized temperature measures.
Kona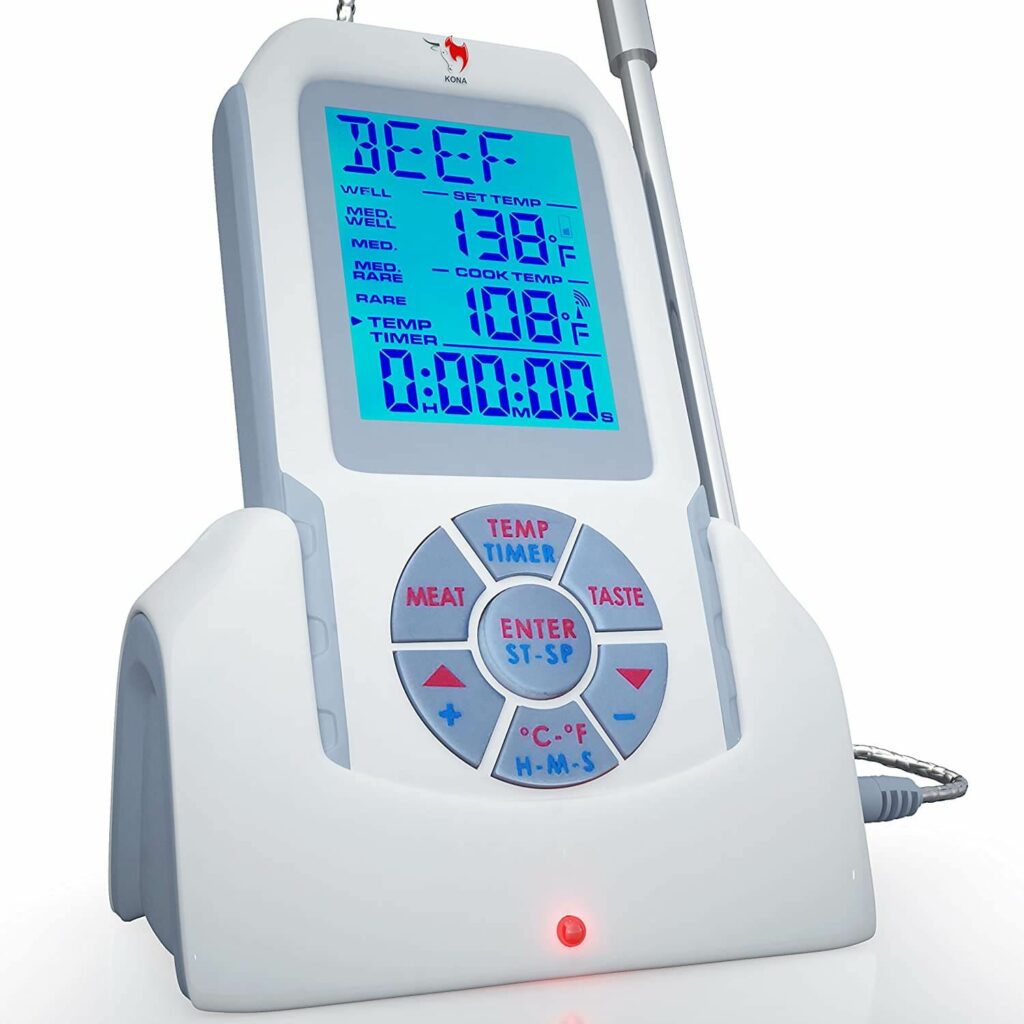 If you're looking for all the bells and whistles then this may be the thermometer for you. 
This thermometer comes with a heavy-duty head unit with an extensive LCD display and also comes with a five-year guarantee. 
It could also come with a metal probe that is a metal sheath from the head unit to the probe allowing you a wide range. 
You can also take the head unit out and be up to 200 feet away from the probe, which is great if you have other things that you are doing. 
This also has several preset programs for different types of meat, not just candy temperatures. 
It does take more batteries than most the others, AAA included. However, they do have a money back guarantee as well. 
The only downside with this product is it may take you a little bit longer to learn how to use the head unit because it is more advanced compared to the other candy thermometers. 
Wilton
The Wilton candy thermometer has a similar design as a few of the others but a slightly higher rating. This can be used for not only candy and fudge but heating oil as well, if you are deep frying potatoes or other tasty treats. It has a solid stainless steel pot clip that makes it easy to read new temperatures. 
It's also longer than it looks in the picture with a probe almost 15 inches long, so this is great if you only have deep pots or if you make large batches. 
The Wilton company has been making. Products to help bakers and chefs alike since 1929. So needless to say their products come with quality. 
This is another highly rated candy thermometer with a 4.1 star average. 
Buying Guide
So now that you've seen recommendations for the best candy thermometer, what should you actually look for?
Analog Or Digital?
This really depends on what types of candy or cooking and how much patience you have digital thermometers will read faster than the analog, however the analog might be more accurate. 
Accuracy
Obviously accuracy is important especially when you are cooking sugar many recipes call for a precise temperature to be reached when you are cooking with sugar. 
Many of these digital candy thermometers promised to be accurate within two degrees fahrenheit which could alter your recipe, so if you're worried about accuracy, you may choose one of the analog thermometers.
Features
As we noted with the Kona thermometer it has a wireless capability which may be nice if you have a couple of kids running around the house. However, most of the other thermometers have pretty similar features. 
Conclusion
So, what is the best candy thermometer? Well, that is going to be entirely up to you based on what your needs are and should always do your own research and check out each recommendation on your own to determine which one best suits your needs. 
We hope you found this guide helpful and if you happen to have used one of the recommendations before please let us know how you like it in the comments below.