If you are looking for a fantastic smoker that will help you to smoke the most tender and tasty cuts of meat while not taking up a lot of room in your backyard then you have come to the right place.
Weber Smokey Mountain Smoker
If you have been searching the internet reading page after page of weber smokey mountain reviews in order to find the right smoker for you and your family then the search stops here as this article has been designed to show you the best weber smokey mountain smoker on the market right now. Make sure you check it out!

Weber Smokey Mountain Review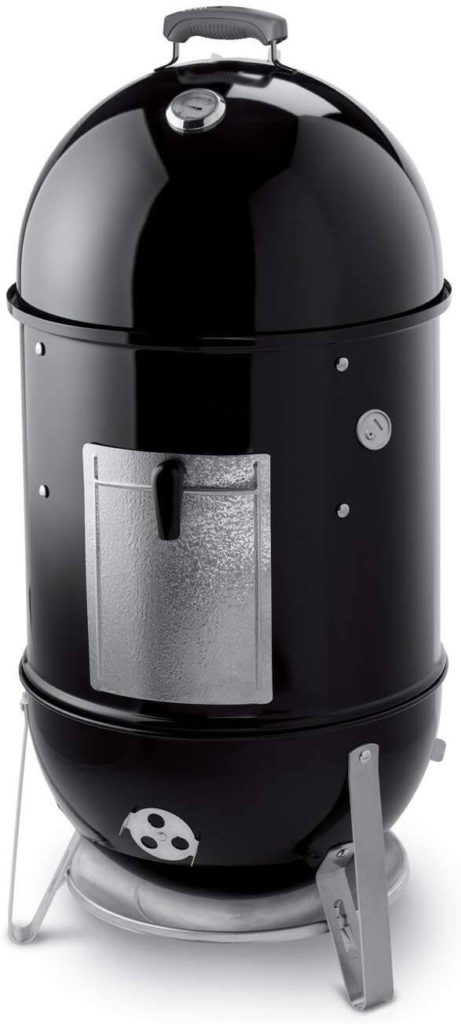 Has all of this talk about just how fantastic Weber smokey mountain smokers are made you want to go out and get yourself one? Then look no further as the following review will let you in on everything you need to know about them. 
Overview
This smoker comes with two cooking grates – double the cooking space, making this the perfect smoker for use with families and will help you out if you need to cook more than one piece of meat at once. 
Features
This is a powerful smoker but it only measures a mere 21×41 inches, making this smoker ideal to tuck into a corner when not in use or for placing in smaller backyards. Although it is small it is not lacking in cooking space as it boasts an 18-inch grill!
The black porcelain-enameled water bowl, lid, and exterior are resistant against extreme temperatures, rust, and corrosion, helping your smoker to stay in like-new condition for longer.
The rust-resistant metal legs will also remain in good nick even when the smoker is stored on the lawn in the garden.
The built-in lid thermometer has a big dial, is straightforward to read and will help you to keep an eye on the temperature of the grill, making cooking a whole lot easier.
Pros
Very well built and sturdy
Easy to assemble and operate
Good temperature control and heat circulation
Cons
The door on the side of the grill doesn't often fit well and flimsy
Using The Minion Method For Smoking
If you have been looking through a number of weber smoker reviews then you may have come across some rather conflicting information about the best method to use for smoking your weber 18 smoker. Take a look at the tips and tricks below that will give you the most awesome results and to keep your smoker hot for up to 18 hours!
The first thing you must do is fill up your charcoal chamber with unlit briquettes (this is different from the standard method from the outset as this would have you use fully lit briquettes from the start). Using unlit briquettes makes it easier for you to control the temperature going upwards, not exceeding your maximum temperature, rather than having to faff around steadying a smoker temperature that is too hot.
Light 20 to 40 briquettes depending on the weather (if it is damp use more, if it is dry and sunny use less).
Leave all three bottom vents open, ensuring that the top vent remains open during the entire cooking process and use the vents to control the fire, making sure it burns steadily.
If your smoker temperature drops after a few hours of cooking simply replace the coals in order to build the heat back up again.
Weber Build Quality
Before you commit to purchasing a brand new weber smokey mountain cooker I am sure you are keen to know a little more about its build quality. 
Weber smokey mountain cookers have rarely been altered in the 40 years they have been on the market – what does that tell you? It doesn't get better than a weber smokey mountain smoker.
One of the main materials in the smoker is porcelain enameled steel – a material that is fantastic at retaining heat and is also resistant against rust, staining, and corrosion.
The cooking grates on this smoker are coated with nickel, making them easier to clean and helping them to stay cleaner for longer.
FAQ
How do you use a Weber Smokey Mountain?
The most popular and easiest method that always yields the best results is called 'The Minion Method'. Basically, you place the charcoal (unlit) in the smoker leaving a small opening in the middle. You then light and place 15-20 briquettes in the opening in the center. As the lit charcoal sits it lights the neighboring charcoal slowly, that is the key. By following this method your smoker can keep the perfect consistent temperature needed for "slow and low smoking" for 12-16+ hours.
How big is Weber Smokey Mountain?
The Weber Smokey Mountain Smoker comes in three sizes 14.5", 18.5" and 22.5". Typically these sizes are referred to as just 14, 18 and 22 ignoring the half inch.
Do you have to season a Weber Smokey Mountain?
No. With the amazing porcelain enamel finish that Weber coats their grills and smokers in rust is never a concern. The only reason to season a grill or smoker is if it is unfinished steel to protect it from rust.
Conclusion
And there you have it, this Weber smokey mountain smokers review will help you know everything you need to know about it. I am sure the information mentioned above has more than convinced you to get your hands on one of these Weber smokers as soon as possible. 
One of my favorite things about this smoker is that it doesn't take up much room and it has a great compact design. Not only is the design very smart and discreet, but the materials that the smoker has been made from well help it to stay that way. The porcelain-enameled steel build will help your smoker to remain gleaning, no matter the weather. 
The fact that this smoker comes with two grills also makes it a handy tool for smoking two cuts of meat at once, making it ideal for use at family barbecues or when spending time camping with friends. 
Now that you know everything you need to about the best method for starting up your smoker and how to keep it alight for up to 18 hours, make sure you try it out on your Weber smokey mountain smoker this weekend! Use this smoker to help you cook up a storm for family and friends!
Happy smoking.