When you have various ingredients for baking, coffee, sugar or anything else stored in your pantry there are many options for the best airtight food storage containers.
There is much to consider when choosing the correct container. In addition to the best airtight food containers it is also nice for them to be aesthetically pleasing as well. We have rounded up the best airtight food containers we could find and have written reviews for each below.
Top 5 Best Air Tight Containers In 2020 Comparison Chart
Our #1 choice
Zeppoli Air-Tight Food Storage Container Set | 5-Piece Set -...
Oggi 5pc Clear Canister Set with Clamp Lids Airtight...
Tightpac America, Inc. Tightvac - 1 oz to 6 ounce Airtight...
Best PREMIUM Airtight Storage Container for Coffee Beans,...
Rubbermaid Brilliance Pantry Airtight Food Storage...





Tightpac America, Inc. Tightvac - 1 oz to 6 ounce Airtight...

Best PREMIUM Airtight Storage Container for Coffee Beans,...

In 2020 Reviews
Zeppoli
Up first for best airtight containers for pantry is the Zeppoli Air-tight food storage container set. This set is a 5 piece set that is made from BPA free plastic and is a great set if you are shopping on a budget.
This set uses a latch system on the top to lock the lid into place so it is easy to pull on and off. In our testing these containers were sturdy and easy to use.
The lid on these seemed to fit tightly and these seem like a great product especially for the price.
Our only concern for these is the lid since it is not latched into place, if heavy items are inside of it and it spilled over the contents could push the lid off over time when the seals are not as firm.
Oggi
The next airtight container we reviewed was the Oggi 9322 5-piece Acrylic Canister set. This container set is the most simple functioning of all the ones we reviewed.
These containers simply have a clasp and a silicone gasket that seals in the food. This simple functionality makes them the most affordable containers that we reviewed in this article.
The containers are acrylic and the clasps are metal, with the simple construction these should last for years to come with basic care. Since the lids lock into place these should hold tight even if they were to spill. For the price this is a great option to consider.
Tightvac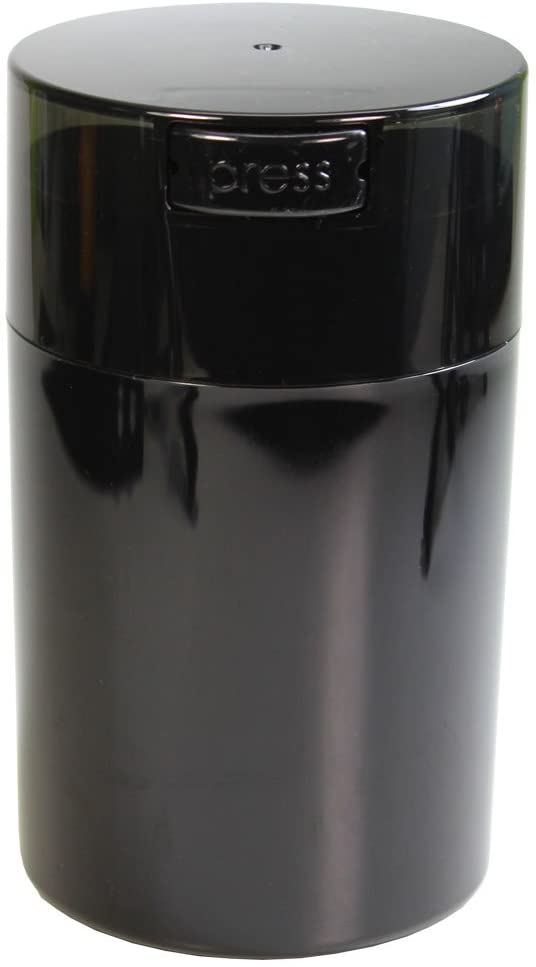 The Tightvac one ounce to six ounce vacuum seal containers are the next up for consideration.
Unlike our other reviewed containers in this list these do not come as a set you have to purchase these individually. You can choose the size and color for each of the containers on the page.
If you are looking for just one container on the go this may be a good container to consider, however if shopping for a set these add up in price quickly.
These operate by holding a button on the lid when sliding the lid on or off the container. While these containers seemed pretty cool and simple in functionality we did notice you needed to be careful with the button since it seemed fairly fragile and if pressed hard could be broken.
Prepara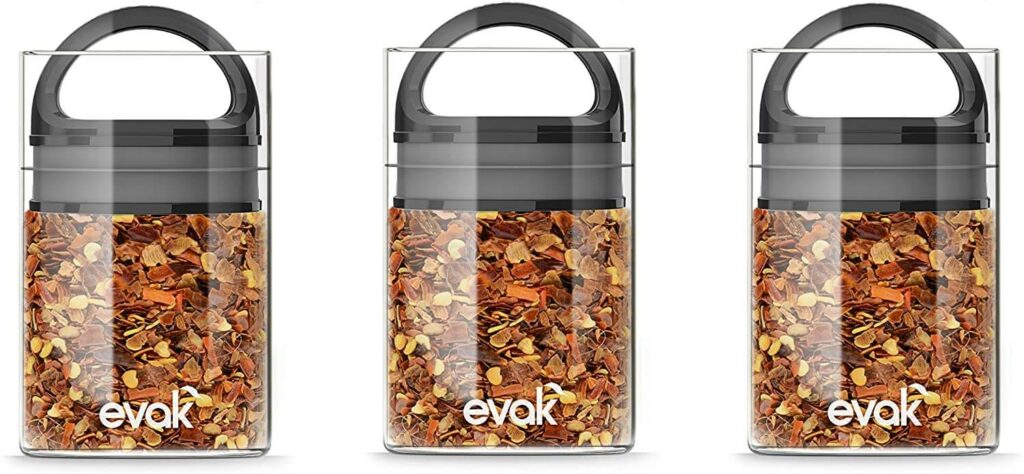 The Prepara Premium Airtight storage containers are our selection for best pantry storage containers.
These containers do something that no other containers we reviewed did. The lid slides into place and forces out any excess air until it rests on whatever you are storing inside of it.
This means as you use more of the food inside the container you can place the lid closer to the food and remove any open airspace inside of the container. These containers are made from glass with stainless and plastic lids that operate great and also look great. 
Rubbermaid
Rounding out our list of the top five containers is the Rubbermaid 1994253 Brilliance Pantry Container Set.
This set comes from a brand you can trust that has been in the kitchen business and storage container business for a long time, Rubbermaid.
These airtight plastic food storage containers have side clasps that hold the lid in place firmly. These containers stack great and are top-rack dishwasher safe.
Like others we have reviewed these containers are long lasting and also come from a company that has been around for a long time.
Best Air Tight Container Buying Guide
When shopping for your airtight containers for your pantry or for your counter there are many things to consider so we have created the below buyers guide.
This is not a 100% full and complete list but it is some points to be aware of when shopping for your food storage containers. 
Longevity
It is important to choose a set that will last a long time. In addition to the container itself being made of a sturdy material you want a container that has a functional sealing system that will withstand the abuse of opening and closing many times.
It is important to make sure the sealing system is sturdy especially with food pieces you use frequently. 
Size Matters
The sizing of the containers you purchase are important to consider. If it is small amounts of tea and coffee versus pasta it is best to choose containers that are sized to fit your most added ingredients.  
Set And Match
It is nice to have a matching set that looks aesthetically pleasing whether storing them on the counter or in the pantry.
A matching set will make it easier for you to find your lids for similar sized containers, additionally matching sets typically stack better, with these two points alone in addition to looks it makes it worth it to have consistent containers.
So, What's The Best Air Tight Container?
From our buyers guide to each review there are a lot of things to consider when choosing the right containers for your kitchen. You want to find a set that has a tight seal and also will look good in your kitchen.
In our above review we tried to find many containers that all looked and sealed great and also looked differently so you could choose which best fits your kitchen setup.
Every container we reviewed above is a great choice; it is simply up to you to choose which fits your kitchen style best. The set we liked most overall though, that removed airspace from the container was the Prepara containers.