One of the amazing delicacies to enjoy in winter is cashew nuts. Not only do they provide your body a much-needed amount of warmth in cold evenings, but they are also rich in a variety of minerals, vitamins, and plant compounds that protect your health.
Cashew nuts contain healthy fats that promote weight loss and a healthy heart. They are also rich in protein and fiber; a daily dose of a dozen cashews can really strengthen your blood and bones. Moreover, cashew is an excellent nut to control blood sugar.
It is truly miraculous of cashews that even if we ignore all these amazing health factors, the taste of them is, alone, too good to say no to. And you know what makes them taste even better? The flavored cashews.
Everything is ten times better with the right flavor. The same is the case with cashews. Most people think that flavors decrease the authenticity of cashews, but it's just a myth. Flavors do not overpower the health-protective factors of cashews, nor they completely take over their original taste.
What they do is add some pizzazz to the regular nuts so your evenings can be spiced up. Well, of course, if the flavors are made with artificial and chemical ingredients, it might reduce the effect you would have on minerals and vitamins, but we do not encourage such flavors. In fact, we are all about homemade flavors that can even add some more healthy nutrients.
In this article, we are going to talk about three amazing flavors that you can roast your cashews in. All these can be easily made at home with ordinary ingredients. Let's start.
Salt Roasted Cashew Nuts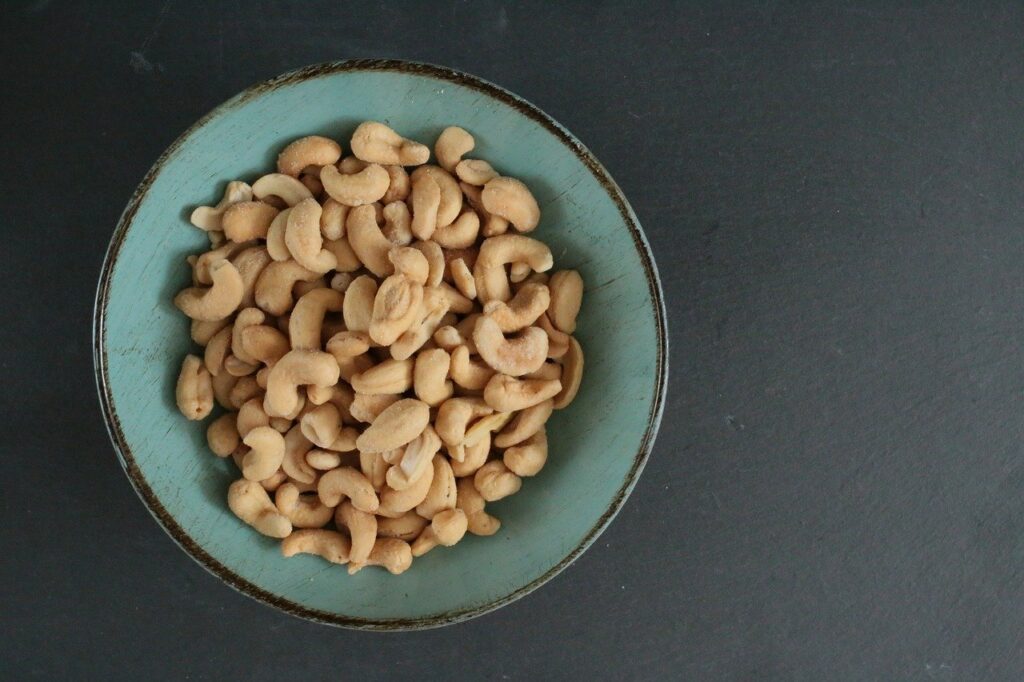 Of course, you can buy roasted salted cashews and other types from shops, but it is a lot cheaper to make them at home by yourself. At home, you are in charge of the ingredients and quantity, so what you make can taste even better than what you buy from shops.
To roast cashews in salt, what you are going to do first is boil plain cashews in salty water. The process is to add two tablespoons of sea salt to boiling water and give it a stir so the salt dissolves. After that, add 300 grams of cashews to the salt-soaked water.
Keep in mind that 2 tablespoons of sea salt are for 300 grams of cashews, and you can adjust the number of ingredients according to your desired quantity.
It would only take a minute or two for cashew nuts to start floating on the surface of the water, so don't let the stove out of your sight. Once they start floating on the surface, drain them. Dry them with a kitchen towel and remove as much moisture as you can.
Next, tip the cashew nuts in an oven tray and bake them at 120 degrees for 30 minutes. Once the cashews are baked for 30 minutes, take them out, stir the tray, and put them back in for another 30 minutes.
This time, when you take them out, you will see the cashews with glossy surfaces exhibiting a salty aroma. That is how your salt roasted cashew nuts will be ready. Enjoy the delicacy of having a desirable combination of cashews and salt; it would definitely add a chill to your blanket-covered evenings. If you want to store them, use an airtight container.
Chili and Lime Roasted Cashew Nuts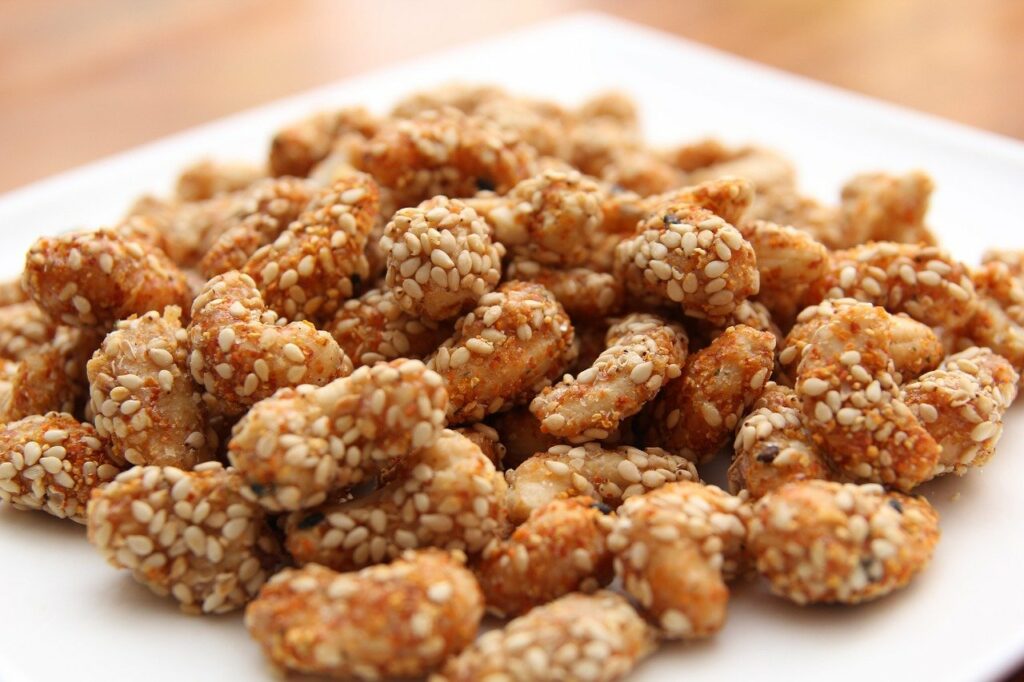 The second roasted cashews recipe we have in the bag is chili and lime roast. We all know how thrilling a combination of chili and lime is. If salt-roasted cashews were for calm and collected enjoyment, chili and lime surely are one step ahead on the thrill ride.
To roast cashews in chili and lime, first, you will have to make a liquid sauce to roast cashews in. To make that sauce, shred the outer skin of lime with a kitchen shredder and add some salt in it. Beat the lime and salt mixture to make it powdery.
Add the mixture in a separate, bigger mixing bowl and add the following ingredients.
Chili powder
Paprika
Brown sugar, and
White egg
Mix all the ingredients together, add lime juice, and mix again—the liquid sauce will be ready. Next, add cashews in the sauce, and make sure all the cashews are covered in the sauce. Spread them on a baking tray and bake them in the oven for 20 to 25 minutes.
That's it! Your delicious baked chili-lime cashews are ready. Enjoy with your friends and add some glamour to your gatherings.
Honey Roasted Cashew Nuts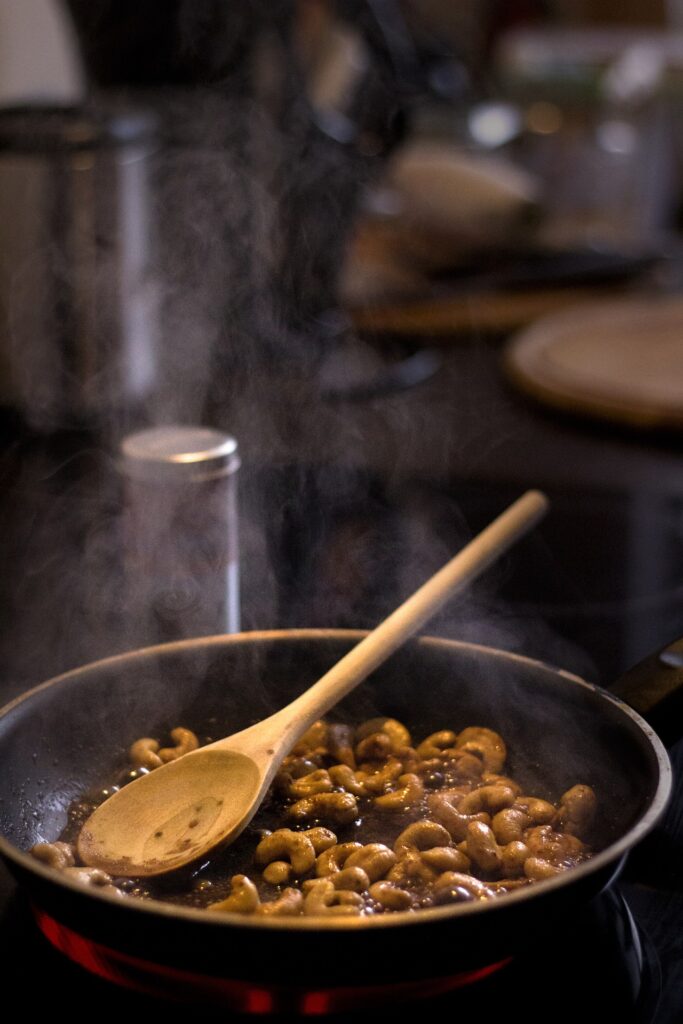 Do you know what is the perfect combination of a snack in winters? A cup of coffee with a dozen of honey roasted cashew nuts. When salt roasted cashews get too boring and chili and lime roasted nuts get too thrilling, then honey roasted cashews are a perfect compound of thrill, calmness, and amazing taste.
To make honey roasted cashew nuts, first, pre-heat your oven at 170 degrees for at least 10 minutes. Meanwhile, add a teaspoon of butter, 2 tablespoons of honey, and ¼ teaspoon cinnamon powder in a pan and cook the mixture on a very low flame for a couple of minutes.
When the butter is totally melted and dissolved within the honey and cinnamon, turn off the stove and add 250 grams of cashew nuts to the pan. Mix the cashews thoroughly with the mixture so every nut is coated with the honey paste.
Keep in mind that ingredients were meant for 25 grams of cashew nuts, you can adjust them according to your quantity.
When the cashews are coated in the paste, spread them on a baking tray and put in the oven for 20 minutes at 170 degrees. However, you would need to take them out after every 5 minutes, stir them, and put them back in. It means that for a 20-minute bake, cashews would be stirred at the intervals of 5 minutes, 10 minutes, and 15 minutes, and finally, be taken out at a 20-minute whistle.
This process is important to make sure that all the cashew nuts have similar color from all sides. When you take the cashews finally out after 20 minutes, you would notice that there is still some moisture left on the tray—this is completely normal. Leave the cashews for 30 minutes to meet the room temperature.
Once the cashews are cool, remove them from a baking tray and convert them into a bowl—while doing that, you might notice that cashews are still sticky. Add a tablespoon of coarsely ground sugar and ¼ teaspoon of cinnamon powder, which would remove the stickiness of cashews and provide you with a tasty and flavorful coating.
Just like that, your honey roasted cashews would be ready. Store them in an airtight container for later use, and take them out to enhance the flavor of your cold afternoons.
Conclusion
If you want to add elegant flavors to your evening and afternoon cashew-based snacks, the three aforementioned recipes are perfect. Whether you love the salty flavor, are a sweet-tooth, or crave funked chilies, these recipes can help you have a good time while providing you an intake of numerous health preservatory minerals.
If you are creative enough, you can add different ingredients to your recipe and roast the cashews according to your craving and mood.