Are you looking for a grill that will help you to get the fire started and grill some of the tastiest and most succulent meat your family and friends have tasted? Then you have come to the right place – this Fuego F24C grill review. 
As I am sure you will agree, many grills are oversized, boasting that they come with absolutely every feature possible on an outside grill that all look nice when you open up the box, but that you actually never end up using once you've got the grill up and running. Buying a grill can be expensive, especially if you are focusing on one that comes with a load of fancy specs. 
Fuego F24C Gas Grill
Instead of purchasing an over the top grill, why not purchase one that focuses solely on grilling you the most tender and scrumptious meat – absolutely everything you need on a grill.
Are you ready to turn up the heat with a Fuego F24C professional propane gas grill? Then stick with me as I will go on to explain some of the best features on this gas grill that make it a fantastic option for all of your grilling needs. I will also go on to show you the Fuego grill review so that you can get more of an inside look at the grill before purchasing one.
Fuego F24C Professional Propane Gas Grill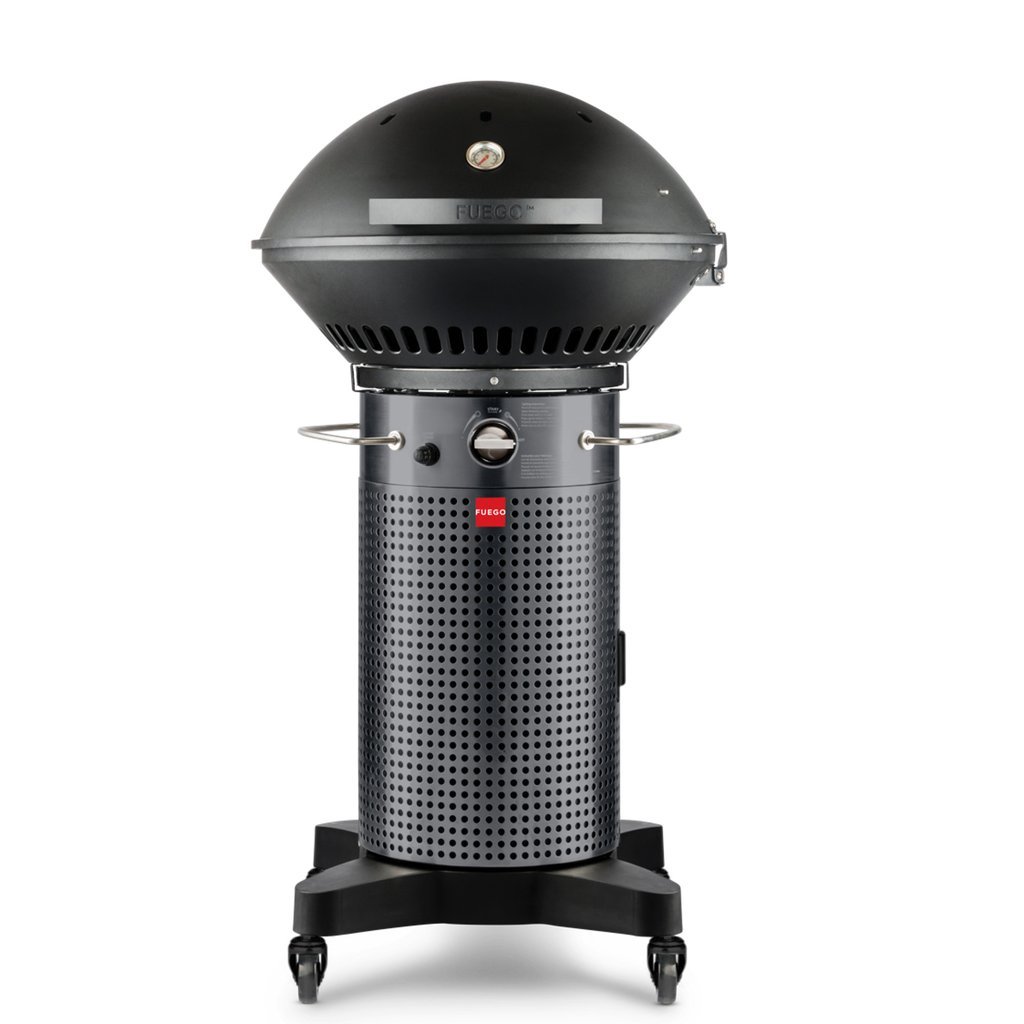 Now that you have had a closer look at some of the special features on this Fuego F24C professional propane gas grill, I am sure you are keen to get your hands on yours as soon as possible.
Overview
Before you do so, take a look at the following Fuego propane gas grill review to get a complete look at all of the grills' special features and specifications.
Features
Massive cooking space. This propane gas grill will provide you with ample space to sizzle up the tastiest cuts of brisket this weekend as it comes with a combined cooking space measuring 525 square inches.
Quick assembly. Are you fed up with complicated appliance assembly? So are the team down at Fuego and that is why this propane grill comes with a mere 20 assembly screws and simple instructions for you to follow to do so. You'll have it up and running in just 30 minutes.
Transportable. The Fuego F24C grill comes set on 4 wheels, making this the ideal propane gas grill to take out camping with the family.
Compact design. The Fuego grill has a tall, compact design that is perfect for small patio spaces. It will take up minimal storage space in a garage or a backyard shed.
Pros
Ready to cook up something tasty for the whole family to sit back and fill their bellies? This Fuego grill is perfect as it comes with a generous 415 square inches of grill space or enough space to cook 20 burgers at once. It also has a 110 square inch warming rack.
It has an easy clean residue collecting tray to make cleaning up a faster and hassle free.
Cons
Not strong and durable and often tend to get dents on the back panel of not handled properly.
Top Fuego Grill Features
Are you ready to get your hands on one of these Fuego gas grills? Then take a look at the following list of Fuego grill features so that you can get an idea of all of the top class specifications that await you when using this grill. 
Do you fancy taking your F24C Fuego grill out camping? Taking a grill out to the wide outdoors has never been simpler as this grill is on four wheels, making it a breeze to push across the decking or wheel out to the pick up truck.
Are you looking for a grill that will help you to lock in the intense flavors of your rub? Then the 24 inch x 24 inch lid creates the perfect 45 degree dome, a brilliant space for meat flavors to mix and intensify.
Conclusion
Having a barbecue is one of the easiest ways to bring the family together or to spend some quality time with friends. There is nothing better than relaxing in the backyard with family and friends while chowing down on some of the most succulent and well marinated cuts of meat. And nothing will help you get better results on your meat than the perfect propane gas grill.
Have you been searching high and low for a great quality propane gas grill that is compact in size and easy to maneuver? Then I am sure that the Fuego grill is the best match for all of your grilling needs.
The nice thing about this grill is the simplicity of it, it is not trying to do 101 things, but it has all of the essential specifications that make grilling easy such as a residue collection tray, a 525 square inch combined grilling space, and a transportable and compact design that makes it easy to take the grill out and about.
Before settling for any other grill, make sure you consider the Fuego F24C gas grill as one of your best grilling options. I am sure you will be nothing but pleased with the results!
Happy grilling!